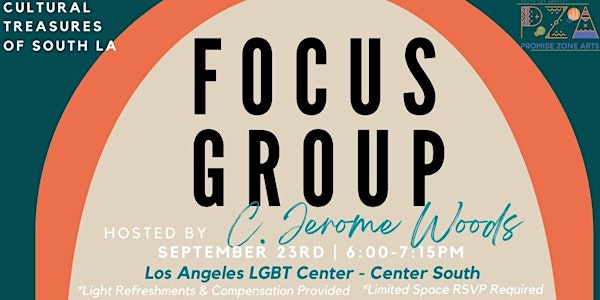 Cultural Treasures of South LA Focus Group, Hosted by C. Jerome Woods
You are invited to come out and share your South Los Angeles Cultural Treasures!
When and where
Location
Los Angeles LGBT Center - Center South 2313 West Martin Luther King Junior Boulevard Los Angeles, CA 90008
About this event
What is a cultural treasure?
A cultural treasure is anything you feel is significant to the South Los Angeles community, such as, artists, sites, organizations, restaurants, cultural practices, events, and tradition bearers, etc.
During this focus group, there will be a brief presentation on the Cultural Treasures of South LA, you will complete a short survey to share your cultural treasure(s), and as a collective we will discuss the significance of our shared cultural treasures!
This focus group is hosted by Cultural Treasures Coalition member, C. Jerome Woods.
---
Cultural Treasures of South LA is an initiative of the City of Los Angeles Department of Cultural Affairs (DCA) and Los Angeles-based organizations to honor the rich and diverse cultural heritage of South LA. All are invited to complete a 5 minute survey to share their South LA cultural treasures, which will be included in an interactive map and database of the region. With the help of community members, not only will this initiative highlight the important treasures that add to the vibrant cultural capital of South LA, but it will also aid in the preservation of treasures at-risk of being lost. All submissions will be included in an interactive map and database spotlighting the cultural treasures that make the South LA Community thrive. Your answers will help preserve the South LA culture that we've all come to know and love.
All attendees will receive a $25 VISA gift card.
Light refreshments provided.
Limited Capacity. RSVP Required.