Cultural Skill: A Component of Cultural Competence
About this Event
Presented by: Josepha Campinha-Bacote, PhD, MAR, PMHCNS-BC, CTN-A, FAAN
What does it mean to be a culturally competent mental healthcare professional?" Despite the development of several models of service delivery to meet the challenges of caring for culturally and ethnically diverse clients, mental healthcare professionals have not come to a consensus on this vexing question. In this workshop, Dr. Campinha-Bacote will address this question by examining one of the 5 components of her practice model of cultural competence, The Process of Cultural Competence in the Delivery of Healthcare Services.
By the completion of this workshop the learner will be able to:
1. Discuss the 5 components of cultural competence
2. Define cultural skill
3. Identify three cultural assessment tools
4. Describe the spiritual, pharmacological, and physical components of a cultural assessment
5. Generate a cultural assessment tool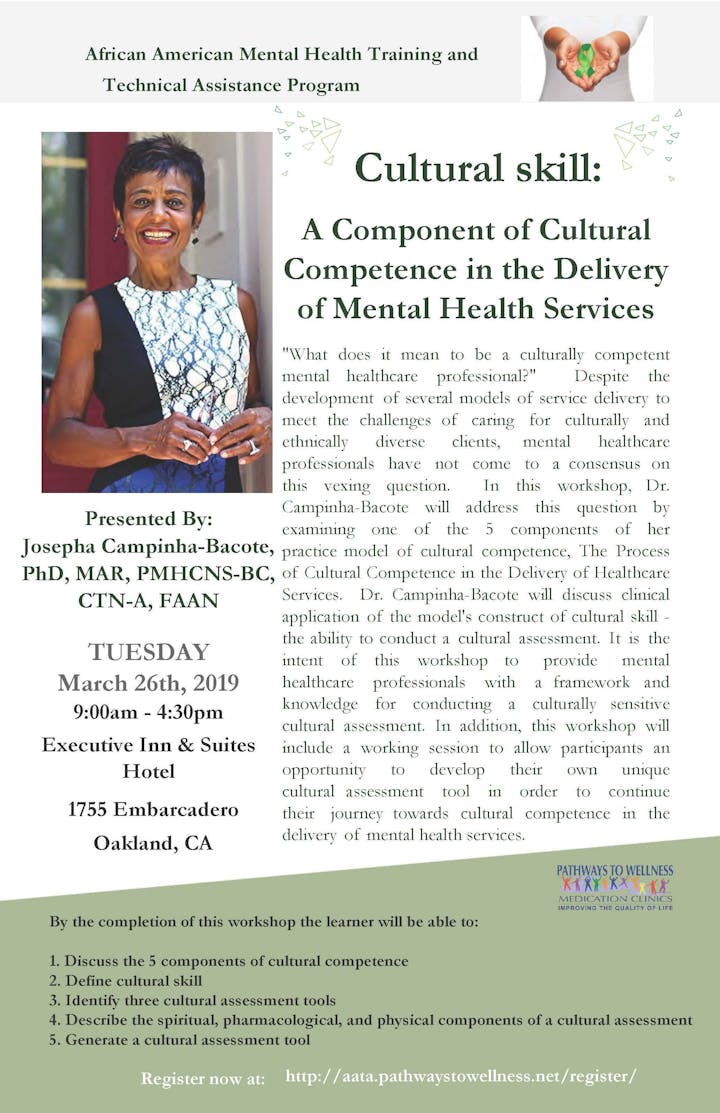 Unfortunately CME and CEUs will not be available for this event. We plan on offering CME and CEUs beginning July 1st, 2019 for our next series of trainings. Please stay tuned!
Visit our website : Pathways to Wellness AATA