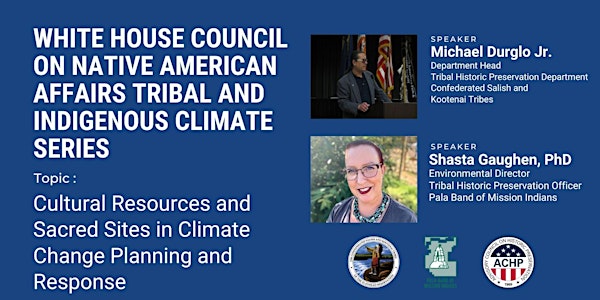 Cultural Resources and Sacred Sites in Climate Change Planning and Response
Join us for a discussion on climate readiness, cultural resources, and sacred sites with Tribal Historic Preservation professionals!
About this event
The White House Council on Native American Affairs Climate Adaptation Subcommittee and the Advisory Council on Historic Preservation invite you to join Tribal Historic Preservation professionals working on the front lines of historic preservation and climate readiness for a discussion about the crucial importance of addressing cultural resources and sacred sites in climate change planning and response. Speakers will share lessons learned through their experiences in climate change adaptation planning, how their expertise in historic preservation influences that work, and how federal representatives can help remove barriers to more holistic climate adaptation planning.
This is the second webinar in the 2023 Tribal and Indigenous Climate Speaker Series hosted by the White House Council of Native American Affairs Climate Adaptation Subcommittee. This monthly series is designed to educate federal agency personnel about consulting and coordinating with Indian Tribes, Native Hawaiians, and other Indigenous Peoples in our combined effort to combat the climate crises. Each webinar will feature Indigenous speakers and/or federal agencies to share knowledge and experience beneficial to federal employees working on climate adaptation priorities.
*To efficiently manage the limited time, please consider submitting questions for the speakers in advance.
**Accessibility Information: ASL (American Sign Language) interpreters will be provided. If additional interpretation services are needed, please let us know.