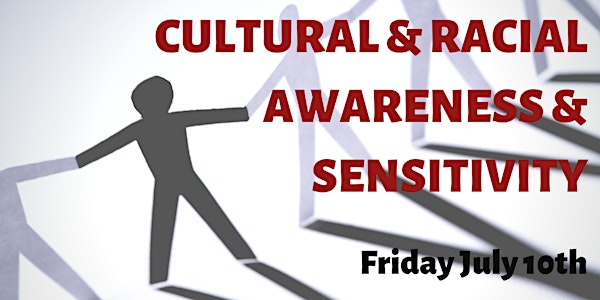 Cultural & Racial Awareness & Sensitivity
This event will include course & a panelists discussion exploring the impact of race and culture to promote awareness and expand insight.
About this event
This course is being presented by NWA Therapy and will include the following panelists:
Daisy Bonilla, LCSW
Chantal Carter, LCSW, LADAC, CEDS
Shakira Eakins, LCSW, CCTP-1
Yvette Murphy-Erby, PhD, MSW
Inger Nelson, LCSW
The panel discussion will include our panelists sharing some of their personal experiences with racism, exploring pertinent questions developed by the panel, and accepting questions from attendees. Shakira Eakins, LCSW, CCTP-1, former Diversity professor from the University of Arkansas School of Social Work, will also be providing a one hour presentation on this topic.
Objectives:
Define and understand unconscious bias.
Identify the impact of unconscious bias in the workplace and in therapy sessions.
Attendees will gain a better understanding of the experience of persons of color through panelist discussion and Question and Answer.
Two hours of continuing education will be granted in this live interactive webinar. NWA Therapy and our panelists partners are invested in offering this vital educational opportunity to our community and thus is offering this event at no charge. As attendance is limited by Zoom, please cancel your registration as soon as possible if you will be unable to attend in order to allow other professionals the opportunity to participate.
Accessing the Webinar:
The webinar will take place via the Zoom platform. It will not be recorded for future viewings and will only be offered as a live interactive webinar for registered attendees. The morning of the event, two hours before the event and again 10 minutes before the event Eventbrite will send a reminder email. Registered attendees will not be able to access the webinar until 30 minutes before the start time. Due to NWA Therapy's involvement the day of the event, we will be able to offer limited technical support that morning so please familiarize yourself with Zoom in advance.
NBCC Approved Continuing Education Provider Statement:
NWA Therapy has been approved by NBCC as an Approved Continuing Education Provider, ACEP No. 6993. Programs that do not quality for NBCC credit are clearly identified. NWA Therapy is solely responsible for all aspects of the programs.