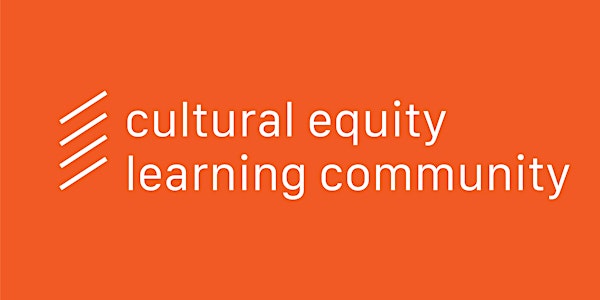 Cultural Equity Learning Community
Sales Have Ended
Ticket sales have ended
If you have questions about the CELC and/or still want to join us please email marian@artsconnectinternational.org
Sales Have Ended
Ticket sales have ended
If you have questions about the CELC and/or still want to join us please email marian@artsconnectinternational.org
Join us for a 2 Unit go-at-your-own-pace anti-racism learning community with wrap-around supports for arts & culture leaders.
About this event
TIMING & SUPPORTS OF THE CELC:
1) Pre-recorded lectures and continued learning resources (homework) will be released every Monday throughout the two units, which can be viewed at your leisure, delivered to your inbox.
2) Peer-to-peer mentorship meetings are established by you and your colleagues, we just make the initial match and then you choose how frequently to meet (participation is optional).
3) Bi-weekly drop-ins will take place in groups of 20ppl, with sign up taking place the week before to ensure a specific time slot (participation is optional).
4) The final "expert panel presentation" will be LiveStreamed and recorded (so you can join us in real time, or view after the fact).
ABOUT THE CELC:
When addressing equity within the United States landscape, including, but not limited to, equity within the arts, it is impossible to escape the nation's history of slavery, genocide, and oppression, leading to systemic and institutionalized racism, sexism, classism, xenophobia, ableism, and, more directly, the rise and valuation of patriarchal white supremacy as the founding blocks of this nation.
The arts and culture sector reproduces institutional and systemic oppression through upholding and centering white supremacist structures, often unconsciously. Boston is not unique in this, nor is the arts and culture sector. This manifests in predominantly white-founded, white-led and white-funded arts and culture organizations and institutions in Boston.
If you are a white leader in the arts and culture sector, and/or work with a predominately white institution, we invite you to join us for a Cultural Equity Learning Community (CELC), including a go-at-your-own pace learning course with 2 units and complimentary wrap-around learning support.
You can learn more about the format and timeline via: www.culturalequitylc.org
TICKET OPTIONS:
The CELC is offered via a pay-what-you-can registration structure. Funds raised through registration will be granted to BIPOC | QTPOC* artists and arts organizations. The CELC team recognizes that many arts organizations and individuals are facing challenging economic realities in light of COVID-19. With this, we ask you (and your team) to register with a ticket that feels fair and accessible. We honor and appreciate all support, and above all else, your participation in this work is the most important thing. All donations made with registration are tax-deductible to the full extent offered by law.
Tickets available include:
Comped [Free]
Open donation [any amount]
Suggested Donation for Arts Admins [$250]
Suggested Donation for Board Members [$500]
Equity Champion [$1,000]
*BIPOC = Black, Indigenous, Person of Color | QTPOC = Queer, Trans, Person of Color
PROJECT PARTNERS:
CELC is presented by Arts Connect International in partnership with the Anti-Racism Collaborative, Deidra Montgomery Consulting, Quisol Consulting, Meena Malik Consulting, Marian Taylor Brown Consulting, Alyssa Liles-Amponsah Consulting, ArtsBoston, the Mayor's Office of Arts & Culture, The Boston Foundation, MassHumanities, Artists Thrive, an initiative supported by the Emily Hall Tremaine Foundation, Cambridge Community Foundation, the Cambridge Arts Council, and the New England Foundation for the Arts.
CONTACT & ACCOMODATIONS:
Please email Marian Taylor Brown for all accommodation requests: marian@artsconnectinternational.org
Date and time
Location
Refund policy