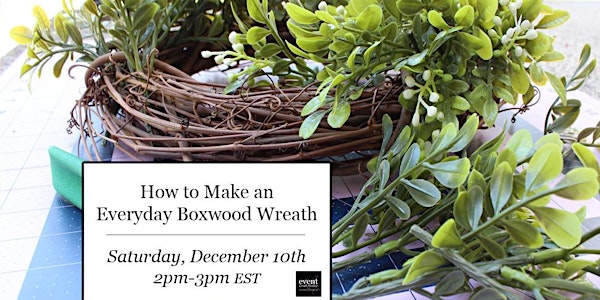 Cultural Creations-Farmhouse Wreath Making with Liliana Perez
Join us for a virtual, wreath making class with Liliana Perez from Event Craft Studio.
About this event
The Atlantic Institute is proud to announce Cultural Creations! We know that many people are staying home on their computers, so we decided to embark on a virtual cultural journey of crafting demonstrations and lessons that we can share with our community.
In this class you will learn how to make an everyday greenery wreath that could be used to beautify any place in your home.
If you'd like to craft along, please have the following materials and tools ready. By the end of the class you will have a beautiful creation to decorate with!
Materials:
-14" Grapevine Wreath
-Boxwood Greenery Bushes with at least 9 stems each (need 2)
Tools:
-Glue Gun
-Glue Sticks
-Floral Wire Cutter
For more information about our instructor please see below:
Liliana Perez
Event Craft Studio
liliana@EventCraftStudio.com
www.EventCraftStudio.com