Description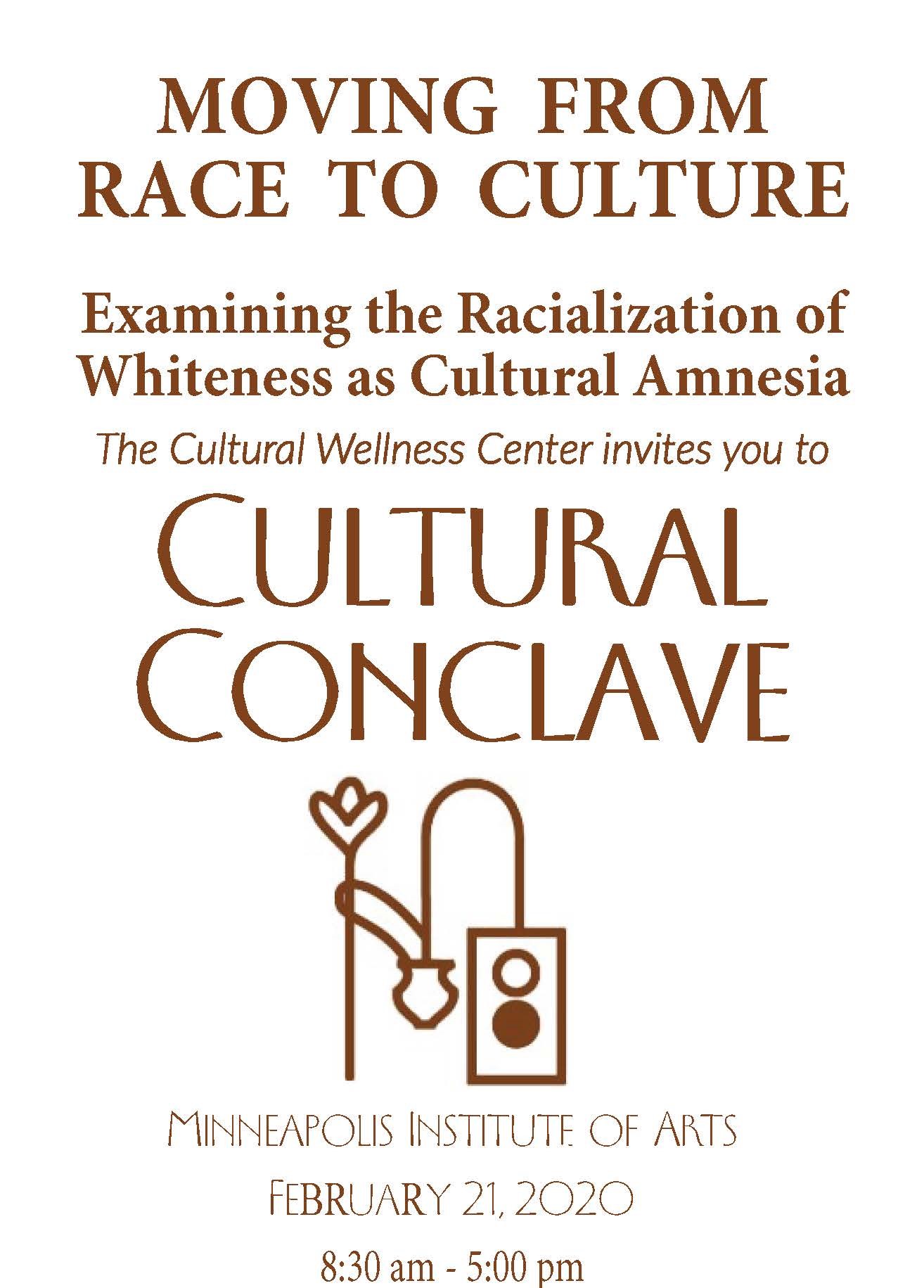 Moving from Race to Culture
Examining the Racialization of Whiteness as Cultural Amnesia
The Cultural Wellness field of study: Cultural Amnesia as the forced getting of one's history wrong and the partial suppression of an unwanted past.
What will happen at the Cultural Conclave?
The Conclave is a day of gathering for retreat, reflection, and deep connection. As such, participants will spend time looking into ourselves, getting to know each other, and discussing the leadership needed for a more equitable and inclusive Minnesota. Participants will work through circle dialogue to:
surface and celebrate multiple cultural ways of knowing that address internal transformation and external life experiences;

increase awareness of cultural knowledge as a hidden and sometimes lost resource which can be applied to solving problems and living in harmony with one's self and others; and

create a Cultural Self-study community to inform transformational leadership, while producing new cultural knowledge.
Everyone has culture. Cultural continuity is often silently adhered to through identity, ethnicity, nationality, and race. At the Conclave, Cultural Wellness engaged scholars of European Heritage will lead an exploration of rethinking cultural diversity, equity, and inclusion especially what it means to confront whiteness.
Attendees can expect:
to tour the Enduring Soul Gallery

to enjoy home cooked meal of a variety of foods

to participate in cultural ritual, ceremony, and entertainment

to never be alone in the process of engagement
Who should attend the Cultural Conclave?
Anyone who is interested in Moving from Race to Culture.
What is Moving from Race to Culture?
Moving from Race to Culture is a Cultural Wellness Approach to Cultural Interfacing. The following are practices of Cultural Interfacing:
To Know Your Culture
Know and reclaim our cultural identity, grounded in historical experiences, in what nurtures us from our culture and what gives us greater resiliency with each event.
Cultural ways of knowing

Values, concepts, principles

Stories, myths

Health practices, spiritual practices
To Reconciliation Work
Know and take responsibility for our history, our culture's position on the planet.
Name the wrongs

Understand and change disruptive patterns/patterns of oppression

Learn reconciliation processes
To Establish Cultural Interfacing Objectives
Learn how to recognize and respect other cultural ways of knowing, other knowledge systems.

See things from another's perspective.

Give space for others' ways of knowing, authority, ownership of knowledge.
What the Conclave is not.
It is not a conference. It is not a space to attack people instead of probelms. It is not a space for blaming, shaming, nor learning about the other. It is not a day promoting one way.
Cost
Organization Professionals $200
Grassroots Organizers $100
Students/Elders $50
Call for more information or to apply for scholarship, please contact us by phone at 612.721.5745