Cultural Competence: Embracing Diversity and Creating Inclusion (August 17, 2012)

Friday, August 17, 2012 from 9:00 AM to 12:00 PM (CDT)
Event Details
Austin Community College
Highland Business Center
Room: TBD
5930 Middle Fiskville Road
Austin TX 78752 USA
About the Event
"Diversity" has become something of a dirty word in the USA due to tokenism, quotas and some dubious training practices. This practical, interactive workshop will help both willing and skeptical participants understand what Diversity, Inclusion and Culture are all about and why they are so important in the non-profit environment, for their organization, for their internal and external counterparts and for themselves. They will then learn why and how people work and communicate in different ways and begin practicing how to relate to others more effectively in future.
Workshop Objectives:
Participants will:
1.     Learn what it means to be diverse, inclusive and culturally competent in the non-profit environment and why it is important for our community, our organizations and us as individuals


2.     Understand how their and others' personal values, behaviors and communication styles are determined by a mixture of different cultural factors
3.     Begin practicing how to work and communicate with people from other cultures more effectively in future
Comments from Previous Workshop Participants:
"It's funny actually. I have always left these types of training feeling bad about myself or feeling hopeless about "cultural competency".  Everything was always so negative and defeating.  But this training was very different.  I felt a desire to learn more about all of the beautiful cultures we have and felt more connected to others.  It felt great to be a part of something that is helping us grow as humans and provided a sense of healing and connectedness. Awesome!"
"Terrific class - Jeremy's very unassuming approach makes this class a safe space to discuss issues, challenges and opportunities."
"Best cultural competence training I ever attended."
Session Leader(s):  Jeremy Solomons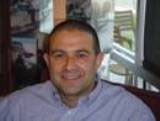 Jeremy Solomons is the UK-born and USA-naturalized founder and president of Jeremy Solomons & Associates, which helps current and future leaders to connect and communicate effectively across all cultures – geographical, organizational, professional and individual.


From his base in Austin, he coaches, consults, designs curriculum, facilitates and trains in the areas of: Career/Life Planning; Creative Problem Solving; Cultural Competence: Leading Communities and Teams; Post-Merger Integration and Synergy; Strategic Planning; Well-Dressed Presenting and Naked Facilitating; and Whole-Brain Thinking.


In the areas of Diversity, Inclusion and Cultural Competence, he has consulted on strategy and co-designed and -facilitated many interactive training sessions, most recently for 3M, American Cancer Society, Association of Chinese-American Professionals, Association of Texas Professional Educators, Austin Community College, Austin Energy, Austin Police Dept., Big Brothers Big Sisters, Capital Area Food Bank, Caritas, City of Austin, Communities in Schools, Dell, Farm Credit Bank of Texas, Leadership Austin, Leadership Texas, Seton Family of Hospitals, Shell Oil, Texas General Land Office, Texas Health and Human Services Commission, Texas Historical Commission, Texas Office of Immigration and Refugee Affairs, Texas State University, Texas Workforce Commission and the University of Texas.


For ACC, he has designed and delivered a series of periodical, open enrollment workshops for the CCBNO since 2002. Topics have covered: Communicating Effectively across Cultures; Cultural Competence; Dealing with Difficult People and Situations; Embracing Diversity and Creating Inclusion; Managing your Manager and Planning a Meaningful Career. He has also designed and led Cultural Competence workshops for ACC's Associate Degree in Nursing, Adult Education Program and the Certificate in Non-Profit Leadership and Management.
In the past, Jeremy managed a diverse staff and worked with clients and colleagues from all over the globe, while employed as a full-time Banker, Educator and Journalist in six multinational institutions in eight countries: France, Germany, Hong Kong (and China), Israel, Itali, Switzerland, the UK and the USA. He can be reached directly at jersol@aol.com.


Event Coordinator
Lisa Dent
512-223-7051
512-223-7208-fax
Hosted by 
Center for Community-Based and Nonprofit Organizations
at Austin Community College
Working effectively to bring people and assets together
to achieve the common good.
The Center for Community-Based & Nonprofit Organizations at Austin Community College (ACC CCBNO) serves those engaged in the Nonprofit Sector by leveraging community assets and serving as a community partnership broadening the horizons and possibilities for those engaged in the Nonprofit Sector
Connecting the Nonprofit Sector

Providing Professional & Volunteer Development Learning Opportunities

Making available Resources, Information, & Referral

Offering Coaching, Consultation, Collaboration
When & Where

Austin Community College
5930 Middle Fiskville Road
Austin, 78752


Friday, August 17, 2012 from 9:00 AM to 12:00 PM (CDT)
Add to my calendar
Organizer
Center for Community-Based & Nonprofit Orgs.
Cultural Competence: Embracing Diversity and Creating Inclusion (August 17, 2012)