Cultural Arts Vendors, Artists Convention, Ghana Talent Awards & Queens Ball 2018

Saturday, May 19, 2018 at 9:00 AM

-

Sunday, May 20, 2018 at 12:01 AM (EDT)
Event Details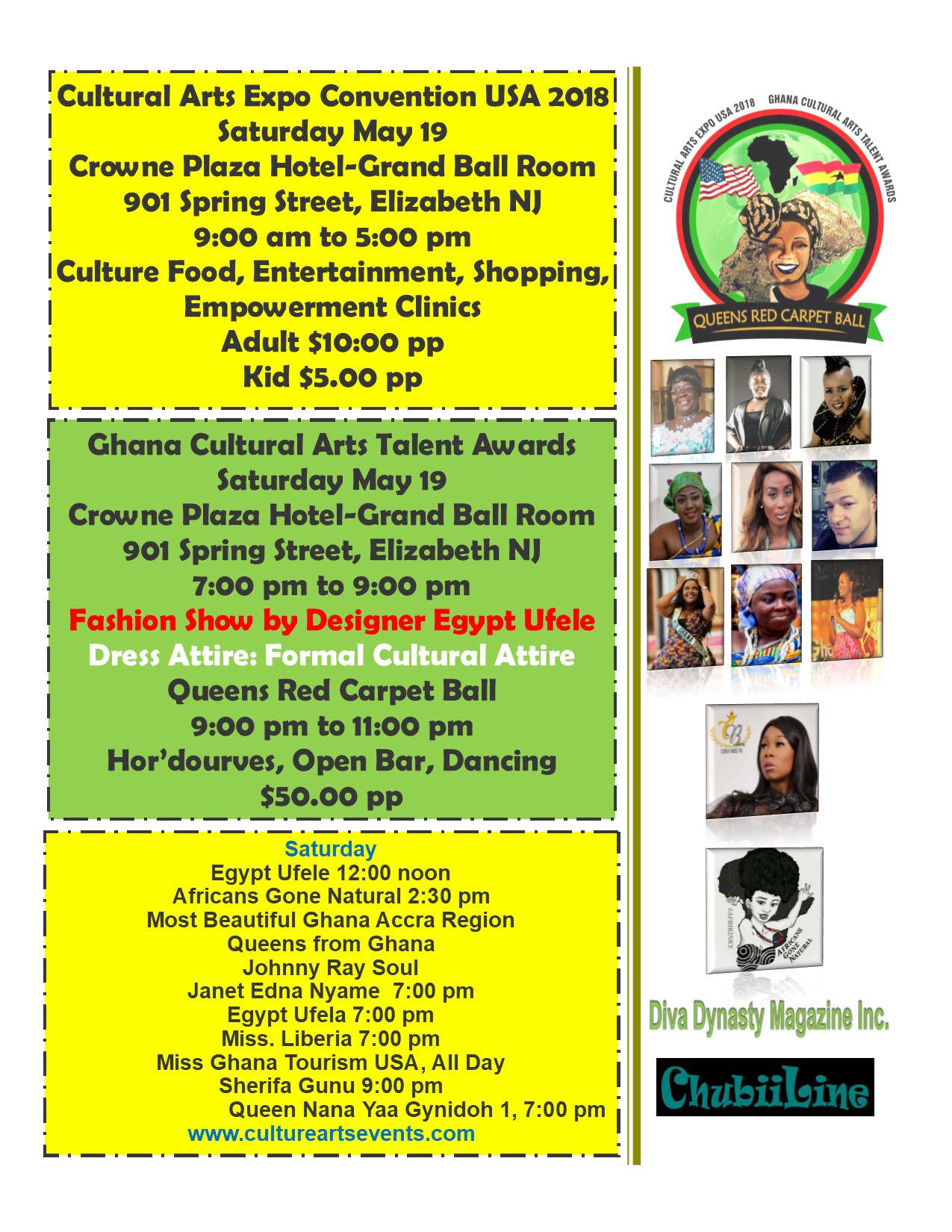 Cultural Arts Vendors, Artists Convention, Ghana Talent Awards USA and Queens Ball USA 2018
Guest Appearance by our collaborate and Youth Ambassador of Africa, Miss. Egypt "IFY" Ufele
Featuring her clothing line Chubiiline www.chubiiline.com her endorsements and credits are Ford Motor Corporation Commercial, New York Fashion Week, Live interview with INSIDER, Danny Glover Acheivement Award.
Our Honorable Guest Speaker from Ghana:  Madame Janet Edna Nyame, (Secretary General, UNA-GH Vice President, WFUNA, Executive Director National Commission On Culture, Ghana)
Guest Appearance By: Youth Ambassador 12 years old Celebrity Fashion Designer Egypt "Ify" Ulefe, Sherifa Gunu, R&B Artist Johnny Ray Soul, Frank Mensah Pozo and group, MC Hosts: Lyna Clark Miss Ghana Tourism USA, Orthelia Marieh     Actress and   Miss. Liberia, Queen Nana Yaa Gyindoh 1, Queen Akosua Danquah Amoabea 11, Jacqueline Akweley Winner of most Beautiful Greater Accra Region, Felicia Ama Danful, Ingrid Elmon Miss. AfriCribe Cameroon, Guest Speaker: Executive Director Madame Janet Edna Nyame National Commission on Culture Ghana, Secretary General UNA-GH, WFUNA Vice President
The Crowne Plaza Newark Airport, Saturday May 19, 2018, Hotel Contact  Yolanda Horton in Sales and Catering 908-527-1600 ext 3926
Reserve Hotel Room with Isabel, May 19  Group Code CAC, $139.97, 908-527-6414
SHOW US YOUR CRAFTS AND TALENTS! 2 FULL DAYS of Cultural Networking, Cultural Selling, Empowerment, Entertainment, African dancing, Culture Food, African Fashion Show, and later join us at our Ghana Talent Awards and Queens Ball. Ghana and Africa meets U.S Buyers. ALL CULTURES, NATIONALITIES ARE WELCOME TO COME SEE BEAUTIFUL ARTS AND CRAFTS FROM AROUND THE WORLD!
This is an Awesome Event to be a Vendor and Attend. Africans, and Foreigners are very Supportive of their Events that Cater to their Culture. 
Our Concept: Strengthening the economy by connecting Ghana and Africa Vendors, Ghana and Africa businesses to USA buyers and Vendors, pioneering Ghana Music to USA listeners and Buyers, helping better lives financially in Ghana and Africa, helping strengthen the economy in Ghana and in Africa. Our fundraising ultimate goal is to build state of art orphanages in Ghana and eventually Africa and help replace condemn houses with our affordable Malachi's Habitat for Humanity Homes.
Our Event ia MULTI-CULTURAL and is open to anyone from around the world that would like to participate and attend.
Information call 1916-576-9679 USA
Ghana, Edward Michael 233 (0) 244743440
CONTACT BY EMAIL: colorfulberrys@gmail.com
*IF YOU ARE A U.S VENDOR AND NEED TO MAKE PAYMENTS ON YOUR VENDOR'S SPACE PLEASE SEND AN EMAIL TO: colorfulberrys@gmail.com
*VENDORS EARLY BIRD SPECIAL WHEN YOU SIGN UP NOW, RECEIVE 1 EVENT T-SHIRT WHEN YOU PAY IN FULL
Our Event Convention in the Crowne Grand Ballroom, enjoy Shopping with Cultural Vendors, Empowerment Speakers, Entertainment and Cultural Food Saturday May 19, 9::00 am to 5:00 pm and Sunday May 20, 10:00 am to 6:00 pm (PLEASE COME FINANCIALLY PREPARED TO SHOP WITH OUR DOMESTIC, NETWORK WITH OUR INTERNATIONA GUEST AND EAT DELICIOUS CULTURAL FOOD.    
*Admission Fee: Our admission fee may increase as other artists are added, get our early bird admission fee now $10.00
Night Event 7:00 pm to 11:30 pm GET YOUR TICKETS: Ghana Talent Awards and  Red Carpet Queens Ball (African or your Culture Attire) Ghana Talent Awards Authentic Ghana Fashion Show, Red Carpet Queens Ball and live Entertainment, Cultural Dancing Group and Drums, with an Elegant Cultural Dinner included 7:00 pm til 11:30 pm
CULTURAL FOOD: Serving time: 12 noon to 3:00 pm

PARKING $15.00 for 24 hours
Path Train near Hotel, 20-30 minutes from Manhattan
FREE SHUTTLE SERVICE FROM THE AIRPORT, Newark Airport
 *We are expecting 300-3000 attendees both domestic and international throughout the day, we are advertising, however please share our event on social media and with your family and friends
*It is a daily struggle for many to survive in third world countries. It is a daily struggle to earn $25 usd. Upon recently visiting a KFC restaurant in Accra Ghana, I asked a worker dressed nicely in his KFC uniform how much did he earn? He said 385 ghc monthly which is $88.74 usd for the whole month. I then asked how many hours did he work each week? He said 5 days a week, 2 days off with 40 plus hours. There is no such thing as being paid for overtime. I sat and cried in dismay. I was then told by a mall manager after complaining that if the worker complained for more wages they will be fired by the owner of the establishment and they would just hire someone else. Please help better someone else's life by sponsoring them to come participate in our event to help better their livelihood. Please scroll down to sponsorship.
Presented By: Queens of Africa United International Foundation USA 501c3, and Malachi's International Ministries NGO Ghana, 

MAKE YOUR SPONSORSHIPS ON OUR WEBSITE: WWW.CULTUREARTSEVENTS.COM
When & Where

The Crowne Plaza Newark Airport
901 Spring Street St.
Elizabeth, 07201


Saturday, May 19, 2018 at 9:00 AM

-

Sunday, May 20, 2018 at 12:01 AM (EDT)
Add to my calendar
Organizer
Queen: Mrs. Alaina P. Mensah, lives in the U.S., she is a Philantropist Missionary in taking care of orphans and kids that are less fortunate Worldwide www.cultureartsevents.com she is a Visionary and Developing Queen for her extended family's Village in Accra Ghana in developing 82 acres of land for the less fortunate, as well as her giving and community efforts in California and Nationwide, proceeds from this Event will allow ground breaking for phase one development to help us move forward in building our orphanage for age's newborn to 18 years, our senior living complex for the elderly and our affordable housing for the homeless and low income in Accra Ghana; as well as helping the less fortunate and homeless in America.
About our Organization Queens of Africa International Foundation USA is a Spiritual Foundation that brings Philanthropist, Humanitarian and Missionary Women together from USA and around the world that have the same or similar Vision, the Wealth or Resources in rebuilding up Ghana, its surrounding regions such as Accra, Tema, Kumasi, Ghana Villages and other countries or Villages by Women from other Countries around the world.
Our organization currently exist in the USA 501c3 and we are currently working on a projects with Uganda, Kenya and Accra Ghana in replacing slum homes one by one with Malachi's Habitut for Humanity Homes and taking care of orphans. To be a part of this Foundation, one must be a U.S Mentor Queen Woman or Africa Woman or other Nationality Woman in committing to building up her local Village or Area, by implementing up to date clean water well systems and resources, enforcing the practices of good hygiene, good healthcare, good sanitation, developing advanced educational programs from Pre-school, Kindergarten to 12th Grade Senior School as well as providing some financial tuition assistance and school supplies for their Village, by implementing free voucher food programs for the poor, for the elderly, food assistance for pregnant mothers with children, building attractive affordable modern housing in their Village or designated area