Cultivating the Success™ of Beginning Farmers: Farmer Mentor Webinar Traini...
Event Information
Location
Online webinar series
Idaho
Refund Policy
Refunds up to 1 day before event
Description
Cultivating the

Success

™

of Beginning Farmers: Hosting Interns, Mentoring Beginning Farmers, and Methods For Improving

Your Mentoring Skills

Learn how to turn your years of successful farming into valuable educational experiences for beginning or existing farmers. Become a Farmer-Mentor and help grow a farmer!
The Cultivating Success™ Farmer Mentor Program encourages beginning farmers and ranchers to work one-on-one with an experienced farmer mentor. This four-part webinar training is geared for established farmers in Idaho who have a desire to pass on their knowledge and skills to beginning farmers and ranchers, and would like to improve skills for teaching and sharing knowledge with an intern or student. Opportunities for mentoring beginning farmers can range from hosting on-farm or in the class workshops, phone consultations, formal internships, and more. With over 64 years of combined farming experience, our course farmer mentor instructors will guide participants on how to develop successful mentorship relationships that are beneficial for both the beginning farmer and the experienced farmer mentor. Participating farmer mentors receive assistance with curriculum development.

Quote from the Cultivating Success™ Farmer Mentor Manual: "For a mentoring experience to be successful for YOU - it is important for you to consider the types of preparation required and whether you are up for putting in the time and effort required. It is also important for you to think ahead about some of the potential pitfalls of not being prepared. Taking this time to prepare will also benefit those who are hoping to learn from you."

Webinar dates are Tuesday evenings 6:00pm - 8pm PST / 7pm - 9pm MST, including January 30, February 6, February 20, and February 27, 2018.

This webinar training will be focused for Idaho farmers. If you live outside of Idaho, and would like to register, please contact: info@cultivatingsuccess.org.

Register by January 29, 2018 to receive information about linking to the webinar. ***Rural Roots Members may receive a 20% discount. Please email info@cultivatingsuccess.org to receive your discount code. For more information about becoming a Rural Roots member click here.***


To enrich education through diversity Cultivating Success™, Rural Roots and the University of Idaho are equal opportunity/affirmative action employers and educational institutions. University of Idaho and U.S. Department of Agriculture Cooperating, in compliance with the American Disabilities Act of 1990, anyone attending this program that requires auxiliary aids or services should contact Cultivating Success™ at least two weeks prior to the event.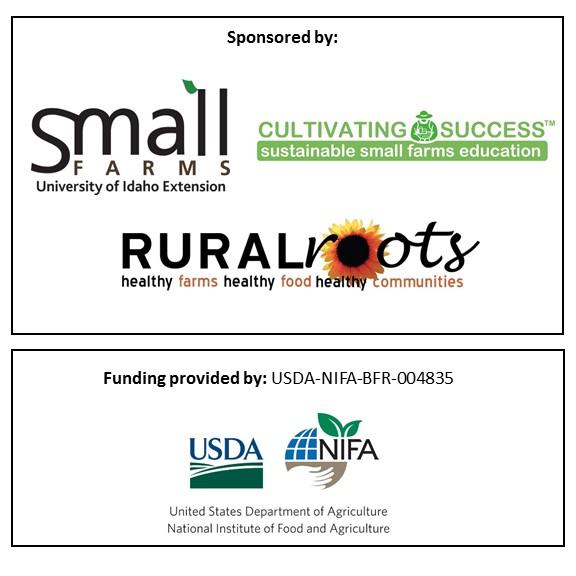 Date and Time
Location
Online webinar series
Idaho
Refund Policy
Refunds up to 1 day before event