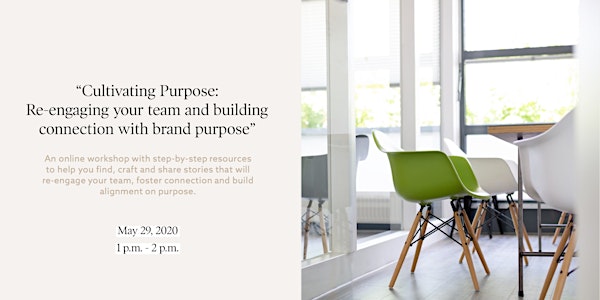 Cultivating Purpose: Re-engaging your team and building connection with br...
An online workshop designed to help you find, craft and share stories that will re-engage your team around your brand purpose.
About this event
Join us for an online workshop dedicated to helping business leaders use your brand purpose to re-engage and re-inspire your team. Most of us are worn out from weeks of uncertainty and instability caused by the pandemic. This workshop will provide you with easy to follow steps for finding, crafting and sharing stories that demonstrate your purpose, foster connection and build greater alignment around your purpose.
During this webinar, you can expect to receive a detailed outline for discovering the stories that provide meaning to your brand. We will follow a proven framework for: story-finding, story-building and story-sharing, and also discuss the importance of re-engaging your internal team first.
Log in details will be emailed to you the day of the webinar.
Hosted by: Karen Bailey, Founder of Alignd on Purpose