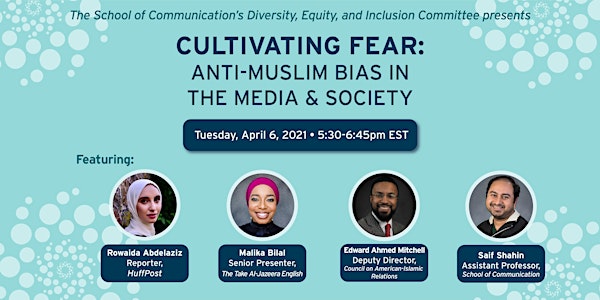 Cultivating Fear: Anti-Muslim Bias in the Media and Society
Cultivating Fear: Anti-Muslim Bias in the Media and Society
About this event
The School of Communication's Diversity, Equity, and Inclusion committee welcomes you to join us for a panel discussion entitled "Cultivating Fear: Anti-Muslim Bias in the Media and Society." Panelists will include Muslim journalists, advocates, and researchers discussing their religious identity and how it intersects with their work, communities, and personal lives.
Meet our Speakers:
Rowaida Abdelaziz is a national reporter at HuffPost, where she spearheads the coverage of Islamophobia and its intersection with politics, culture, and gender. Her notable works exposing anti-Muslim policies have led to the reunification of families and the reopening of hate crime cases. Her coverage of Muslim women continues to puncture stereotypical depictions of in media. Outside of her reporting, Rowaida travels the country and speaks on the importance of diverse media coverage of Muslims and Muslim Americans.
Malika Bilal is an international news journalist, TV and podcast host, and moderator based between Los Angeles and Washington, DC. She is currently senior presenter at The Take, an award-winning interview-driven news podcast that builds on the global reporting of Al Jazeera English. She joined The Take after eight years as co-host of Al Jazeera's The Stream, an Emmy-nominated TV news talk show centered on online community participation.
A Chicago native, Malika graduated from Northwestern University's Medill School of Journalism. She also attended the American University in Cairo. She has reported from across the United States and the Middle East, including Egypt, where she covered that country's first post-revolution election campaign and subsequent violence, and Saudi Arabia, where she was deployed to cover the annual Hajj pilgrimage. Malika previously worked for Voice of America and has written for the Chicago Tribune, National Public Radio and ESPN's The Undefeated. Her career has afforded her the chance to interview former presidents and prime ministers, Hollywood and Bollywood stars, and artists and activists from around the world. Her favorite interviews, though, are with the people you haven't heard of yet.
Edward Ahmed Mitchell is a civil rights attorney who serves as the Deputy Director of the Council on American-Islamic Relations (CAIR), the largest Muslim civil rights and advocacy organization in the United States. Mr. Mitchell previously served as the Executive Director of CAIR-Georgia from 2016 to 2020. Before joining CAIR-Georgia, Mr. Mitchell practiced law as a criminal prosecutor for the City of Atlanta, and worked as a freelance journalist for The Atlanta Journal-Constitution.
He also currently serves as vice president of the National Association of Muslim Lawyers, a member of the Georgia Association of Muslim Lawyers, and a member of the Board of Trustees of the Islamic Community Center of Atlanta. Mr. Mitchell is a 2009 graduate of Morehouse College, and a 2012 graduate of Georgetown University Law Center.
Saif Shahin joined the American University in August 2018. His scholarship focuses on critical data studies, digital culture, and global media and politics, and is underpinned by a normative commitment to social justice. His research has been featured in a variety of high-impact journals including New Media & Society; Information, Communication & Society; Social Science Computer Review; American Behavioral Scientist; Communication Methods and Measures and Journalism & Mass Communication Quarterly. His JMCQ article was a finalist for the journal's 2017 Outstanding Research Article of the Year Award. He has also won awards at annual conferences of the International Communication Association and the Association for Education in Journalism and Mass Communication.
Shahin's latest research looks at artificial intelligence and big data as a sociopolitical phenomena, the interplay of emotion and cognition in digital discourses, and online identity construction as a sociotechnical practice. He works with qualitative, quantitative, and computational methods of research — including machine learning, social network analysis, and sentiment analysis. He is also interested in advancing the methodology of communication research, especially mixed-methods.
He enjoys working on collaborative projects and has coauthored multiple journal articles and conference papers with graduate students. He teaches graduate and undergraduate seminars on research methods, data analytics and media, technology and culture. He previously worked as a journalist in India, England, and the Middle East, and continues to contribute commentaries and news analyses on current affairs to publications worldwide.