Description
Cultivating a Mindset for Success Workshop --- Is SOLD OUT! Please visit us next time.
The Essential Keys to Creating Success From a Positive State of Mind
In this free 2-hour workshop for current or aspiring entrepreneurs and business leaders, Success and Leadership Coach, Kim Coots, will lead you through an interactive experience to explore:
What success means to you

The key components of a successful, impact-driven business

The world-renowned principles of success from Napoleon Hill's best-selling book Think and Grow Rich

How strong each of the success principles are in your life and/or business (and identify which ones you'd like to strengthen)

Powerful exercises that cultivate a mindset for success

Inspiring others through a positive mental attitude
You'll walk away with transformative insights, tools, and actions to help you make a positive impact and achieve what you desire with less stress, anxiety, and frustration.
SEATING IS LIMITED. REGISTER TODAY!
About the Workshop Facilitator:
Kim Coots is a Success and Leadership Coach who helps impact-driven entrepreneurs and business leaders turn their vision into results with transformative strategies, mindset development, and proven systems for success.
She's been a business leader for over 25 years, receiving an Inc. 500 award for her leadership contribution in reaching the 26th fastest growing company in America; and she's has led the transformation of multiple 7-figure businesses that were losing money into profitable success. Kim also serves as a leader at a company recognized by Forbes as one of the Top 25 Small Giants in America.
Kim is trained by EOS Worldwide as an EOS® Implementer, and her extensive business background in working with start-ups to multi-billion dollar companies is richly rooted in business development.
Kim is currently completing her Instructor Certification with the Napoleon Hill Foundation to teach the Science of Success featured in Napoleon Hill's world-renowned best-selling book, Think and Grow Rich.
For more information, visit www.KimCoots.com.
RESOURCES AT GLOBAL DETROIT & THE ENTREPRENEURSHIP CENTER (EC)
Millie Chu, Vice President of Global Entrepreneurship and STEM Talent at the non-profit Global Detroit, will briefly share about the impactful work the Global Detroit team are doing to build an immigrant inclusive and diverse Michigan.
In addition, the EC team will tell you about the many free or low-cost resources available to you at the EC.
ADDRESS AND CAMPUS LOCATION INFORMATION:
The Entrepreneurship Center
Washtenaw Community College
Damon B. Flowers Bldg. 120 (Plant Operations, Facilities)
4800 E. Huron River Drive, Ann Arbor, MI 48105
Building is labeled "PO (Plant Operation)" on the WCC room locator page (http://www.wccnet.edu/about-us/room-locator/room/PO1/). 734-249-5880
Map pictured below indicates:
PO: Pin on the building where the workshop takes place (Plant Operations, Damon Flowers Building)

X: Blue X marks the nearest parking lot

Lot 4 & 5: Blue circled lots marks alternative lots should the lot marked X is full.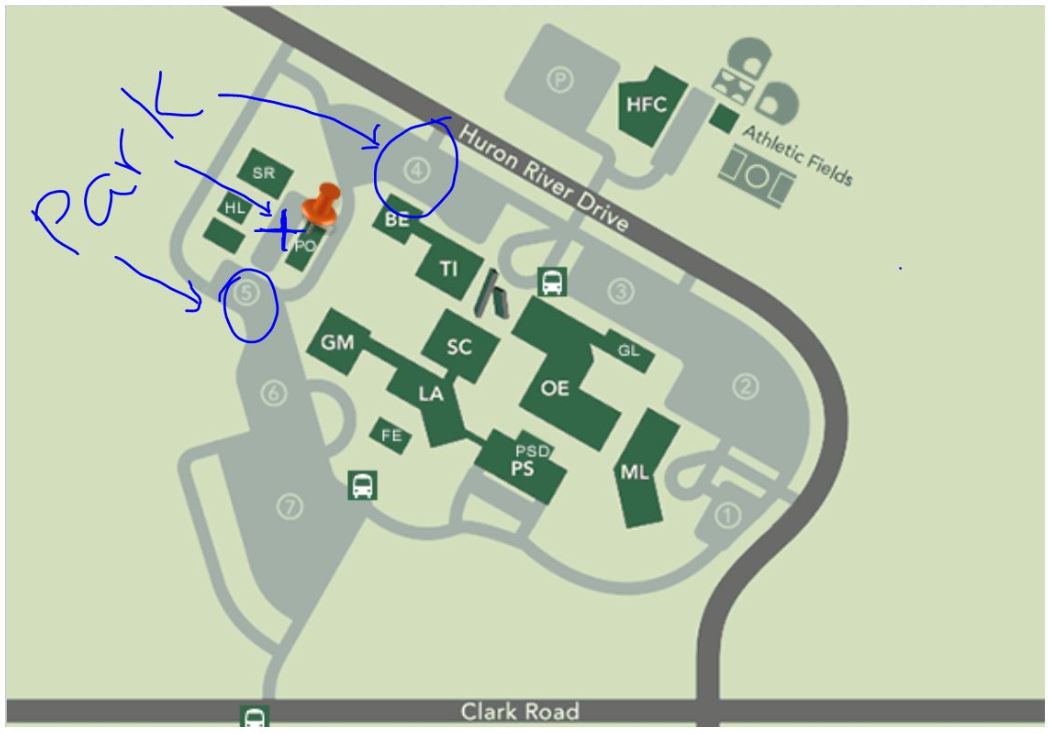 Hosted by A2 LEAP Business Lab in partnership with the Entrepreneurship Center at WCC and Global Detroit