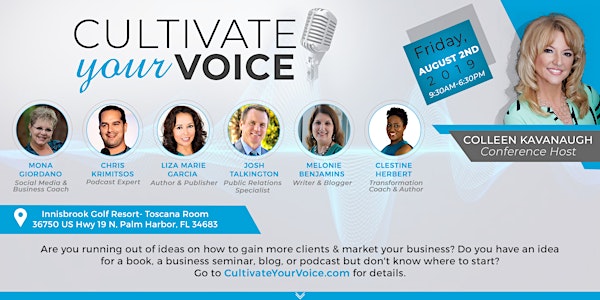 Cultivate Your Voice, A Personal & Professional Development Conference
When and where
Location
Innisbrook, A Salamander Golf & Spa Resort 36750 US Highway 19 North Palm Harbor, FL 34683
Description

Are you running out of ideas on how to gain more clients & market your business? Do you have an idea for a book, a business seminar, blog, podcast, or YouTube channel but don't know where to start?
We attract or repel people by the way we communicate. Our voice is one of our most powerful tools that we use to influence success in life and drive profits. Learn how to reach your target audience to get your message heard!
Join us for the "Cultivate Your Voice" conference so you can cultivate & activate:
*Up- to- date Social media tips to get your online voice heard
*Podcasting and other technology marketing secrets for audience building
*How to use your story as a part of your platform that sets you apart
*DIY tips for PR so you can pitch your event, book, and business to the media
*Improvisational exercises that help you as a speaker, salesperson, & leader
*A strategic plan to host your own business seminar
*Tips on writing, publishing, & promoting your book
*Turn conversations into clients
YOUR TICKET ALSO INCLUDES:
*1 pre-event Zoom Group Video Call
*3 post Zoom Group Video Calls for follow-up & accountability
*Door Prizes, Networking, Q&A with Panelists
"Colleen put on a fabulous event today. She drew you in from the beginning with the energy, the music." "I'm so glad I invested in myself and my business." "I got something from every speaker, …you have to be at her next event." -Jennifer Breaux, Owner of Dream Vacations, from "Cultivate Your Business"
---
Don't miss your opportunity to hear this dynamic team of presenters and panelists!
*For Group rates, email Colleen: YourGigGirl@gmail.com
*Innisbrook Golf Resort is a beautiful but big resort. Please allow enough time to find your way to the meeting space. We recommend entering on the southeast entrance via Belcher Road. (NOT the Klosterman entrance.) Toscana is the meeting room located in the Island Clubhouse on the south part of the property. Registration & open networking begins at 9:30AM.
*Lunch is on your own. We recommend eating on property at the Turnberry Pub, which is directly below our meeting room. Or at the main clubhouse, Market Salamander Bar & Grille.
---
Meet Your Presenters & Panelists!
Chris Krimitsos-
Talk to people that Chris Krimitsos has spent any amount of time with and you'll hear descriptions like "changemaker," "motivator," "catalyst for change," and "inspiration." Whether it's a major corporation's CEO or a solopreneur, Chris is passionate about being a difference maker. He is the founder of Tampa Bay Business Owners, the Florida Podcasters Association, and creator of the international conference, Podfest Multimedia Expo. He has also successfully birthed The Messengers: A Podcast Documentary, which has obtained worldwide distribution and theatrical screenings. Chris is well-positioned to educate an audience eager to embrace this popular and continually growing medium. Chris will be sharing with us how to utilize podcasts for marketing & audience building.
Liza Marie Garcia-
This former tech CEO founded one of the first telecommunications professional services firms in the United States when she was twenty-seven years old. She brought this company to market, building offices in Seattle and Portland before selling and moving into publishing in 2013. Her first book, Never Drink Coffee During a Business Meeting was featured on a West Coast Barnes & Noble book tour in the summer of 2017. Ms. Garcia is now Chief Operating Officer and an equity partner NOW Publishing, a multi-genre publishing house located in the Tampa area. She is a mother of two middle school daughters, part of the SMILE ministry at City Life Church in Tampa and is devoted to her family and her church. Liza will teach you how to bring your dreams of writing to life and how to successfully publish & promote your book.
Clestine Herbert-
Clestine, the Purpose Coach is an International Speaker, Certified Personal Development and Leadership Coach, Author of her 2nd book, The Art of Convincing Yourself and developer of several proprietary business building programs including her signature program called The Souled Out Method. Living her dream since 2003, she helps multi-gifted, faith-led, heart-centered business and career women build authentic, successful businesses. She is passionate about helping women be confident in their purpose and clear on their message so they can attract the clients that want to work with them. She will be teaching us how to turn conversations into clients.
Josh Talkington-
Josh is the Co-founder of STRIDE Media Group, a Tampa Bay public relations agency primarily working with female entrepreneurs, minority-owned businesses, and companies passionate about diversity. Josh uses his vast experience as a storyteller and his deep media roots to put STRIDE partners in the best possible position to get the exposure and shine they deserve. A graduate of Eastern Illinois University, Josh spent the first 10 years of his career working in television and radio. He has been a news reporter, anchor, and radio host in Tampa, Las Vegas, Nashville, and Jacksonville. He also helped launch video production companies in various cities. Josh co-founded STRIDE along with Danielle Bayard Jackson. The agency offers services in media relations, crisis communication, video production, marketing and branding. He will be giving you Do It Yourself tips on how to acquire the best PR for your event, book, and business.
Mona Giordano-
Mona Giordano wears many hats. She is a wife, mother of 3 and grandmother of 2. She is a Social Media 101 Coach, licensed pastor, an inspirational speaker, an author and a successful multi-preneur in business. Mona owns 2 brick and mortar locations. One is a 30-year established do-your-own pest control store and the other, a Women's CoWorking Space called "The Direct Connection", which serves as the headquarters for her service-based counseling and coaching offices, her ministry as well as a venue for her social media workshops, business seminars and networking meetings. At first, Mona was hesitant to embrace social media but soon learned it was necessary for business. Mona has built a solid reputation as a Social Media 101 Coach and her biggest pain has become her biggest passion. As a Coach, Mona helps train others on Social Media, with her favorite being Instagram. She will teach you how to use IG to reach your target audience and get your online voice heard!
Melonie Benjamins-
Melonie A. Benjamins is a writer, blogger, educator, and aspiring author. She works full-time as an administrative assistant for a global financial firm. She is an active member of Toastmaster's International and has a passion for teaching and training. She has a BA in Education and over fifteen years' experience in education and volunteer event planning. Some of her "claim to fame" writing includes: Business Writing for human resource companies, Curriculum Writing for educational companies, and Creative Writing. She is a published poet, writes jingles, songs, children's fictional stories, non-fiction personal development and bible study lessons, and monthly blog posts. She is currently working on a non-fiction book that will be published this year. Melonie will be sharing about finding your writing voice and having the courage to tell your story.
Colleen Kavanaugh
Colleen Kavanaugh, Your Gig Girl, is an Emcee, Trainer & Event Specialist- Colleen has worked a variety of events and "Gigs" ranging from 20 to over 1000 attendees in different industries such as Entertainment, Experiential Marketing, and Business Meetings & Conferences. She has worked as an Emcee, Event Coordinator, & Event Staff for numerous Personal & Professional development conferences as well as planned/hosted her own workshops and conferences. She has learned how to cultivate her voice of influence on stage as Sports Host for ESPN Wide World of Sports, Game Show Host for Nickelodeon Suites, & Assistant Cruise Director, just to name a few. Colleen has a passion for education, teaching/training, especially in the topics of mindset, stage presence, and event planning. At Cultivate Your Voice, she will teach & allow for time for attendees to develop a strategic outline/plan to host their own business seminar. Attendees will also be able to stretch their stage presence & presentation skills by participating in improvisational exercises that Colleen will lead. She will also be teaching voice techniques for recording and using your voice to make an impact and persuade your listener!


A HUGE THANK YOU TO OUR SPONSORS!!!
Linda Ray Cameron with Send Out Cards
Bill Graham with Quickie Videos
Trudy Beerman with PSI TV Network- She will have a special gift for everyone who attends!
Cary Reich with Sound Branding Ideas
Here's just a few testimonials from the last "Cultivate" business conference:
"Colleen put on a fabulous event today. She drew you in from the beginning with the energy, the music." "I'm so glad I invested in myself and my business." "I got something from every speaker, …you have to be at her next event." -Jennifer Breaux, Owner of Dream Vacations, from "Cultivate Your Business"
"An absolutely amazing event! The Wae warriors and I had an incredible time!" -Dr. Veronica Walters, Founder of the Walters Academy of Entrepreneurship
"Phenomenal event; we have a powerful leader Colleen Kavanaugh, she is blowing it out of the water "If she's bringing it to your city, you need to be there!" "She had amazing speakers!" -Marcus Eddy, Owner of Path 2 Water Group
"Thanks to Colleen, Cultivate Your Business 2018 was an amazing gift to attendees!" - Mary Ellen Hastings, Personal Development Speaker/Coach & Author
"Great information, terrific event. I'm ready to cultivate my business." -Greg Simmons. Owner of Web Edge Digital Marketing
"Congratulations Colleen on a very successful event. I had fun being a part of it. -Ford Kyes, Action Business Coach
"Thank you for a powerful day of information." -Mark O'Donnell, Founder of RGA Network
"It was an AMAZING event! Can't wait for the next one! I anticipate it to be double or triple the size!" -Eric Rizzo, Real Estate Investor & Entrepreneur