CULTIVATE The AZ Apparel Foundation Designers in Residence Fashion Show
AZ Apparel Foundation will showcase the work of the three Designer in Residence Scholarship winners Personalized Solutions Anniversary Party
About this event
AZ Apparel Foundation will showcase the work of the three Designer in Residence Scholarship winners who have been a part of the accelerator program at F.A.B.R.I.C. since January 2019. The work and accomplishments that these emerging brands made during their six-month scholarship term will be celebrated with an exclusive runway show on the F.A.B.R.I.C. runway, sponsored by Jessica Leila Adnani of Personalized Solutions as part of the Personalized Solutions anniversary party.
2019 DESIGNERS IN RESIDENCE:
Heywood and Ringo by Jessica Wenger McPhaul and Jay McPhaul - Own your day. Don't buy it. Affordable tuxedos.
Naked Rebellion by Jessica Wenger McPhaul and Jay McPhaul - Undergarments in every shade of nude
Ethar Collection by Rawa Awad - Modest evening wear
Anymystik by Angelina Martin - Custom textile prints on men's and women's apparel.
6:00pm Doors Open
6:00pm to 7:30pm Entertainment and shop current and past winner's designs
7:30pm Fashion Show
8:30pm to 9:30pm Entertainment, meet the designers, and shop looks from the runway
VIP Front row runway seats are $40 and include a gift bag, light bites and drink ticket.
Runway seats are $20 and include seats in rows 2 through 4, light bites and cash bar.
General admission standing room tickets are $10 and include light bites and cash bar.
Online ticket sales will end at noon on July 27th and remaining tickets will be available for $5 more at the door.
Photo: Shane Baker Studios
Designs: 2017 Winner OxDx Clothing
*STAY INVOLVED: By purchasing tickets to this event, you are also opting into our monthly HAUTE OFF THE PRESS newsletter. Simply opt out on receipt of the newsletter if you are not interested.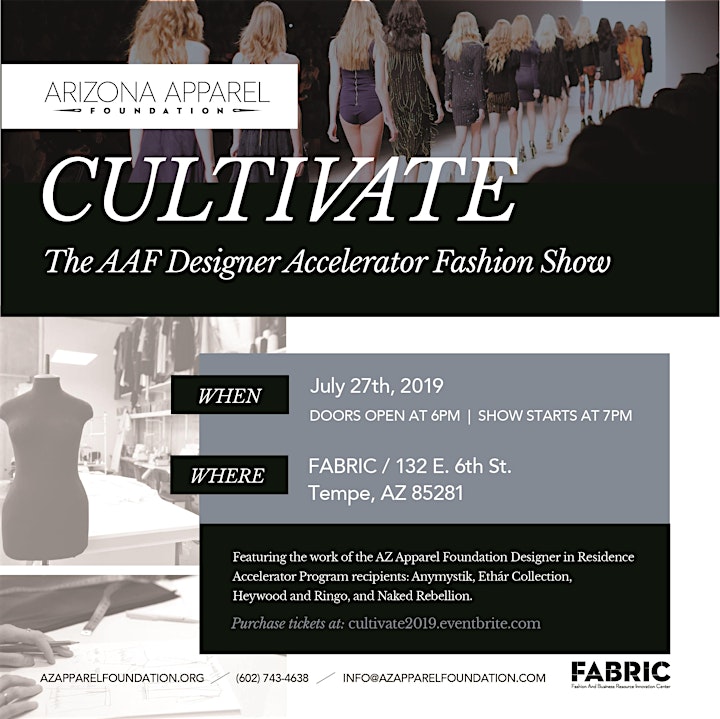 Organizer of CULTIVATE The AZ Apparel Foundation Designers in Residence Fashion Show
Arizona Apparel Foundation (AAF) is an AZ 501-c3 nonprofit organization dedicated to providing Arizona's emerging designers and brands with innovative, small batch manufacturing and strategic business resources, so they can build sustainable fashion businesses locally.
AAF is located inside F.A.B.R.IC. Fashion And Business Resource Innovation Center (headquarters to AZ's fashion industry). AAF, along with its co-licensees LabelHorde and AZ Fashion Source, has a license agreement with the City of Tempe to repurpose its former Tempe Performing Arts Theater into a unique and thriving fashion incubator for AZ.
It works to provide the knowledge and resources needed to foster Arizona's fashion industry. AAF's vision is to create the next U.S fashion capital in Arizona, to support cutting edge research and innovation in wearable tech and to build a sustainable and exciting new industry in Arizona.