Description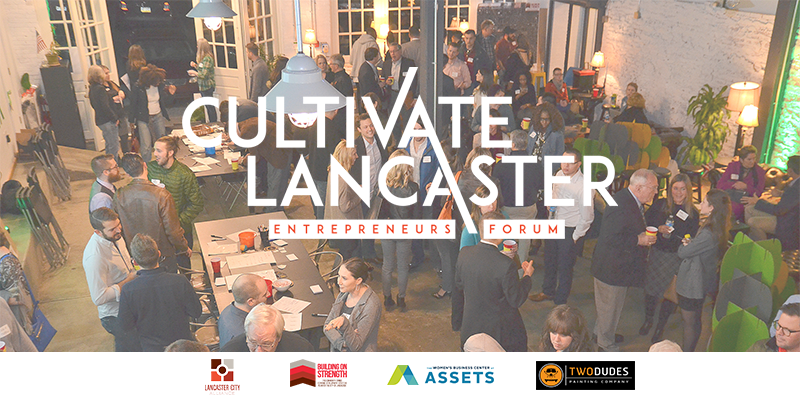 Do you have a business plan that could use some help getting fleshed out? Want an opportunity to network with peers and connect with small business resource providers?
The Cultivate Lancaster Entrepreneurs Forum is your chance to present your big idea to a community of thinkers just like you! Presented by the Lancaster City Alliance and ASSETS, Cultivate Lancaster is a free workshop for budding entrepreneurs to connect with influential thinkers and doers and learn about the many resources and small business support services that are available in the community.
Following a successful debut in December 2015, Cultivate Lancaster returns on May 12, 2016, this time at the Two Dudes Painting Company warehouse! The program will feature remarks from Peter Barber, founder/owner of Two Dudes, and Nikki Vasquez, owner of That Shuu Girl Boutique, along with the return of the group Pitch & Brew sessions and plenty of opportunity for networking with fellow entrepreneurial minds.
Take advantage of this valuable opportunity to connect with other local entrepreneurs while addressing and solving business challenges, brainstorming ideas and learning from one another!
** Space is limited, so please sign up only if you plan on attending! Also, please fill out one registration per person.
** Complimentary valet parking is available, but we'll be giving away some pretty sweet prizes for all attendees who ride their bike!
FAQs
I went to the first Cultivate Lancaster – can I come again?
The short answer – yes. Perhaps you got some valuable feedback at the Pitch & Brew last time, made some adjustments to your business plan and want to let the group brew on your new direction. That's what being an entrepreneur is all about – iterating, evolving and, ideally, growing! That said, we did have a waiting list at our first event, meaning many people who were interested in attending were not able to do so. So, we just ask that you think hard about what you aim to achieve by returning before you claim a spot. Can these questions be answered by scheduling an appointment with one of the resource providers? While networking is an important part of the Cultivate Lancaster experience, we respectfully ask that if all you're after is the beer, snacks and elbow-rubbing, that you kindly hold off and allow someone else from the community (who's maybe just getting their feet wet in this whole entrepreneurial thing) the chance to attend.
What are my transport/parking options getting to the event?
If you can walk or ride a bike, we suggest you do just that. There's even some special prizes in store for anyone who bikes! But if you drive, there will be FREE valet parking available for attendees. How cool is that?
Do I have to participate in the Pitch & Brew?
All attendees will be put into a small group for Pitch & Brew. While we would like to encourage you to take that opportunity to make your pitch and get some valuable feedback, we also understand that this can be a somewhat daunting endeavor. No worries. If you come prepared to pitch but get second-thoughts once you're there, it's OK! Likewise, if you come expecting only to brew and give feedback, but decide last-minute that you'd like to share your idea after all, that's OK too! The Pitch & Brew sessions are an immensely advantageous opportunity to not only try out your elevator pitch, but also gain some perspective from your fellow entrepreneurs, seasoned business owners and resource providers alike. And who knows – you just might make some strategic contacts along the way.
But what if someone steals my idea after I present?
While we don't go so far as to require participants to sign Non-Disclosure Agreements, we do ask that you refrain from, you know, being a jerk. Don't steal other peoples' ideas! This is an opportunity to hone your concept, build relationships and grow. Bring your A-game, not your con-game.
I have a different question that's not addressed here...
Send an email to info@teamlanc.org and we will get on it ASAP.