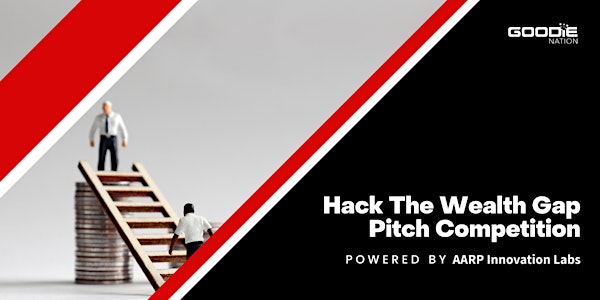 Cultivate: Hack The Wealth Gap Pitch Competition By AARP Innovation Labs
Watch the eight (8) finalists present for a chance to win a $10K cash award plus support from AARP Innovation Labs.
About this event
How might we collectively reduce the wealth gap 30% by the year 2030?
According to the Brookings Institute, a close examination of wealth in the U.S. finds evidence of staggering racial disparities. At $171,000, the net worth of a typical white family is nearly ten times greater than that of a Black family ($17,150) in 2016. Gaps in wealth between Black and white households reveal the effects of accumulated inequality and discrimination, as well as differences in power and opportunity that can be traced back to this nation's inception. The Black-white wealth gap reflects a society that has not and does not afford equality of opportunity to all its citizens.
Hack The Wealth Gap powered by AARP Innovation Labs is an initiative to support eight (8) top BIPOC founders working on early-stage innovative solutions that are reducing wealth inequality in the U.S.
Cultivate is the pitch competition to crown the winner of the $10,000 cash award plus support from AARP Innovation Labs.
Presenting Founders//
Bryan Young (Home Lending Pal | Orlando): An anonymous marketplace that uses its AI-Powered mortgage advisor, machine learning, and distributed ledger technology to help millennials and minorities through the home research and underwriting process.
Calvin Williams (Freeman Capital | Charlotte): We help you create a plan and give you the tools to grow your wealth.
Kevin Mobolade (Swipe Credit | Atlanta): A fintech platform as a service company that uses alternative data to provide credit and financial education to more than 92 million underserved Americans.
Daryl Holman (Revival | New York City): Empowers borrowers by allowing them to buy out and eliminate their debt for the same pennies on the dollar rate that it gets sold to debt collectors.
Elle Rustique (TipBrightly | San Francisco): A mobile payments cashless tipping solution enabling low-wage tipped workers to recover the lost opportunity for cash-based earnings while helping their employers increase staff retention, recruitment, and service quality.
Evan Leaphart (Kiddie Kredit | Miami): A mobile chore tracking app that teaches kids about credit.
Philip Hickman (Plabook | Kansas City): Innovative reading technology that uses artificial intelligence, natural language processing, and speech recognition to help children learn how to read.
Rashedia Mayhane (GreenChips | Atlanta): A fintech/femtech company with a mission to help women gain the financial confidence and control needed to create the lives they deserve.
Judges: Lisha Bell (PayPal), Justin Kimpson (Ford), and Melanie Akwule (MINWHO)
Spoken Word by Singer/Songwriter Brianna Knight
Featuring a Special Performance for Spoken Word Artist: Brianna Knight
About AARP Innovation Labs//
As part of our commitment to identifying solutions that amplify AARP's impact in HealthTech and FinTech, we collaborate with startups to spark innovation that spans generations and empowers people to choose how they live as they age.