Description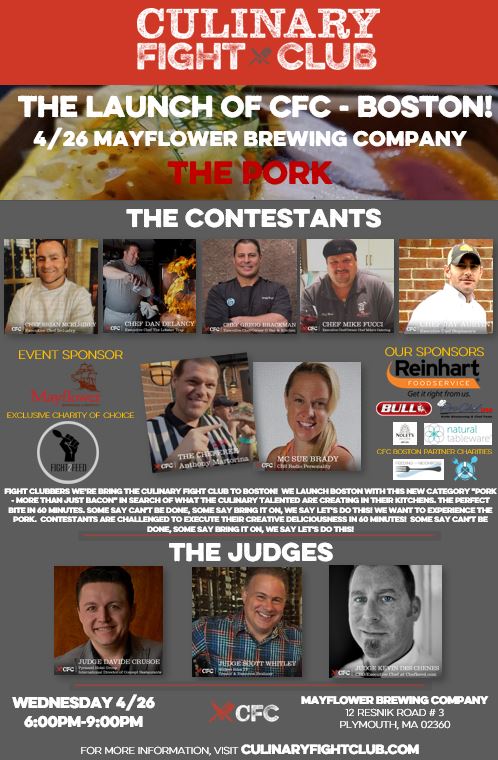 Hello Boston! Culinary Fight Club is breaking ground in Boston with Pork - It's More Than Bacon on April 26th!
"Pork the other white meat" was a slogan in 1987 created by the National Pork Board. Since then many of us has grew up with the slogan and we'd like to say we've come a long way from "Pork Chops and Apple Sauce"!
Culinary Fight Club - Boston: Pork rolls into town Wednesday, April 26th to Mayflower Brewing Company hosted by CBS Radio's Sue Brady Hartigan & Cheferee Anthony Martorina keeping it legit.
Chefs throwing down at the CFC Boston launch are Gregg Brackman | G Bar and Kitchen, Jay Austin | Stephanie's On Newbury, Chef-Mike Fucci | Chef Mike's Catering, Brian Mcelhiney | Industry & Dan DeLancey | The Lobster Trap ... all vying to jack the taste buds of the judging trio of Davide Crusoe | Pyramid Hotel Group, Scott Whitley | Wicked Bites & Kevin Des Chenes | ChefKevD and you our guests. That's right kids you're voting too!
Shout out to our incredible sponsors Reinhart New England, Bull Outdoor Products, Inc., Prochef USA - Knife Sharpening and Culinary Supplies, Natural Tableware USA, NOLET'S Finest Gins, Adenna LLC and Mayflower Brewery!
Proceeds support Fight2Feed 501(c)(3) continued efforts with food rescue and the fight to end hunger w/ our Boston partner charities Rescuing Leftover Cuisine and #FeedingOurNeighbors thru @NewEnglandNACE.
But we're far from done. We're actually just getting started so help us make a difference and grab your tickets now at http://bit.ly/2ov4eAg.
#CulinaryFightClubBoston #Fight2Feed #CulinaryFightClub #WFCQualifier#WHSL #SistiMarketing #CulinaryAssaultTeam
The perfect bite in 60 Minutes. Some say can't be done, some say bring it on, we say "Let's Do This!"
We know you're out there and waiting to slay it in the Culinary Fight Club Ring Boston! Bring your Best Pork tasting palates out on April 26th, we want to see all you Bostonian pork lovers put your Taster's Choice vote in for your favorite bite!