Description
CULINARY FIGHT CLUB - 'BAMA BEACH SHRIMP BOIL
ATTENTION CULINARY FIGHT CLUB FAMILY!!
LET'S ALL COME TOGETHER WHILE WE ARE IN ALABAMA AND CELEBRATE!
ALABAMA GULF STATE PARK PAVILION
20115 AL-135, Gulf Shores, AL 36542
For More Information on the Event Space
http://www.alapark.com/Gulf-State-Park-Beach-Pavilion
THIS IS MADE POSSIBLE BY OUR GENEROUS SPONSORS AT
REINHART FOODSERVICE AND BLUE BAYOU WILD CAUGHT GULF SHRIMP
THIS IS A PRIVATE EVENT AND TICKETS ARE NECESSARY
https://www.eventbrite.com/e/bama-beach-shrimp-boil-tickets-29116751989
Your Ticket is Necessary for Complimentary Parking
Chef Samples + Taster's Choice Voting Ballot
Feeling good because 20% of the proceeds benefit Fight2Feed
WHAT IS CULINARY FIGHT CLUB?
Monthly Live Cooking Competitions around Chicago produced by CULINARY Fight Club. Each month fires up with a new theme, ingredients, contestants, judges, prizes, and location! What's all the hypes about? Watch this video clip and see for yourself!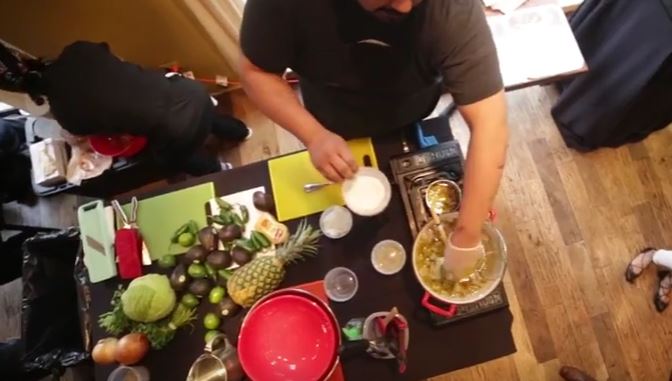 VIDEO COURTESY OF L37 CREATIVE : CLICK THE IMAGE TO PLAY
HOW DOES IT WORK?
Contestants or Teams have (60) minutes to impress (3) judges, using (1) 10k BTU Burner and (15) supplied raw ingredients & (3) surprise ingredients, all to be judged on that one perfect bite! Hungry, don't worry there is also a Taster's Choice Award too! So attendees are encouraged to grab a tasting spoon, dig in and vote for their favorite bite!
OUR CHARITY OF CHOICE - FIGHT2FEED
With each TasteBud Challenge, we build a bigger and stronger community of people who share a passion for food and giving back. 20% of all Culinary Fight Club ATLANTA Events proceeds benefit feeding the hungry non-profit - Fight2Feed, a Charitable Organization on a mission to "KO" hunger One Block at a Time starting with Atlanta.
1 in 7.5 people, or an estimated 755,400 people, in metro Atlanta and north Georgia turn to food pantries and meal service programs to feed themselves and their families each year. This includes more than 164,000 children and more than 64,000 seniors.
IT'S TIME TO MAKE CHANGE HAPPEN
For more details and developments on the non-profit and/or to get involved, subscribe to our website HERE and "Like" us on Facebook!