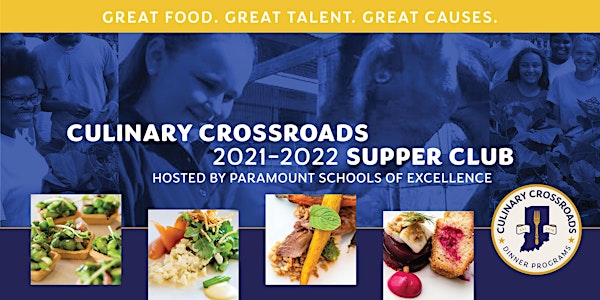 Culinary Crossroads Supper Club hosted by Paramount Schools of Excellence
Location
Paramount Cottage Home
1203 East Saint Clair Street
Indianapolis, IN 46202
Refund policy
Contact the organizer to request a refund.
Eventbrite's fee is nonrefundable.
Sales Have Ended
Ticket sales have ended
Thank you for your interest in the Culinary Crossroads 2021-2022 Sunday Supper Club hosted by Paramount Schools of Excellence. Ticket sales have ended. Please follow us on Facebook and Instagram at Culinary Crossroads IN for more info on this and other dinner programs.
Monthly five-course Sunday dinners prepared by some of Indy's top chefs, a continuation of Paramount's Bring Back the Chefs dinner series.
About this event
As independent chefs and restaurateurs continue their efforts to get back in the kitchen, our new Culinary Crossroads Supper Club hosted by Paramount Schools will help support their efforts. Funds from ticket sales go to the chefs with a portion directed to a new Ivy Tech culinary scholarship, fitting with our Culinary Crossroads focus on "Great Food. Great Talent. Great Causes."
Aug. 15, 2021 -- Craig Baker, The Amp, and Ben Hardy, Gallery Pastry Shop
Sept. 19, 2021 -- Steven Oakley, Oakleys Bistro
Oct. 17, 2021 -- Abbi Merriss, Bluebeard and Kan Kan
Nov. 21, 2021 -- Esteban Rosas, Milktooth
Dec. 12, 2021-- Marcus Daniel, Joseph Decuis, Roanoke
Jan. 16, 2022 -- Eli Laidlaw, The Alexander
Feb. 20, 2022 -- Alan Sternberg, Iozzo's
March 20, 2022 -- Ross Katz, Rooster's Kitchen
April 10, 2022 -- Jonathan Brooks, Milktooth & Beholder
May 22, 2022 --Tracey Couillard, Ash & Elm
June 12, 2022 -- Erin Kem, Scarlet Lane
July 17, 2022 -- Erin Gillum, Culinary Instructor/Area 31 Career Center
Aug. 21, 2022 -- Eamon McParland, Roselily, South Bend
Sept. 18, 2022 -- Carlos Salazar, Lil Dumplings
Participating chefs are subject to change.
Single or multiple ticket options are available. Choose dinners by simply clicking on "Select a Date," then choose "Tickets" to purchase.
Guests are welcome to bring their own beer or wine selection.
The Culinary Crossroads Supper Club Story
Introduced to Culinary Crossroads leadership during the 2021 Spring Dinner Series, Paramount CEO Tommy Reddicks shared his experience with Paramount's recent Bring Back the Chefs dinners and his wife, Kelly's, tireless passion for supporting his schools, her community and the Indianapolis culinary scene. Her sudden passing last April produced a wellspring of support, and donations to her cause were focused on supporting her passion for additional culinary events in Indianapolis.
Culinary Crossroads is pleased to collaborate with Paramount Schools of Excellence to bring about a new, year-long dinner series: Culinary Crossroads Supper Club presented by Paramount Schools. Our Sunday suppers will feature some of the region's top chefs preparing exquisite five-course meals, with ticket revenue used to compensate the chefs and to provide scholarship dollars to selected Ivy Tech culinary students.
The Culinary Crossroads Supper Club is a welcomed addition to Culinary Crossroads' portfolio of dinner programs focused on "Great Food, Great Talent and Great Causes".