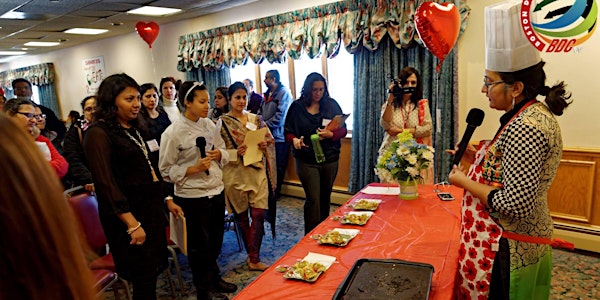 CUISINART 2018 Artists and Chefs Registration
When and where
Location
Elks Lodge 34 Powder Mill Road Maynard, MA 01754
Description
CALCUTTA CLUB USA welcomes you to The Third Annual
CUISINART

(All live cooking rounds are sold out)
---
LIVE INDIAN COOKING COMPETITION
& SOUTH ASIAN ART EXHIBITION
An Extraordinary Concept Event in New England
You can be one of the 12 live chefs in one of the rounds at CuisinArt. Top two of each round win awards and there are other awards for overall winners.
You can be one of the 8 artists displaying and selling your art at CuisinArt
Registration Costs:
Chefs - $25
Artists - $50 for stall and 25% of proceeds of all sales to go to CuisinArt organizers. You set prices of each art.
Young Artists for Live Art participation - please contact calcuttacluboffice@calcuttaclubusa.com or call 508.740.7848 for information. You must be between 12 - 21 years old.
Dancers and Musicians for Live Art segment - no cost, but please contact calcuttacluboffice@calcuttaclubusa.com to express interest in performance.
PAST VIEW: Cuisinart 2017 Pictures
SAT MARCH 17, 2018
MAYNARD LODGE ELKS
MAYNARD, MA
WATCH THE DRAMA UNFOLD REAL TIME
AS NEW ENGLANDS PREMIER HOME CHEFS BATTLE


KAUN BANEGA CUISINIER !!
3 Rounds with 12 chefs (a) Mens Freestyle (b) Womens Traditional (c) Surprise Ingredients (
new

this year)
Live Art with Dance, a spectacular innovation - bigger and better this year, with children.
ENJOY UNPARALLEL ART DISPLAYS BY PROMINENT SOUTH ASIAN PAINTERS. BUY EXQUISITE WORKS FOR YOUR COLLECTION.


DELECTABLE FOOD ON PREMISES BY MASALA ART.
ORGANIZED BY THE EVENT INNOVATORS
FOR FULL RULES OR TO PARTICIPATE AS AN ARTIST OR COOKING CONTESTANT, SEND EMAIL TO CALCUTTACLUBOFFICE AT CALCUTTACLUBUSA DOT COM OR CALL 508.740.7848 or visit WWW.CALCUTTACLUBUSA.COM

Hall has limited capacity - Register for your free ticket today.