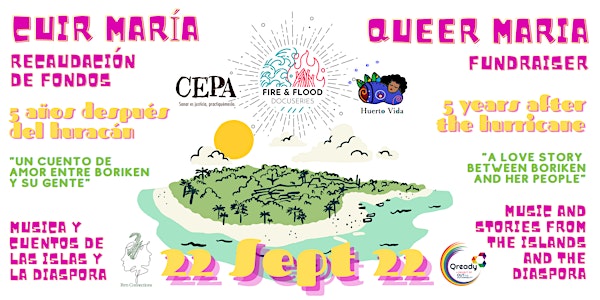 Cuir María: 5 años después / Queer Maria: 5 Years Later
Event honoring the 5th anniversary of Hurricane Maria, and raising money to support "Fire & Flood" documentary and local collaborators.
Refund Policy
Contact the organizer to request a refund.
Eventbrite's fee is nonrefundable.
About this event
UPDATE!!
Event Postponed [Español Abajo]
Queer Maria 5 Years Later: a love story between Boriken and her people
We are postponing the event "Cuir Maria 5 Years Later" but we invite you instead to join us this Thursday for a screening of the draft sneak-peek of @firefloodfilm. Please keep spreading the word and contributing to the fundraiser!
Tropical Storm Fiona is strengthening into a possible Hurricane to hit Puerto Rico this evening. PR's electric grid was never fully repaired after Maria, and with the ineptitude of the new private owner, Luma, we are preparing for large-scale black outs with no idea when power will resume. One organizer is already without power. Meanwhile, another organizer's toddler is in the hospital with COVID and Mycoplasma. This is the era of climate change.
We are postponing the fundraising event to a future date, TBD, but we ask you to continue spreading the word. This Thursday, instead of our planned activities, we will be screening the sneak-peek of Fire & Flood. Sign up at the eventbrite (Link in bio) to get the log-in info for the screening, and stay tuned for updates.
Evento Pospuesto [Español Aqui]
Cuir María cinco años después: un cuento de amor entre Boriken y su gente
Estamos aplazando el evento "Cuir María 5 años después", pero en su lugar les invitamos a unirse a nosotros este jueves para la proyección de @firefloodfilm ¡Por favor siga difundiendo la palabra!
La tormenta tropical Fiona se está convirtiendo en un posible huracán que golpeará a Puerto Rico esta tarde. La red eléctrica de Puerto Rico nunca fue completamente reparada después de María, y con la ineptitud del nuevo propietario privado, Luma, nos estamos preparando para los apagones a gran escala sin una idea de cuándo se reanudará el poder. Un organizador ya está sin energía. Mientras tanto, la niña de otra organizador está en el hospital con COVID y Mycoplasma. Esta es la era del cambio climático.
Estamos aplazando el evento de recaudación de fondos para una fecha futura, por determinar, pero le animamos a continuar difundiendo la palabra. Jueves, en lugar de las actividades que tenemos previstas, proyectaremos @firefloodfilm. Regístrese en Eventbrite (enlace en bio) para la info de inicio de sesión y permanezca atento a las actualizaciones!
ESPAÑOL ↓ abajo ↓
Fern Connections is excited to be partnering with Out for Sustainability to promote this collaborative event honoring the 5th anniversary of Hurricane Maria. As an LGBTQ+ matchmaking company, we believe that standing up for climate justice is an act of love for each other and the future.
Queer Maria 5 Years Later: a love story between Boriken and her people
About the event:
We invite you to join us for "Queer Maria 5 Years Later: a love story between Boriken and her people," an online fundraising event for the collaborative documentary project "Fire & Flood: Queer Resilience in the era of Climate Change," and some of the project's local collaborators on the islands of Boriken, known by many since colonization as Puerto Rico.
Message from the hosts:
"Collectively seeing growth as mutu­al aid, increased com­pas­sion and kind­ness, more orga­niz­ing and com­mu­ni­ty care will help thrive and survive climate disaster. Seeing our dif­fer­ences as a vehicle and tools for cre­ative change, trans­for­ma­tion is pos­si­ble, like a seed coming out of the dirt, the goal is lib­er­a­tion."
- Co-host Natalia Villarán-Quiñones, Out for Sustainability's "Qready" Community Organizer, and the administrator of the Instagram @queers4climatejustice
"This is a space to remember Maria, and the infrastructures of injustice the hurricane exposed. This is a space to honor this memory by re-dedicating ourselves towards the ongoing work of climate justice, under the leadership of the frontlines. And this is a space to sustain ourselves on that journey through the healing, care, and love we provide each other."
- Co-host Vanessa Raditz, Out for Sustainability's Board Treasurer, Qready Project Director, and Director of Fire & Flood
About Fire & Flood:
50% of funds will go to production costs for the collaborative-documentary project "Fire & Flood: Queer Resilience in the era of Climate Change", including funding for the Puerto Rican musicians sharing their music during the event and in the documentary.
"Fire & Flood" weaves together queer & trans stories from Hurricane Maria in Puerto Rico and the near-simultaneous Tubbs Fire in Santa Rosa, CA to craft a story of intersectional climate justice that can inspire resilience preparedness by and for the LGBTQ+ movement. Find out more about the project and how to support at linktr.ee/firefloodfilm
Since the launch of the Fire & Flood project in 2019, the project has dedicated 50% as mutual aid to local collaborators and the projects they designate. We continue this ethic of redistribution tonight by sharing half the proceeds to projects resourcing the resilience of our collective liberation movements.
About the local collaborators:
50% of funds raised will go directly to Huerto Vida & CEPA (descoloniza PR), two local organizations in Puerto Rico dedicated to healing justice, and resourcing the resilience that frontline communities need in the enduring work of climate justice.
CEPA's mission is to decolonize in mind-body-spirit through a diverse array of healing practices and encounters grounded in community care, embodiment and reclamation of ancestral (afroindigenous) traditions. It's part of a movement of people working to transform their relationships and everyday life centering the visionary leadership of Puerto Rican femmes, gender nonconforming, trans, and queer folx. They are currently fundraising to purchase Casa-Taller, to secure their home, community space, and medicinal gardens. Find out more: https://givebutter.com/cepa
Huerto Vida creates wellness and healing spaces for LGBTTIQA+ folks from an intersectional perspective, and they organize workshops that provide tools for supporting healing processes. They are currently strategizing to start offering Trauma informed workshops, and to offer support to mothers and gestating folks in their processes of conception, pregnancy, birth and postpartum.
About the sponsors:
Out for Sustainability is a 10-year old non-profit organization working at the intersection of the LGBTQIA+ and environmental movements. This year, we emerged from a period of introspection dedicated to a new mission: to provide a platform for co-creating climate resilience and environmental justice by and for LGBTQIA+ communities. Find out more at www.out4s.org/
Fern Connections is an LGBTQIA+ & ally focused matchmaking company, making non-traditional connections for people who want to love whoever and however they please. Find out more: https://www.fernconnections.com/
Cuir María cinco años después; un cuento de amor entre Borkien y su gente
Fern Connections se complace en asociarse con Out for Sustainability para promover este evento colaborativo en honor al quinto aniversario del huracán María. Como empresa de emparejamiento LGBTQ+, creemos que defender la justicia climática es un acto de amor mutuo y por el futuro.
Sobre el evento:
Te invitamos a unirte a nosotres en "Cuir María 5 años después: una historia de amor entre Boriken y su gente", un evento de recaudación de fondos en línea para el proyecto documental colaborativo "Fire & Flood: Queer Resilience in the era of Climate Change", y algunos de los colaboradores locales del proyecto en las islas de Boriken, conocidas desde la colonización como Puerto Rico.
Mensaje de les anfitriones:
"Ver colectivamente el crecimiento como ayuda mutua, mayor compasión y amabilidad, más organización y atención comunitaria ayudará a prosperar y sobrevivir al desastre climático. Al ver nuestras diferencias como vehículo y herramientas para el cambio creativo, la transformación es posible, como una semilla que brota de la tierra, el objetivo es la liberación".
- Co Anfitriona Natalia Villarán-Quiñones, organizadora comunitaria "Qready" de Out for Sustainability y administradora de Instagram @queers4climatejustice
"Este es un espacio para recordar a María y las infraestructuras de injusticia expuestas por el huracán. Este es un espacio para honrar esta memoria volviendo a dedicarnos al trabajo continuo de justicia climática, bajo el liderazgo de las líneas del frente. Y este es un espacio para sostenernos en ese viaje a través de la sanación, el cuidado y el amor que nos brindamos unes a otres."
- Co Anfitrione Vanessa Raditz, tesorere de la junta de Out for Sustainability, directorate del proyecto Qready y directore de Fire & Flood
Acerca de Fire & Flood:
El 50% de los fondos se destinará a los costos de producción del proyecto documental colaborativo F, incluye la financiación para que les músicos puertorriqueñes compartan su música durante el evento y en el documental.
"Fire & Flood" entrelaza historias cuir y trans del huracán María en Puerto Rico y el incendio Tubbs casi simultáneo en Santa Rosa, CA para crear una historia de justicia climática interseccional que puede inspirar la preparación para la resiliencia por y para el movimiento LGBTQ+. Obtenga más información sobre el proyecto y cómo apoyar en linktr.ee/firefloodfilm
Desde el lanzamiento del proyecto Fire & Flood en 2019, el proyecto ha dedicado el 50% como ayuda mutua a los colaboradores del proyecto y los proyectos que designan. Continuamos con esta ética de redistribución esta noche para continuar con esta misión de recursos, la resiliencia de nuestros movimientos.
Sobre les colaboradores locales:
El 50 % de los fondos recaudados se destinarán directamente a Huerto Vida & CEPA (descoloniza PR), dos organizaciones locales en Puerto Rico dedicadas a brindar recursos para la resiliencia que las comunidades de primera línea necesitan en el trabajo duradero de la justicia climática.
La misión de CEPA es descolonizar en mente-cuerpo-espíritu a través de una diversa gama de prácticas curativas y encuentros basados ​​en el cuidado comunitario, la encarnación y la recuperación de las tradiciones ancestrales (afroindígenas). Es parte de un movimiento de personas que trabajan para transformar sus relaciones y su vida cotidiana, centrando el liderazgo visionario de las mujeres puertorriqueñas, las personas género no conforme, las personas trans y cuir. Actualmente están recaudando fondos para comprar Casa-Taller, para asegurar su hogar, espacio comunitario y jardines medicinales. Más información: https://givebutter.com/cepa
Huerto Vida se dedica a organizar espacios de bienestar y relajación desde una perspectiva interseccional para personas LGBTTIQA+, al igual que talleres educativos que provean herramientas que apoyen en procesos de sanación. Hemos trabajado en espacios de respuesta rápida a emergencias, espacios para niñes y espacios intergeneracionales. Parte de la propuesta futura de Huerto Vida es expandir para brindar talleres de Prácticas Informadas en Trauma, brindar apoyo-cuidado a madres y personas gestantes (en sus procesos de pre gestación, gestación y post parto).
Sobre los patrocinadores:
Out for Sustainability es una organización sin fines de lucro de 10 años que trabaja en la intersección de los movimientos LGBTQIA+ y ambientales. Este año, salimos de un período de introspección dedicado a una nueva misión: proporcionar una plataforma para co-crear resiliencia climática y justicia ambiental por y para las comunidades LGBTQIA+. Obtenga más información en www.out4s.org/
Fern Connections es una empresa de emparejamiento enfocada en LGBTQIA+ y aliados, que crea conexiones no tradicionales para personas que quieren amar a quien sea y como les plazca. Obtenga más información: https://www.fernconnections.com/