CUEN Annual Conference 2013

Tuesday, June 18, 2013 from 9:00 AM to 6:00 PM (BST)
Event Details
SMART CITIES AND SMART ENERGY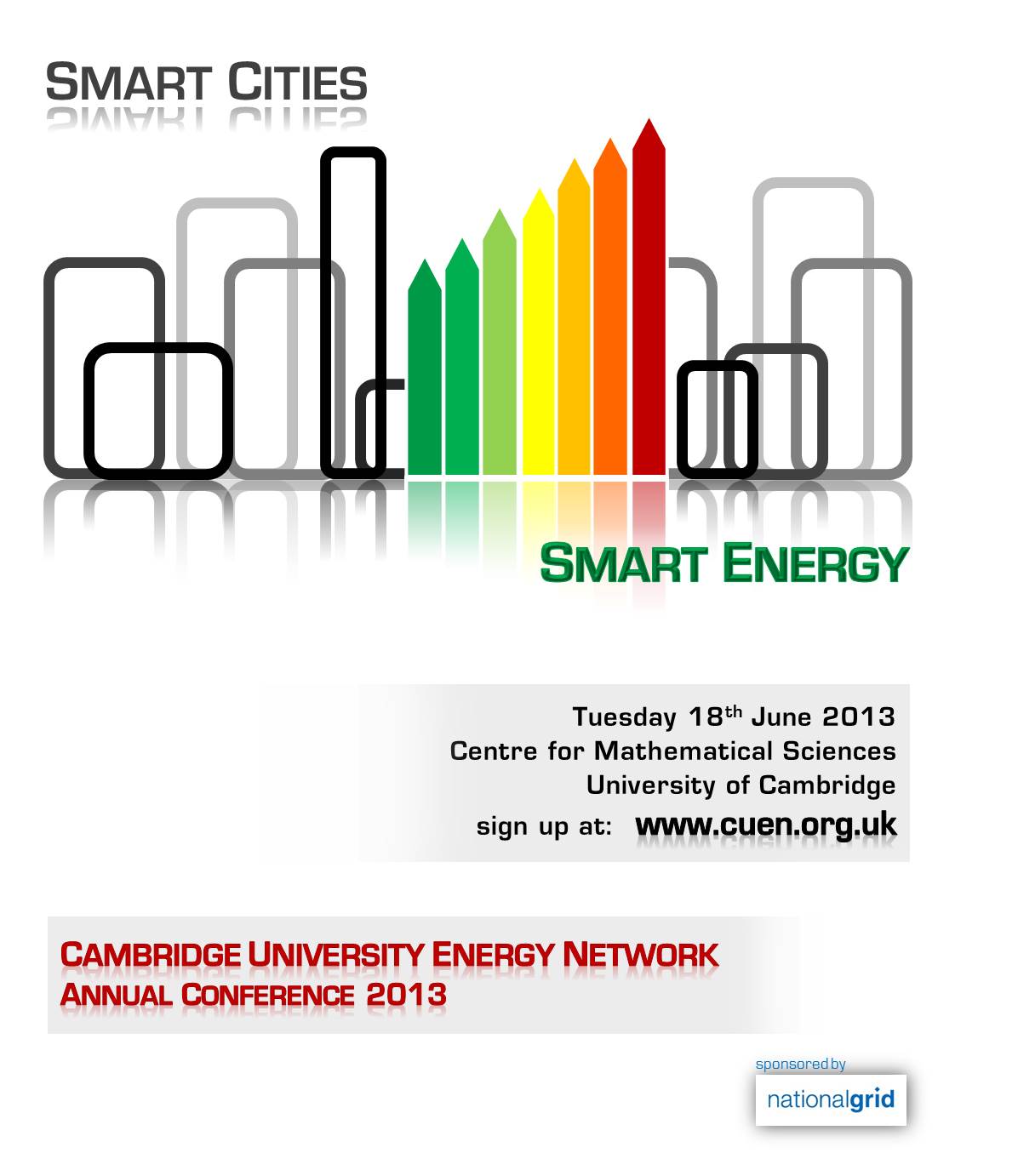 18th June, The Centre for Mathematical Sciences, University of Cambridge.
In a world of continuous urbanization, cities are an essential part of a sustainable energy system and a sustainable future more generally. Local governments around the globe strive for a thriving economy, high quality of life and a reduced environmental impact. But individual infrastructure systems are not sufficient to keep up with recent developments. Meeting the challenge of increasing populations and increasingly scarce resources requires new, diverse and smart solutions. In four sessions, the conference will therefore address smart cities, urban planning, smart materials and energy storage and smart grids. Given this highly topical subject, we expect a record attendance, including students, academics and representatives from industry, in addition to a number of distinguished speakers.
For more information, please visit the CUEN website at http://cuens.soc.srcf.net/conference13
*****
Registration Fees
| | | |
| --- | --- | --- |
| Fee type | Until 31 May 2013 | From 1 June 2013 |
| Students/Postdocs | £12.00 | £15.00 |
| Academics | £70.00 | £90.00 |
| Professionals | £120.00 | £150.00 |
Conference fees include a buffet lunch and coffee breaks.
This conference is kindly sponsored by


*****
Agenda:
0900 Registration
0930 Welcome - Laura-Lucia Richter, President, CUEN.
Introduction: 'Finding pathways to decarbonising global energy and economies' - Professor Douglas Crawford-Brown, Director, Cambridge Centre for Climate Change Mitigation Research, University of Cambridge.
SESSION 1: SMART CITIES – FUTURE CITY PLANNING
1000-1030 'Designing the future: the role of smart green cities' - Dr. Dimitri Zenghelis, Visiting senior fellow at LSE and Chief Economist at Cisco Climate Change Practice.
1030-1100 Title TBC - Mr. Jon Price, Chief Executive of the Centre for Low Carbon Futures.
1100-1130 'Extracting economic and environmental value from optimal integration of energy vectors in Smart Cities' - Dr. Pierluigi Mancarella, Lecturer in Future Energy Networks, Manchester University.
1130-1200 Coffee break
SESSION 2: SMART CITIES - EUROPEAN PERSPECTIVE
1200-1230 'Smart Cities and Smart Energy / EU perspective.' - Mr Ari Sorsaniemi, DG CONNECT, Smart Cities and Sustainability, European Commission.
1230-1300 'Smart Cities in Action: Examples from across Europe' - Professor Mark Deakin, Edinburgh Napier University.
1300-1400 Lunch break
SESSION 3: SMART ENERGY – INNOVATIVE ENERGY SOLUTIONS
1400-1430 'What is it that Makes Smarter Energy...Smart?' - Mr. Ian Abbott-Donnelly, IBM European Smarter Cities Innovation.
1430-1500 'Innovative Smart Grid Projects: EDF Energy Smart Metering Trial for a Low Carbon London' - Dr. Panagiotis Papadopoulos, EDF Energy R&D UK Centre.
1500-1530 'Smart Materials in Renewable Energy Applications' - Professor Elias Siores, Smart Materials and Systems, Bolton University.
1530-1600 Coffee break
SESSION 4: SMART ENERGY – SMART CONNECTIONS
1600-1630 'Gap-filling technologies around the adoption and implementation of a sustainable low-carbon transport infrastructure' - Mr. Ian McDonald, Future Transport Systems Ltd.
1630-1700 'The economic value of electric vehicles' - Mr. Phil Summerton, Associate Director, Cambridge Econometrics.
1700-1730 'The current developments, challenges and options for introducing smart technologies and solutions within the global transportation/vehicle industry' - Mr Albert Lam, Chairman and CEO, Detroit Electric Holdings Ltd.
1730-1745 Concluding remarks
1745 Wine reception
When & Where
Clarkson Road
CB3 0WA Cambridge, UK
United Kingdom


Tuesday, June 18, 2013 from 9:00 AM to 6:00 PM (BST)
Add to my calendar