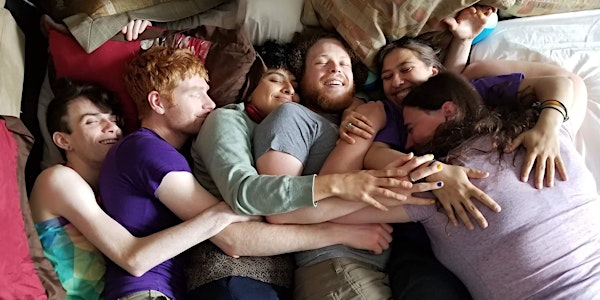 Cuddle Party and Consent Workshop
By Safe Space Cuddling KC
When and where
Date and time
Tuesday, December 17, 2019 · 6 - 9:30pm CST
Location
Full Circle Yoga KC 4327 Troost Ave Kansas City, MO 64110
Refund Policy
Refunds up to 1 day before event
Eventbrite's fee is nonrefundable.
Description
Come join us for an engaging consent based workshop and an open environment for cuddling, connecting, and being without expectation or judgement. The experience is about highlighting our ability to choose as well as giving you a space to practice asking for what you want and saying no to what you do not. You never have to touch anyone or be touched at a cuddle party ever.
Cuddle Party is … a workshop!
Though touch is natural, the skills that make it welcome and enjoyable have to be learned. Skills of communication, boundaries, asking for what you want, and saying 'Yes' or 'No' with clarity and kindness.
Cuddle Party is led by trained and certified Cuddle Party Facilitators. The Facilitator's job is to guide you into those skills gently and easily, in a fun, safe and light hearted way. We welcome you and create an atmosphere of respect, and remain available for questions and support.
At a Cuddle Party you gain:

Clarity and confidence

Boundary and communication skills

Comfort, support and encouragement

The secrets to welcome, relaxed, non-sexual touch
The skills you learn at Cuddle Party translate into every day life, right from the start. When boundaries and consent are clear, every relationship is easier.
Where else can you attend a workshop in your pajamas?
Cuddle Party is … a social event!
We open with a Welcome Circle - about 45 minutes of introductions, rules and a few games to help everyone get comfortable. We teach communication and boundary skills in ways that are lighthearted and fun.
Then we open up for 'free-style' cuddling. You have plenty of time to relax, chat, share a back rub or other welcome touch, cuddle, have a snack or just hang out.
You can come to a Cuddle Party to meet new people, to enjoy amazing conversations, to touch, to be touched, to have fun, to practice asking for what you want, to practice saying "no" to what you don't want — all in a setting structured to be a safe place for exploration and enjoyment. Shucks, you can even come to a Cuddle Party just to cuddle!
We hope you join us.
Check out www.CuddleParty.org to learn more! Follow us on Facebook and Instagram.
---
Remember:
You are allowed to leave after the Welcome Circle and receive a full refund.

Doors CLOSE 30 minutes after the listed start time when the Welcome Circle begins.

No substance use is allowed.
Location:

It is easily accessible with parking available in the back.

When you enter, go up the stairs and the studio is at the end of the hall.
Structure:
Arrival (30 minutes)

Welcome Circle (45 minutes)

Freestyle Cuddling

Closing Circle (last 15 min)
About the organizer
Hi we are Rellian and Ethan and we are Professional Cuddlers here to host events, activities and discussions centered around developing and enjoying a healthy relationship to our bodies, platonic touch, intimacy and connection both to ourselves and those around us.

Inclusive and welcoming of all genders, sexualities, races, and religions.

Events and discussions will touch on:
Learning to be confidant in both your Yes's and No's
Consent and developing healthy boundaries
Unlearning negative thought patterns and building up positive self-image
Learning to integrate past negative experiences into your personal narrative
Compassionate boundary setting self-advocacy
Developing a comfort with platonic touch and intimacy
Understanding and expressing your needs
How to reconnect and build relationships after trauma
What the heck is professional cuddling?!

Check out our website @ www.SafeSpaceCuddling.com