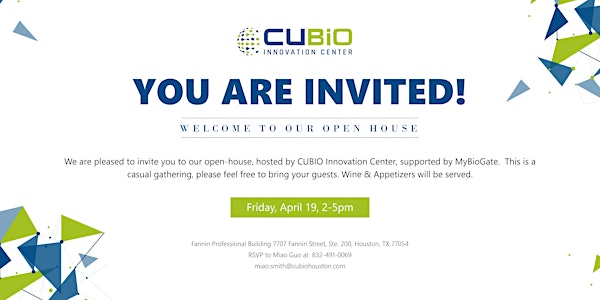 CUBIO Innovation Center Open House
Location
7707 Fannin St, Ste. 200
7707 Fannin Street
Houston, TX 77054
CUBIO Innovation Center launching new incubator and co-working space in Houston's world-renowned Texas Medical Center
About this event
CUBIO Innovation Center started launching new biomedical companies in Houston's world-renowned Texas Medical Center, kicking off with an incubator competition worth $200,000 in start-up funds.
In every way, CUBIO Innovation Center allows bio-technologies in America's future biomedical "third coast" to flourish starting Day 1. The space offers both furnished co-working office areas and a dry lab space, and also work with a wet lab and animal lab for tissue cultures, centrifuges, microscopes, cold storage and animal testing.
Tenants will be uniquely positioned for international growth, as well. The Chinese-American founders aim to make Houston the epicenter for US – China cross-border collaboration, particularly in the healthcare, information technology and energy sectors.
The space also supports professional tenants looking for an advantageous office location, positioning their businesses with cross-border collaborators in the legal, financial and consultant fields.