Description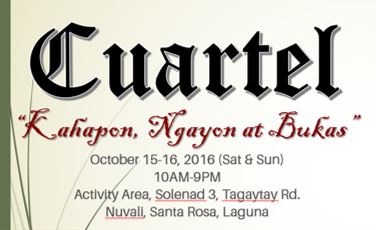 ---
CUARTEL...Kahapon, Ngayon at Bukas
Preserving the Philippine Heritage


We are inviting everyone to join us on Oct 15-16, 2016 (Sat & Sun) from 10am-9pm at the Activity Area of Solenad 3, Tagaytay Road, Nuvali Blvd., Santa Rosa, Laguna for a 2day celebration of the 11th year declaration of Cuartel de Santo Domingo (Fort Santo Domingo).

Cuartel de Santo Domingo was declared as a National Historical Landmark by the National Historical Institute (now National Historical Commission of the Philippines) under NHI Resolution No. 3, series 2005 on July 21, 2005. A marker was unveiled on September 20, 2005.

ACTIVITIES & EVENT HIGHLIGHTS:
DAY 1 & 2 | October 15-16, 2016 * Saturday & Sunday from 10AM to 8PM
A . Pieces of Cuartel and Santa Rosa Exhibit
- To provide awareness of the fort and the rich heritage of Cuartel and Santa Rosa by collaborating with United Architects and designers like Andrew Badiola and Jorge Palmos

B. Heritage Booth
- Consist of 30-40 booths of Santa Rosa and Philippine made products (Exhibitors are welcome)

SHOWS:
DAY 1 | October 15, 2016 * Saturday from 6PM to 9PM
A. Mini Fashion Show
- A combination of real and professional models featuring Filipino evolution of Philippine. Show will be under the direction of Tawi Taylor.

DAY 2 | October 16, 2016 , Sunday from 3PM – 6PM
B. Entertainment show
- Featuring our very own local Filipino talents

Should you have other questions about our program, you may contact any of the following:
Ms. Gemalin Diaz | TWG Chairman-11th Anniversary Cuartel | Contact No.: 0927-281-8207 | Email: de.bienes.ent@gmail.com

Mis. Michelle C. Baldemor | Head Secretariat | Contact No.: 0927-585-5889 / 0917-853-6030 | Email: khbaldemor@gmail.com

In advance, thank you so much for your love and support to the Heritage of the Santa Rosa.
---
Cuartel de Santo Domingo
Santa Rosa, Laguna
VIDEOS:
https://www.youtube.com/watch?v=Ltd2E2rHIw0
https://www.youtube.com/watch?v=liCSGiwqjIk

History
The fort was built in 1877 as headquarters of the guardia civil against tulisanes or bandits. Standing close to Silang, its adobe walls were built to protect the town, particularly the Dominican haciendas of Santa Rosa and Biñan, from tulisanes coming from Cavite. During the revolution, it served as headquarters of the Spaniards led by Gen. Jose Lachambre against the army of Gen. Emilio Aguinaldo from Cavite in 1897. The fort also served as a refuge for women from Cabuyao and Calamba to protect them from being abused by the Japanese Imperial Army and transformed as a center of commerce during the Japanese occupation. It was used by the Philippine Army from 1957 to 1990 and since 1992 has been used by the Philippine National Police.
Source: https://en.wikipedia.org/wiki/Cuartel_de_Santo_Domingo
----------------------------------------------------------------------------------
FAQs
Where can I contact the organizer with any questions?
Your answer goes here
Is my registration/ticket transferrable?
Your answer goes here
Can I update my registration information?
Your answer goes here