Description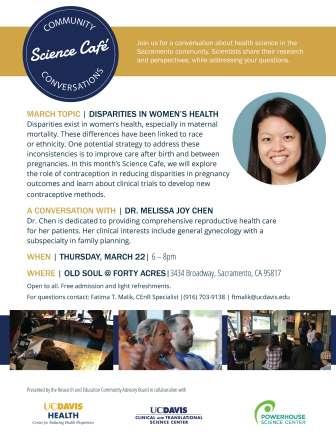 MARCH TOPIC | DISPARITIES IN WOMEN'S HEALTH
Disparities exist in women's health, especially in maternal
mortality. These differences have been linked to race
or ethnicity. One potential strategy to address these
inconsistencies is to improve care after birth and between
pregnancies. In this month's Science Cafe, we will explore
the role of contraception in reducing disparities in pregnancy
outcomes and learn about clinical trials to develop new
contraceptive methods.

A CONVERSATION WITH | DR. MELISSA JOY CHEN
Dr. Chen is dedicated to providing comprehensive reproductive health care
for her patients. Her clinical interests include general gynecology with a
subspecialty in family planning.


Community Conversations Science Café is a bi-monthly speaker's series produced by the UC Davis Clinical and Translational Science Center, UC Davis Center for Reducing Health Disparities, and the Powerhouse Science Center.
Science Café Background Information
The CTSC Community Engagement Program began the Science Café speaker series in August 2016. The purpose of the events is to provide a casual, safe space for lay audiences to have conversations with scientists, and is aimed at engaging the general public in a discussion about research, current events, and other aspects of science that have current public interest (e.g., the opioid addiction crisis and how to manage it, the spread and dangers of the Zika virus, etc.).
These community-research education conversations are hosted bimonthly and are an opportunity for researchers to
Present cutting-edge research findings

Engage with and learn from the end-users of scientific health discoveries (the public)

Enhance the public trust in science

Improve scientific literacy

Spark interest in collaboration with health researchers