We are excited to announce CTIC 5th Pre-JPM Healthcare Investment Summit beginning January 9, 2021.
About this event
In case you are not familiar with the CTIC Summit, we have been hosting high quality cross-border healthcare investment summits during JPM Week for the past four years (check our previous summits).  
In addition to world-class keynote speakers, over 630 invitation-only leading healthcare company executives and 400 investors joined our previous summits.  During the previous summits, we facilitated nearly 2,000 one on one meetings.   
2021 summit (ctic-conferences.com)will feature live and on-demand presentations and discussions from CEOs, investors, and leaders in healthcare sectors:
Partnering Program:  Investors to company executives ratio of 1:1
Investor Showcases: Featuring top tier US and Asian investors with their latest investment focus, personal stories, and insights
Company Showcases: Featuring selected global healthcare companies with cutting edge technologies (15 minutes presentation + 10 minutes on-screen discussion with a paired investor). Application submission deadline is December 26, 2020
Fireside Chats and Panel Discussion Topics: Latest updates and strategies for cross-border fundraising, business development, and collaborations
Virtual Networking Sessions

Why should your company present/showcase at the 2021 CTIC Summit?
Effectiveness - Close to 70% of our 2018 and 2019 presenting companies successfully raised funding after showcasing (the 15 presenting companies raised over $1.1 billion since presenting)
Visibility - Exposure to most relevant cross-border investors and business executives. In addition, presenting company brief introduction materials will be sent to our investor attendees prior to the 2021 Summit
Validation - Spotlight on limited presenting companies
Direct feedback - Selected presenting company will be paired with one investor as an advisor ahead of the summit. We will host a discussion session with the paired investors for selected presenting companies
Apply to present - Application submission deadline is December 15, 2020
Our previous keynote speakers include:
Bob Langer (2017), the David H Koch Institute Professor, MIT
Steve Yang (2017), Co-CEO, Wuxi Apptec
Randy W. Schekman (2018), Nobel laureate, the 2013 Nobel Prize for Physiology or Medicine
Ruiling Song (2019), Executive President, China Pharmaceutical Innovation and Research Development Association (PhIRDA)
Feng Deng (2019), Founding Managing Director, Northern Light Venture Capital
Jennifer A. Doudna (2020), Nobel laureate, the 2020 Nobel Prize for Chemistry
Mark Davis (2020), Burt and Marion Avery Family Professor of Immunology, Stanford University
Atul Butte (2020), Priscilla Chan and Mark Zuckerberg Distinguished Professor, UCSF
Our 2020 Summit Investment Firm Participants include: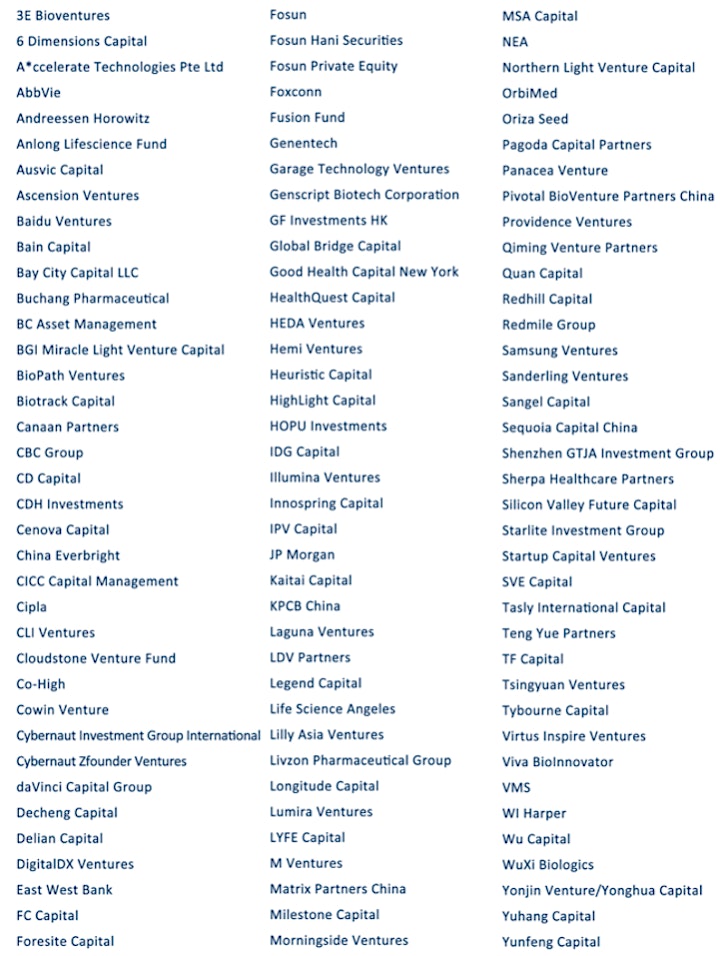 Our 2020 Summit Healthcare Companies Participants include: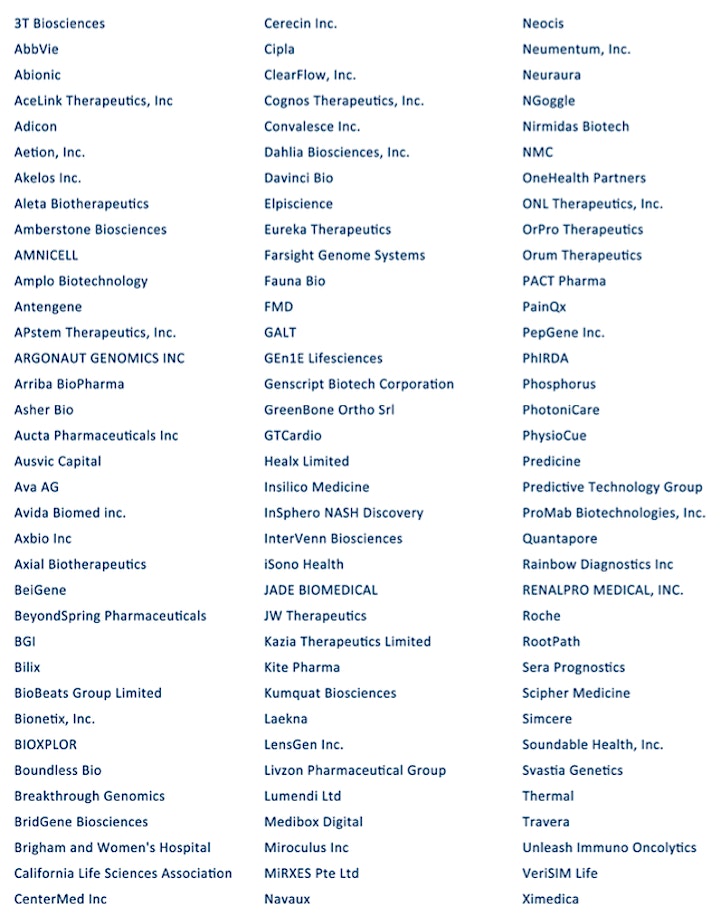 Date and time
Location
Refund policy