Description
The NY Future Leaders Chapter of CTBUH (Council on Tall Buildings and Urban Habitat) will hold its annual global walking tour on June 27th. The walk forms part of the larger global initiative where tours will take place in over 20 cities using a common theme. This will be the 6th annual walk exploring the relationship between tall buildings and the urban environment.
This year's theme is "50 Forward | 50 Back" and will explore the most significant advancements in tall buildings and cities from the last 50 years, while inquiring into the future of our cities 50 years from now. The tour will begin at Lever House at 390 Park Avenue and then go around Midtown, exploring key buildings that epitomize the ideas of their times and serve as important parts of the city's architectural history. It will conclude with drinks at the Bryant Park Grill.
The tour will stop at the Seagram Building, then move directly to 601 Lexington (formerly Citicorp) to hear about the design of this 1977 tower and the recent process of upgrading and adapting it.

At the 550 Madison (formerly AT&T) stop, the tour will learn about plans to renovate and transform this Post-Modern icon so it can serve the future. Then we will go to 1 Vanderbilt to learn more about this 1,400-foot-tall building currently under construction and how it will enhance its neighborhood.
Our last stop will be the NY Times Building to learn about its history and how this building operates to serve a major journalistic institution. The tour will end at Bryant Park Grill for cocktails and refreshments to discuss and mull over the contemporary history of tall buildings in New York City.
Tour Guides:
Clifford Pearson - Editorial Director at Kohn Pedersen Fox Associates
Joshua Chaiken, AIA - Principal at Kohn Pedersen Fox Associates
Carol Willis - President of the Skyscraper Museum
Eli Gottlieb, PE - Managing Principal at Thornton Tomasetti
With Special Thanks to our Organizers:
Nick Sundholm - Senior Engineer at Thornton Tomasetti
Devon Telberg - Architectural Professional at AAI Architects, PC
About the Tour:
The tour starts at 6:00 pm SHARP
The tour ends at Bryant Park Grill (first drink complimentary)
All points in between are a wander!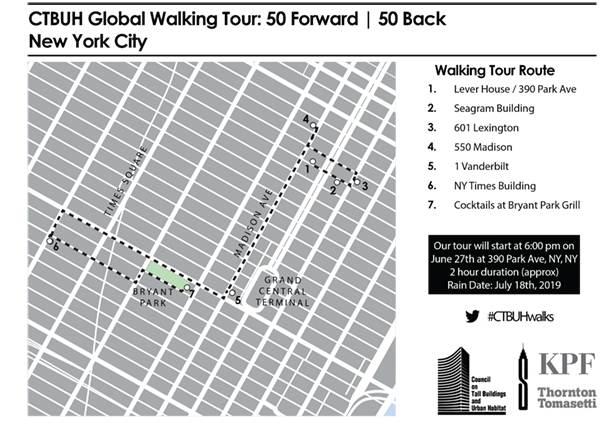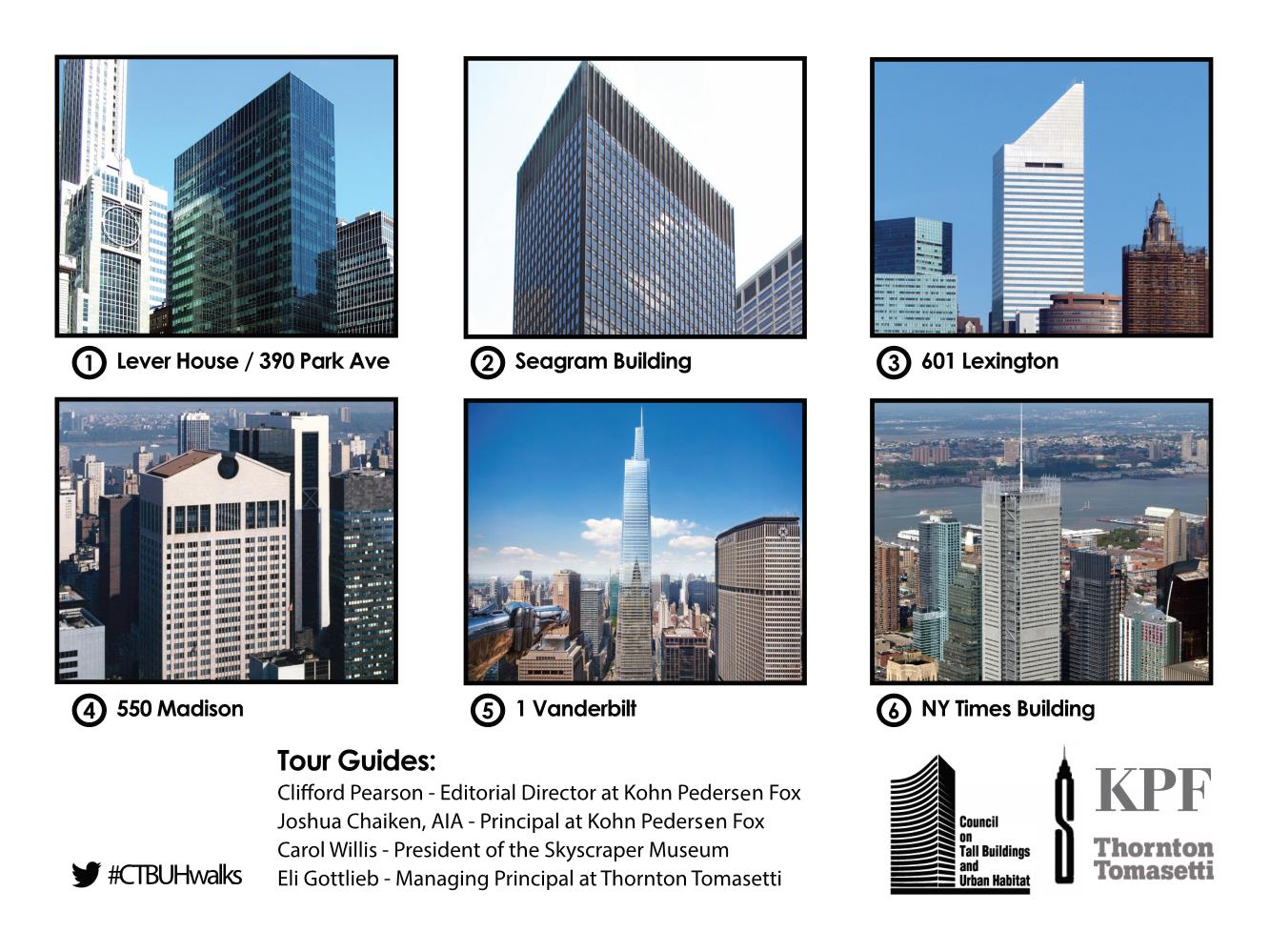 Tour participants are encouraged to join others from around the world tweeting images of the tour using the hashtag #CTBUHwalks