Description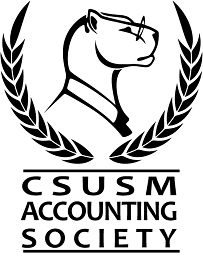 The CSUSM Accounting Department and Accounting Society invites San Diego accounting professionals and alumni to join us in recognizing the accomplished students and networking
Business Professional Attire Required!

Banquet tickets will NOT be sold at the door.

DIRECTIONS:
Off Hwy 78 (East of I-5 and West of I-15)
Exit Twin Oaks Valley Road head south (left turn coming from the east; right turn coming from the west)
Left turn onto Barham Drive
Right turn onto Campus Way
Left turn onto Campus View Drive

PARKING: Complimentary Event Parking on the 6th floor of the parking structure. Park in designate Spring Banquet parking spots only, unless you have a valid campus permit or purchase a parking permit from the pay stations.
Visit the CSUSM Accounting Society website at http://www.csusmaccountingsociety.com/