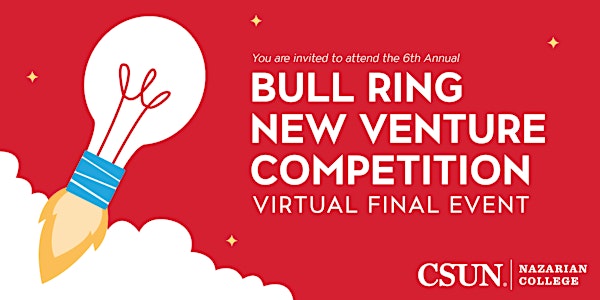 CSUN Bull Ring New Venture Competition: The Finals (Audience RSVP)
Shark Tank Meets Matadors - Virtual Edition
About this event
You're Invited
CSUN's David Nazarian College of Business & Economics invites you to attend the 6th Annual Bull Ring New Venture Competition Final Event!
This year's format will be virtual, showcasing the five finalist teams that have been diligently working over the course of this semester to refine their new venture ideas.
Please join us in supporting our students as they pitch their businesses to a panel of distinguished judges, ultimately competing for $10,000 in cash prizes! The event is free to attend and open to the community.
Meet the Finalist Teams
Búme is an interactive mobile app that empowers street vendors by offering community resources and connecting them with customers in real-time.
Doctor Nugget Games is a board game company creating "Corgi Butt," a fun, simple, replayable card game for board game enthusiasts, families, and young adults.
Gym Bro Heroes is a fitness tracking app designed to keep users motivated by game-ifying the experience of working out.
NAPKN is a web app for independent content creators that provides a user-friendly interface to navigate the complicated world of music publishing.
Synergy Active Aero will provide amateur racers around the world with a competitive edge via our pro-motorsport-quality, sustainably manufactured active rear wings.
Meet the Judges

Gail Becker is the founder and CEO of CAULIPOWER, which uses the power of veggies to make healthier, easier versions of the food you crave, that actually taste like the food you crave. Launched only 4 years ago, CAULIPOWER's products are now available in over 25,000 stores and 5,000 restaurants nationwide.
Rick Friedman is the CEO and Founder of NovusGC, a boutique law firm which provides business-oriented General Counsel services to startups, innovators and early-stage investors. Rick's expertise spans venture financing, licensing, commercial transactions and general corporate matters.
Jang Lee '97 is Partner at Upround Partners, a finance consulting firm that assists early stage companies in growing their business. Prior to Upround Partners, he led finance for many venture-backed startups in Southern California including Shoedazzle, TheBlackTux, Hollar and Joymode.
Lydia Shayne is the founder and creative force behind DeLuscious Cookies & Milk, which has grown to become a destination bakery in Los Angeles. Her curiosity, creativity and willingness to experiment with unusual, high-quality ingredients are what give DeLuscious Cookies their unmatched flavors and textures.
Special Guests from Granada Hills Charter High School
Project Envo is a non-profit that envisions a world in which inhabitants understand the power of their contribution to their community, and when combined with others driven by the same cause, can educate generations on climate change.