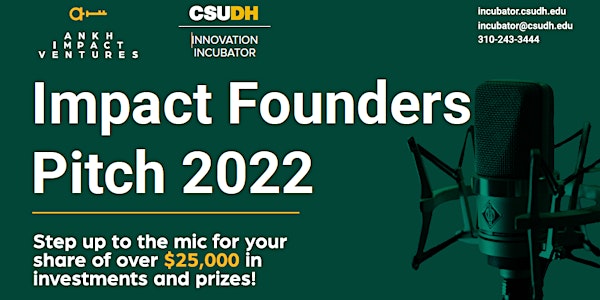 CSUDH Impact Founder Pitch
We are celebrating entrepreneurs! We will be investing in social entrepreneurs at our Impact Founders Challenge Pitch Event.
When and where
Location
California State University Dominguez Hills 1000 East Victoria Street Innovation & Instruction Building, Room 1300 Carson, CA 90747
About this event
The CSUDH Innovation Incubator is proud to present the 2022 Impact Founders Pitch Events showcasing entrepreneurs who are working on socially-driven ventures or are majority-owned by founders from diverse backgrounds. Impact founders from the CSUDH campus and around the region will compete in front of a live audience for $25,000 in total investments to 1st, 2nd, & 3rd place winners from Ankh Impact Ventures, an impact-driven venture investment platform that invests in the next frontier by providing initial funding to agents of change that are daring to reimagine how we learn, live, and consume.
Additionally, all finalists will receive 6 months of CSUDH Innovation Incubator mentoring on top of the opportunity to impress dozens of investors, VIPs, and collaborators. This special event is open to the public.
WANT TO PITCH? Register to pitch at: https://tinyurl.com/impactfounderspitchapply
Approximate Agenda
5:30 Beer/Wine/Refreshments Reception
6:30 Event Begins
9:00 Awards
Directions and Parking
A campus map and directions to the campus can be found at https://www.csudh.edu/visit-us/campus-map-directions/.
The event will take place in the Innovation and Instruction (I&I) Building on the first floor in room 1300. Please park in Lot 2. Parking dispensers and a visual map of the campus, including the Lot 2 and the I&I building can be found at https://tinyurl.com/CSUDHIIBanquetHallMap.
Parking permit dispensing machines are located in Lot 2 in the southwest corner under shelter and in the northeast corner under shelter near the stairway. Dispensers will accept currency, coins, and credit/debit cards.