You'll be certified to lead the CSTEP Training for your organization or community group through two three hour sessions over two days.
About this event
UPDATE: Please note due to changes in our facilitator availability, this training will be held on one day, Friday, October 15th, from 8am-1pm. Training information and Zoom link will be sent out a few days prior.
COVID and the events of the last year have taken a tremendous toll on our health and well being. This unique curriculum was developed by CTSE to provide tools and support to address the stress and trauma caused by the pandemic and the program was developed by Priority Spokane. Just as vaccines are being administered to prevent the spread of COVID-19, C-STEP can be administered to help prevent the spread of stress and trauma and provide needed support. You'll participate in activities and discussions with others while learning important evidence based tools and practices for addressing stress and trauma that you can use yourself and share with others. Training is limited to 16 people. The training will prepare you to lead CSTEP for your organization or community group.
The Zoom link will be provided prior to the training. The training will be led by trained facilitators. You'll be asked to actively participate with your webcam on if possible. Check out the graphics below for more information or visit www.PrioritySpokane.org
This training is provided by Priority Spokane in partnership with the Center for Stress and Trauma Education.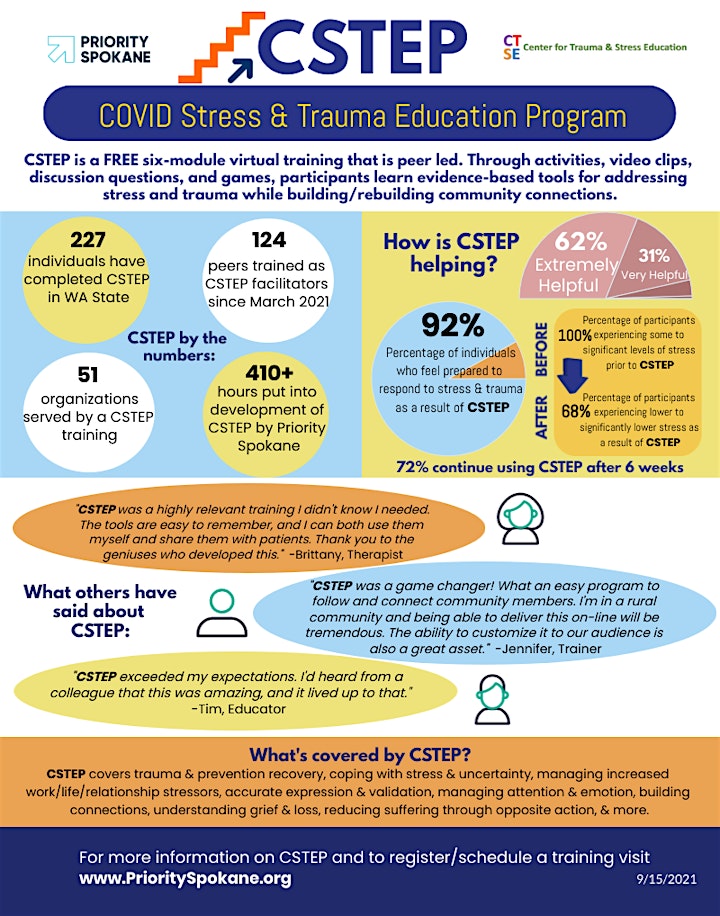 Organizer of CSTEP Facilitator Training
Priority Spokane serves as a catalyst and convener in Spokane County for data-driven and focused improvements in economic vitality, education, the environment, health, and community safety.
  Visit us online at www.PrioritySpokane.org