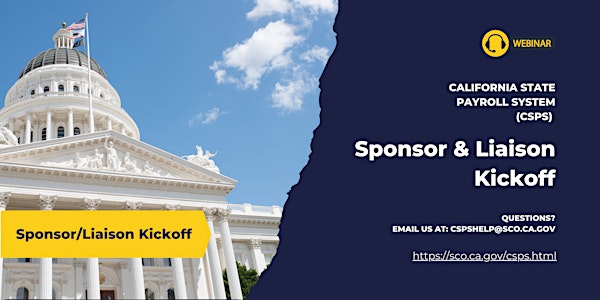 CSPS Sponsor & Liaison Kickoff #1
The CSPS Project is holding sessions for Sponsors and Liaisons to provide more details on the DARTs, plus info on roles and expectations.
About this event
Project readiness, implementation, and success will require a partnership between your department and the CSPS Project. Critical to that success is establishing Department/Agency Readiness Teams, or DARTs. The DART structure will help ensure your managers and staff are aware, understand, accept, and commit to utilizing the new solution effectively.
To assist you in the process of identifying your DART members, the CSPS Project is hosting a Sponsor & Liaison kickoff session. During the session, we will take a deep dive into the DART Coordinator and SME roles. In addition, you will learn more about role expecations and activities.