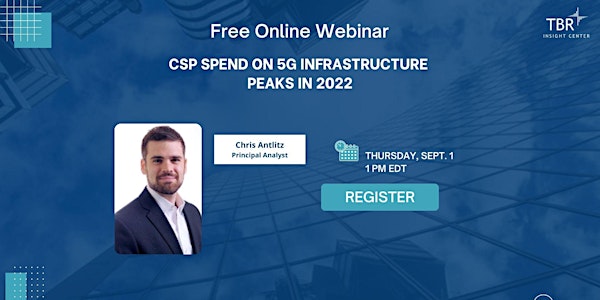 CSP spend on 5G infrastructure peaks in 2022
An exclusive look at key trends in global 5G, including spend trends by operator type and region as well as technology and use cases
About this event
Join Principal Analyst Chris Antlitz Thursday, Sept. 1, for an exclusive look at key trends in the global 5G market, including spend trends by operator type and region as well as technology and use case trends. Our findings are based on TBR's recently published 5G Telecom Market Forecast, which includes current-year market sizing and a five-year forecast by multiple 5G market segments and geographies.
In this FREE webinar you'll learn:
• How communication service providers (CSPs) are justifying their 5G investments
• Which regions and countries are driving 5G infrastructure spend and when
• Which use cases CSPs are focusing on
TBR webinars are held typically on Thursdays at 1 p.m. ET and include a 15-minute Q&A session following the main presentation. Previous webinars can be viewed anytime on TBR's Webinar Portal.