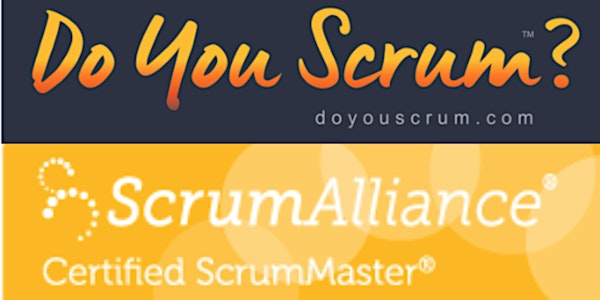 CSM®: Mar 4 & 5 WEEKEND Live-Online
CSM®: Mar 4 & 5 WEEKEND Live-Online
Refund Policy
Contact the organizer to request a refund.
About this event
1 day 8 hours

Mobile eTicket
Learners consistently rate this class as one of the best classes they have taken.
 Virtual Class - live Online.
Learners may take this class from their home or office. This class is spread out for a week. Three days of workshop and there will be assignments that would reinforce the theory we learn in the class. This will help learners be ready-to-be doers right after the class.
At the end of the last session, learners will be eligible to take the CSM test and get certified. Learners need to be actively present and should use a webcam during the class in order to be qualified for the certification from Scrum Alliance.
Schedule:
Dates: Mar 4 & 9 WEEKEND Live-Online
Time : 7:00 AM - 3:00 PM Mountain Time (US)
These dates don't work for you? Check out the other dates: doyouscrum.eventbrite.com
About our Certified Scrum Master (CSM) Class
Join us for this highly interactive workshop to learn Scrum. This class will help you learn the fundamentals of Scrum. Unlike some of the other classes you may have attended, this is a highly interactive workshop with no PowerPoint slides.
"Started out skeptical, finished feeling comfortable and positive about Scrum."  ~ Marc B.
This workshop will help you learn the fundamentals of Scrum practices. This training is appropriate for anyone who is interested in learning about Scrum - for your team including the Developers, Testers, Business Analysts, and Management (Project Managers and other Management members) and especially for people who are going to be playing the role of ScrumMaster.
On completion of the course and successful completion of a post-course online evaluation at Scrum Alliance, you will be registered as Certified ScrumMaster® (CSM) with a two-year membership to the Scrum Alliance.
"Over the course of 30 years, I have attended many classes taught by instructors of varying expertise. Manoj is one of the finest instructors I have encountered, his teaching style is engaging and his understanding of the subject is excellent. He keeps the class involved and we in turn learn. His examples are relevant and serve to drive home the specific topic he is teaching."  ~ Jim F.
No Death-by-PowerPoint in this class!
This is not your typical training where the instructor tells you everything from the podium using a PowerPoint presentation! This is an experiential learning workshop where you will experience what you are learning through carefully designed activities, well-facilitated discussions, and minimal lectures. During this class, you will not only learn from the facilitator, you will also learn from discussing with your peers, co-creating learning materials, and teaching your peer group. Join us to participate, practice, and learn Scrum.
"[Manoj is a] very engaging trainer and used tools outside of a technology to help us learn and interact with one another. I have been practicing agile within my organization for some time now, but Manoj helped educate me further on the various frameworks within agile that I was more unfamiliar with."  ~ Mallory M.
Come prepared to participate in exercises and discussions. Come prepared to be challenged. Attendees will go back with knowledge and skills that they can start using with their teams and organizations on the next day. Come with a beginner's mind: "In the beginner's mind there are many possibilities, in the expert's mind there are few". This training will help you see new possibilities and learn techniques to come up with your own solutions for your challenges.
"Manoj is an outstanding trainer. His unique and engaging approach to delivering Scrum training was refreshing. The concepts were presented in a logical and meaningful way and reinforced with brief, fun, and helpful exercises. Unlike most classes, I stayed engaged throughout and left with a comfortable, working understanding of Scrum and ready to take the test."  ~ Cynthia C.
"Manoj is an excellent and interactive teacher. Throughout the Certified Scrum Master training he came up with highly engaging exercises to maximize student learning, and afterward, I was able to confidently pass the CSM test."  ~ Alexander G.
What's Included with the Class?
14 hours of world-class training by a Certified ScrumTrainer® (CST) and Scrum Practitioner with 20+ years of experience
A rich scrum workbook that you will co-create with your learning in the class
Various reading materials and supporting materials for further learning and research
Opportunity to follow up with the instructor with future questions
2 years of membership with Scrum Alliance
Eligibility to take the CSM exam
CSM exam fees included with registration 
Up to 16 PDUs (Professional Development Units) toward your PMP, PMI-ACP, or other PMI certification
Don't have your PMI-ACP yet? Receive up to 16 contact hours toward eligibility to sit for the PMI-ACP® examination
"Manoj was the Scrum/Agile Framework and Principles instructor for a class I took under him in May 2011. I found him and his class most instructive... we covered a lot of territories; he was very hands-on, thorough, knowledgeable and followed up afterward above and beyond what was expected. I highly recommend Manoj."  ~ Matt K.
What will I learn?
The following topics will be covered during this interactive workshop:
Agile Principles and Values
Scrum Framework and Scrum Values
What is it like working within the Scrum Framework?
Scrum Master
Product Owner
The Team
Other Team Members
Product Backlog
What would a Project Manager do? (and other roles in the organization)
Meetings: Sprint Planning, Daily Scrum, Sprint Review, and Sprint Retrospective
Continuous improvement with Retrospectives
User Stories and Other Requirement Techniques
Agile Estimation Techniques
Planning and Monitoring
Burn-down / Burn-up charts
Additional topics may be covered based on the need of the class
"I had the pleasure, along with my team, of being trained in Scrum by Manoj. We not only learned but to a person, enjoyed the way Manoj taught the material in an interactive way that had us all involved. There is no doubt Manoj knows the material thoroughly and has a style which spreads his enthusiasm to his students. If you ever have the chance - work with him!"  ~ Tony U.
Who Should Attend
Any person who is interested in learning more about Scrum or wants to make Scrum work better for their team or organization is encouraged to attend. While the focus of the class is for people who want to learn how to leverage the Scrum framework to bring about change, any member of a team or the organization who is interested in how to use Scrum would find this class useful. Typical attendees in the past have included:
Functional Managers
Team Leads
Analysts
Architects
Engineers
Software Developers
Directors
Testers
Scrum Masters
Product Owners
and other roles that support product development
Are discounts available?
Special pricing is available for groups and veterans. Contact us to determine your eligibility.
Who is My Instructor?
Manoj Vadakkan is a Certified Scrum Trainer® (CST®) and an Agile software development consultant. Manoj has experience in helping companies adopting an agile way of working. He conducts Scrum trainings around the world. Manoj has 25 years of experience in Software Development and Project Management. His Industry experience includes Telecommunications, Insurance, Bank, Media, and Federal Govt. Agencies. His coaching experience includes software and non-software organizations.
He shares his experiences by presenting at national and international conferences. For the last 5 years, he is proud to have served his local community in the Washington DC Metro area by leading Agile Leadership Network DC chapter. He founded Agile DC, the premier DC-area Agile conference. Manoj now has relocated back to Colorado and looking to engage in Colorado Agile community.
Manoj Vadakkan is a practitioner who enjoys helping individuals, teams, and organizations practice Agile well. He will help you learn Scrum practices from his wide array of experience within small & large, private & government, software & non-software, and co-located & distributed organizations. Join this workshop to learn from a practitioner! Manoj will be available to answer questions long after the workshop to help you with questions you run into while practicing what you learned. Based on availability, attendees may schedule a limited number of short calls to get answers for their follow up questions after the training. We want you to be successful in adopting Scrum in your organization!
Want to bring this training or customized training to your organization?
Contact us for onsite classes
Cancellation Policy
Please understand that a minimum number of participants is required to run the group activities for this class. Because of this, we may cancel the class if we do not have enough participants registered. If we cancel the class for any reason, we will refund all registration fees in full. We are not responsible for your travel expenses and other expenses. Please check with us if you are making any non-refundable reservations such as flilghts or hotels. 
If you cancel your registration: Cancellations more than 2 weeks before the course date will receive a full refund. Cancellations within 2 weeks of the course date will receive a 70% refund to cover expenses already incurred in the planning of this class. You may transfer your registration to another class hosted by us at any time free of charge. 
Note: Please be aware that we may choose to make recordings via electronic and/or traditional media (i.e. photographs, video, audio footage, testimonials) at this event and attendees may appear in these recordings. By submitting a registration for yourself or someone else, or by attending this event, you grant permission for us to store those recordings in a database and to use them in future print, electronic, or other visual media for educational and promotional purposes. If you do not wish to grant permission, please contact us and let us know prior to attending the event.