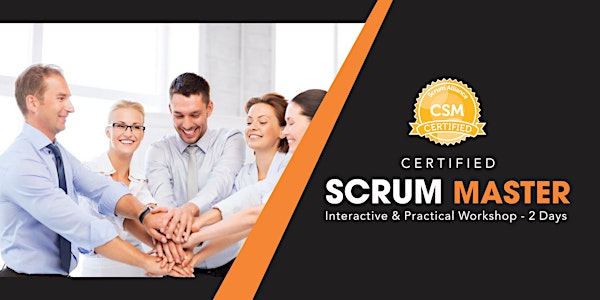 Multiple dates
CSM Certification Training In St. Louis, MO
Certified ScrumMaster (CSM) - Become an exceptional Scrum Master with real-time Scrum activities and simulations ( 2-day Training )
Date and time
September 23, 2021 · 9am - September 28 · 5pm CDT
Location
St. Louis Regus Business Centre/Hotel St. Louis, MO 63101
Refund Policy
Contact the organizer to request a refund.
About this event
Scrum, an Agile framework has been picking up momentum in creating innovation and improving productivity across organizations. A high-performing Scrum team always contributes to the success of an Agile project and the Scrum Master is the main person responsible for steering the project in the right direction. The Certified ScrumMaster® (CSM®) course boosts your confidence in implementing the Scrum framework effectively in organizations.
Our 2-day Certified ScrumMaster training is delivered by Scrum Alliance Certified Trainers (CSTs) who will provide you with a deeper understanding of the three overarching areas of change under Scrum: Iterative Development, Self-Management, and Visibility required for greater project success as a ScrumMaster. You will also gain comprehensive understanding of the Scrum Methodology alongside reviewing the conduct expected of a ScrumMaster, which is critical to carrying out your role in the most efficient manner.
As a Certified ScrumMaster, you will be known as being part of an elite group engaged with Scrum Alliance. The members of Scrum Alliance are meant to be Scrum specialists, guiding the project teams to success. Here is why CSM® certification should be a part of your skill set:
Individual Benefits:
Scrum framework believes in 'self-organization'. Making a career in Scrum as a Scrum Master will help an individual to-
Gain a high degree of proficiency in executing Scrum.
Contribute in creating a healthy work environment.
Earn the skills that make an individual immune to internal and external distractions.
Become self-motivated to escalate the performance of the team.
Get more job opportunities in IT as well as non-IT organizations with a good pay.
Organizational Benefits:
Today, most of the IT as well as non-IT industry majors are hiring candidates who are familiar with the Scrum framework. A Certified ScrumMaster® can upscale an organization in the following ways:
Guide team members through the product development
Help the team deliver quality products
Participate in the team activities with ease and also learn how to own a task
Resolve the impediments and enhance the team's collaboration
Act as a change agent and enable a culture in which teams can flourish
Become a servant leader for Scrum teams that are involved in developing high-end products
Key Features:
Get trained by globally renowned Certified Scrum Trainers (CSTs)
Earn 16 PDU's which can be applied to Project Management Professional (PMP) and PMI-Agile Certified Practitioner (PMI-ACP) designations.
16 Scrum Education Units SEU's toward the Certified Scrum Professional (CSP) designation from the Scrum Alliance.
Experiential learning with Case studies, Scrum Activities and Simulations
Progressive learning and support to further your Scrum knowledge
Get Free E-learning Access
Upon successful completion of the 2-day course, you will be eligible to take the Certified ScrumMaster examination from the Scrum Alliance and receive your Certified ScrumMaster (CSM) designation.
Topics Covered:
Lean & Agile Principles
Scrum Values & Principles
Scrum framework core elements: roles, activities, and artifacts
The ScrumMaster, Product Owner and Development Team roles
Product Vision and long-term roadmap planning
Mid-range 'Release' Planning
Scaling Scrum to multiple teams
User Stories and the Product Backlog
Sprint Planning and the Sprint backlog
Daily Scrum (stand-up) Meeting
Estimating and sizing work items
Reporting and artifacts: burn-down charts, burn-up charts, and more
The Sprint Review (Demo): valuable feedback from stakeholders
Continuous process improvement via impactful Retrospectives
PREREQUISITES:
There is no set of eligibility requirements to attend this Scrum Master Certification course and it can be taken by freshers or professionals who want to:
Further their career in project management.
Deepen their understanding of Scrum.
Our experienced CSTs deliver training in such a way that is suitable for both novice and experienced professionals.
What you will learn?
At the end of this activity, you will be able to-
Explain the 12 principles and 4 values listed in the Agile Manifesto.
Demonstrate the benefits of "responding to change" in Agile over "following a plan" in traditional project management.
Describe how the Scrum values (courage, focus, commitment, respect, openness) relate to the Scrum artifacts, events, and roles.
List and explain the three pillars in Scrum ― Transparency, Inspection, Adaptation.
Explain the differences between framework and methodology and understand why Scrum is called a framework.
List 5 ways to develop an Agile mindset.
Illustrate 2 differences between Agile and Scrum and explain why these two terms cannot be used interchangeably.
Why global corporate prefer Reform Skills as their training partner
A provider of Enterprise Learning Solutions (ELS), Reform Skills creates industry-fit talents through training, coaching, and consulting by globally-acclaimed trainers. Much of Reform Skills repute in co-creating business value stems from:
Training delivered in 45+ countries.
250+ industry-relevant courses.
Consulting and coaching to transform organizations.
Trainers with experience in Retail, E-commerce, Energy & Utilities, etc.
*We conduct corporate trainings on your preferred dates and location for no additional cost.
Please note: CSM is a 2-day training program ( Thursday -Friday ). Eventbrite page will show up only the start dates of all training sessions.
Contact us for more information:
Email: steve.brown@reformskills.com
Tel: +1 (302) 689.8082
About the organizer
Reform Skills Inc is a leading high-quality certification training organization for working professionals in the areas of Certified ScrumMaster (CSM), Certified Scrum Product Owner (CSPO), Project Management (PMP), Quality Management, IT Service Management, Digital Marketing, Agile and Scrum, DevOps, Big Data & Hadoop, Data Science, Tableau, Conflict Management among others.
We exclusively work towards building the skill bucket of professionals and corporate groups from various domains. Reform Skills, now assist professionals across various domains with the help of strong instructor panel; a panel of certified instructors that play a crucial role in identifying and covering development needs for working professionals and delivering a 98.7% success rate. We have worked with thousands of professionals and companies across the United States, Canada, Mexico, Australia, Singapore, Dubai, and the United Kingdom to acquire certifications and up-skill their employees.
We believe in enhancing your career and skills by offering you high-quality training that transforms candidates through rigorous coursework by providing an understanding of the needs of society and industry.