CSIS Lecture Series: Indonesia, ASEAN, and the Indo-Pacific
Indonesia, ASEAN, and the Indo-Pacific: Strategic Necessities or Norm-Setting Exercise?
About this event
By adopting the ASEAN Outlook on the Indo-Pacific, Indonesia with other nine ASEAN member states seek to transform strategic competition between great powers from a challenge to an opportunity. Now, questions remain whether such outlook might be effective in guiding ASEAN to finally embark on devising a collective action mechanism to respond to geopolitical competition, or it will remain only as convening power whose capabilities rest primarily on symbolic repertoire. More importantly for Indonesia, the question is how Indonesia could play a natural leadership role in the region, which includes ensuring ASEAN centrality and its relevance to face the future of regional dynamics in the Indo-Pacific era.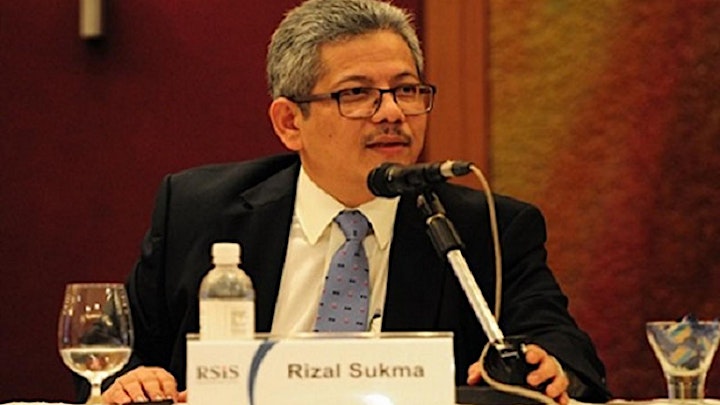 About the Speaker
Dr Rizal Sukma is Indonesian Ambassador to the United Kingdom, Ireland and the International Maritime Organization and former Executive Director of CSIS also member of the Board of Advisors of the Institute for Peace and Democracy (IPD). Since receiving a PhD in International Relations from the London School of Economics and Political Science in 1997, he has worked extensively on such issues as Southeast Asian security, ASEAN, Indonesia's defence and foreign policy, military reform, Islam and politics, and domestic political changes in Indonesia. Dr Sukma has served as a member of the National Committee on Strategic Defence Review at the Ministry of Defence, and as a member of the National Drafting Committee for the National Defence Bill (2000–2002) and the Armed Forces Bill (2002–2003). He was the first Indonesian to receive the Nakasone Award, in July 2005, and named one 100 Global Thinkers in 2009 by Foreign Policy magazine
About CSIS Lecture Series on Regional Dynamic
A regular event of the Department of International Relations of Centre for Strategic and International Studies (CSIS), #CSISLectureSeries on Regional Dynamics aims at broadening interests amongst policy makers, intellectuals and diplomatic community for the rapidly evolving dynamics in the Indo-Pacific, as well as generating critical yet constructive policy debates on prominent issues in the region. Current and emerging powers of the Indo-Pacific are engrossed in a complex web of security uncertainties and economic interdependencies. Within this geopolitically important region, Indonesia and the rest of Southeast Asia are at the centre of the shift in gravity. This lecture series features prominent scholars and policy makers, who present their views on the dynamics in the region and the consequent strategic concerns. Previous distinguished speakers include Dato' Saifuddin Abdullah (Malaysia's Foreign Minister), Deborah W. Nutter (Tufts University), Amitav Acharya (American University), Christian Leffler (European Union) and H.E. Luhut Binsar Pandjaitan (Coordinating Minister for Maritime Affairs of the Republic of Indonesia).
Organizer of CSIS Lecture Series: Indonesia, ASEAN, and the Indo-Pacific
The Centre for Strategic and International Studies (CSIS) in Jakarta is an independent, non-profit organisation focusing on policy-oriented studies on domestic and international issues. It was established in 1971. Our mission is to contribute to improved policy making through policy-oriented research, dialogue, and public debate. This is based on the belief that long-term planning and vision for Indonesia and the region must be based on an in-depth understanding of economic, political, and social issues, including regional and international developments.
CSIS research and studies are channeled in various forms as independent input to government, universities and research institutions, civil society organizations, media, and business. CSIS undertakes research in economics, politics and social change, and international relations, with topics selected on the basis of their relevance to public policy. Inter-disciplinary studies are encouraged. In the area of foreign policy, CSIS research is complemented and strengthened by its relations with an extensive network of research, academic, and other organizations worldwide.