CSID's 18th Annual Conference: The Trump Administration and the Islamic World

Thursday, May 18, 2017 from 8:30 AM to 5:30 PM (EDT)
Event Details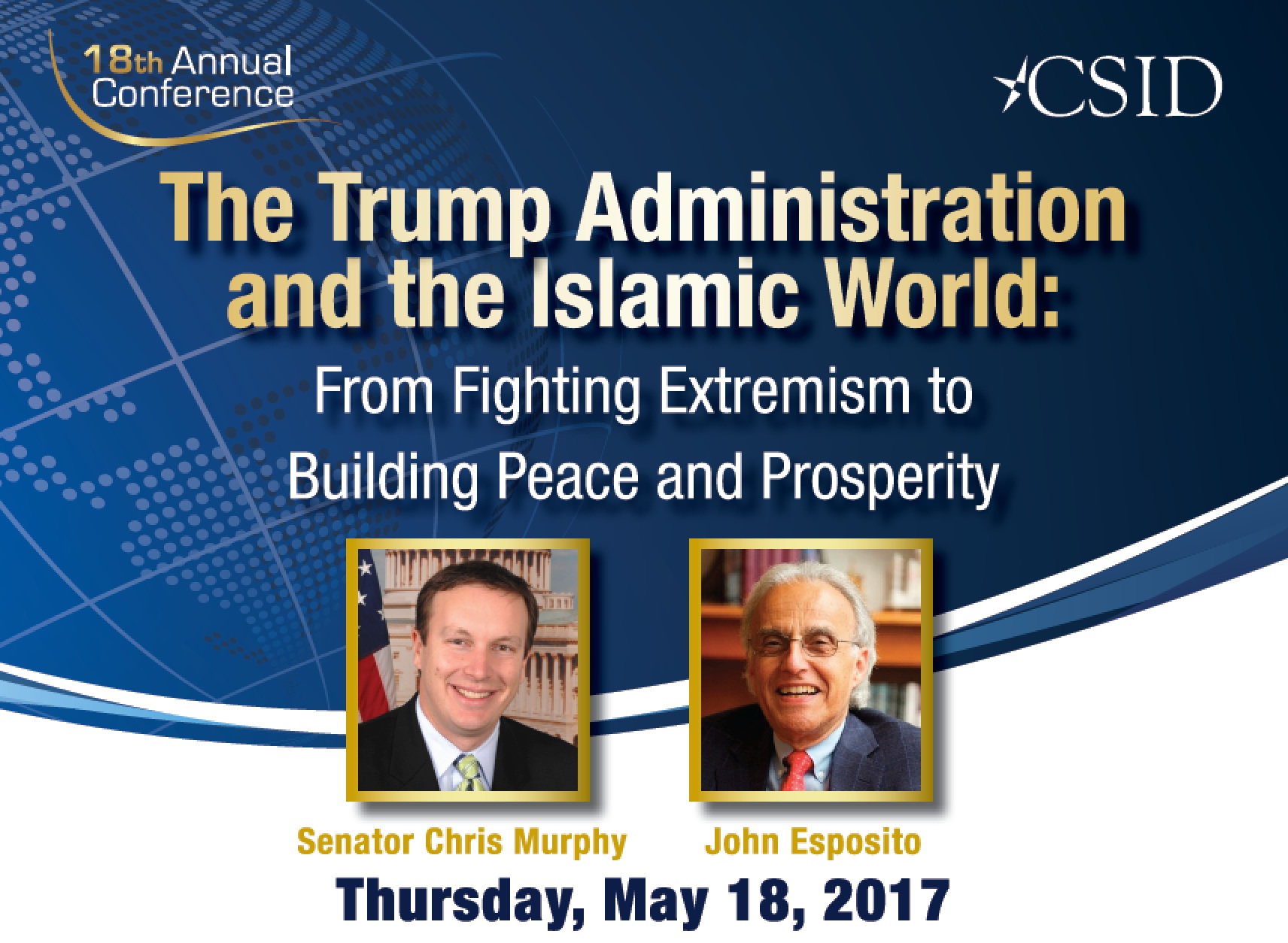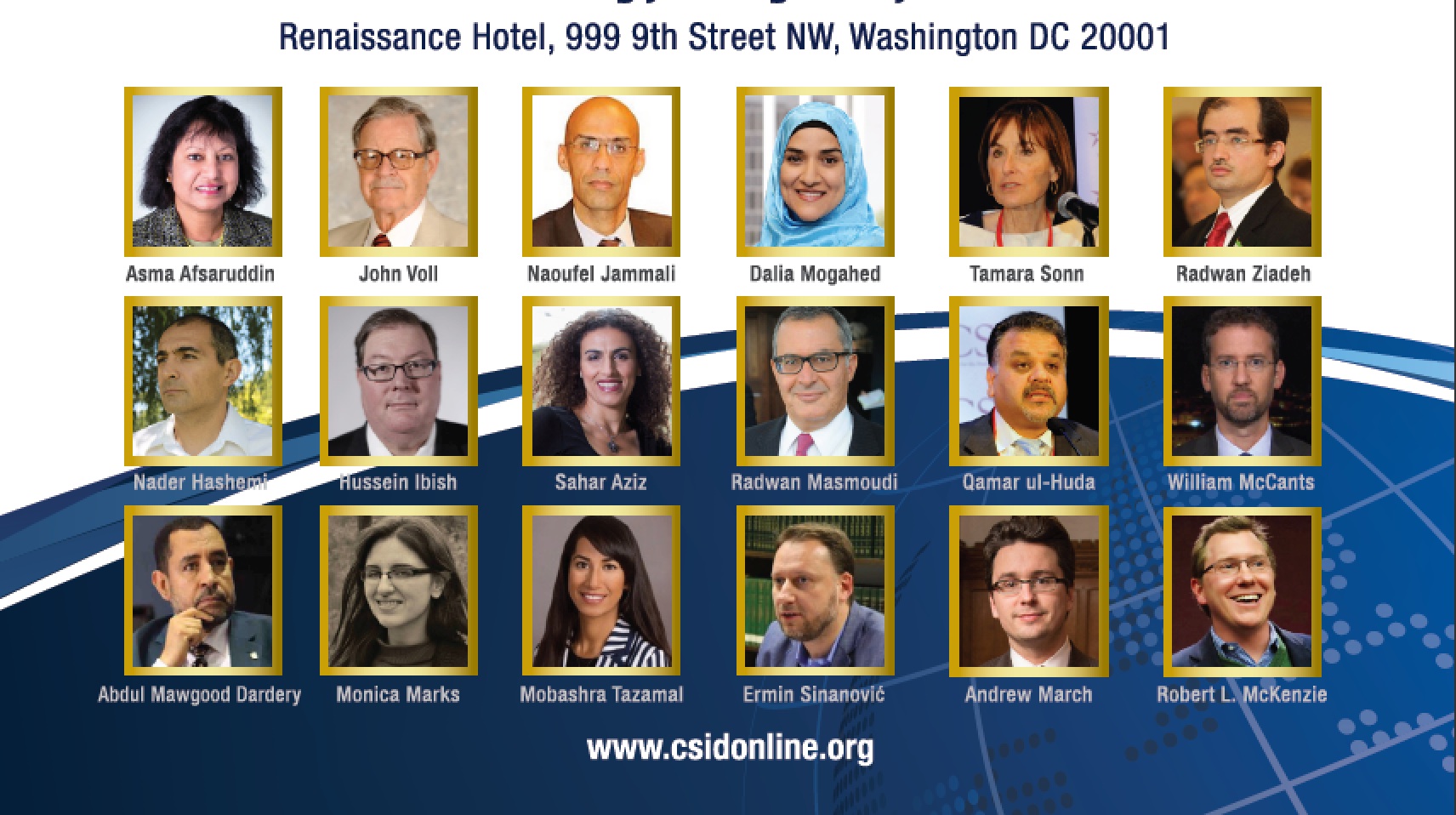 TENTATIVE PROGRAM


8:30 - 9:15  Registration
9:00 - 9:15 am Opening Remarks

9:15 - 10:30 AM - PANEL 1:  The Resurgence of Islamophobia:

Examining the Roots of Current Anti-Muslim Bigotry
Moderator: Ermin Sinanović, Director of Research,  International Institute of Islamic Thought (IIIT)


- John Esposito, University Professor, of Religion and International Affairs, Georgetown University

- Mobashra Tazamal, Senior Research Fellow, The Bridge Initiative

- Dalia Mogahed, Director of Research, Institute for Social Policy and Understanding
- Tamara Sonn, Professor in the History of Islam, Georgetown University

10:30 - 11:00 AM   Coffee and tea break

 11:00 - 12:30 PM - PANEL 2:  Trump and the War against "Radical Islamic Terrorism":  Implications for the Region and the West
Moderator: Asma Afsaruddin, Professor of Near Eastern Languages and Cultures at Indiana University

- Qamar ul-Huda, Senior Advisor, Office of Religion & Global Affairs, U.S. Department of State

- William McCants, Director - U.S. Relations with the Islamic World, Brookings

- Sahar Aziz, Professor of Law at Texas A&M University
- Robert L. McKenzie, Visiting fellow at the Brookings Institution

12:30 - 2:00 PM - Keynote Luncheon

Keynote Speaker:  Senator Chris Murphy (CT)
Member of the Senate Foreign Relations Committee,
and the Senate Appropriations Committee
 


2:00 - 3:30 PM  - PANEL 3 -  PANEL ON TUNISIA: 
Can Tunisia Provide Hope for Democracy and Prosperity in the Arab World?

Moderator:  Radwan Masmoudi, President of CSID

- Naoufel Jammali, Member of Parliament and Member of Political Bureau of Ennahdha Party

- Hatem Ferjani, Member of Parliament, Bloc of Nidaa Tounes

- Andrew March, Associate Professor of Law and Political Science, Yale University

- Monica Marks, PhD candidate, Oxford University, and Visiting Fellow, European Council on Foreign Relations

3:30 - 4:00 PM   Coffee and tea break

4:00 - 5:15 PM  - PANEL 4 -  Trump's Embrace of Political Authoritarianism: 
Whither the Future of the Arab-Islamic World?

Moderator:  John Voll, Professor of Islamic History and Associate Director of the Center for Muslim-Christian Understanding, Georgetown University

- Nader Hashemi, Associate Professor and Director of the Center for Middle East Studies, University of Denver

- Hussein Ibish, Senior Resident Scholar, Arab Gulf States Institute in Washington (AGSIW)

- Radwan Ziadeh, Senior Analyst at the Arab Center – Washington D.C.
- Abdul Mawgood Dardery, Former Member of the Egyptian Parliament, and President of the Center for Egyptian-American Dialogue (CEAD)
5:15 - 5:30 pm  -  Closing Remarks


Have questions about CSID's 18th Annual Conference: The Trump Administration and the Islamic World?
Contact CSID
When & Where

Renaissance Washington, DC Downtown Hotel
999 Ninth St NW
Washington, DC 20001


Thursday, May 18, 2017 from 8:30 AM to 5:30 PM (EDT)
Add to my calendar