CSI Forensic Science Camp

Monday, July 7, 2014 at 9:00 PM

-

Saturday, July 26, 2014 at 5:00 PM (EDT)
Event Details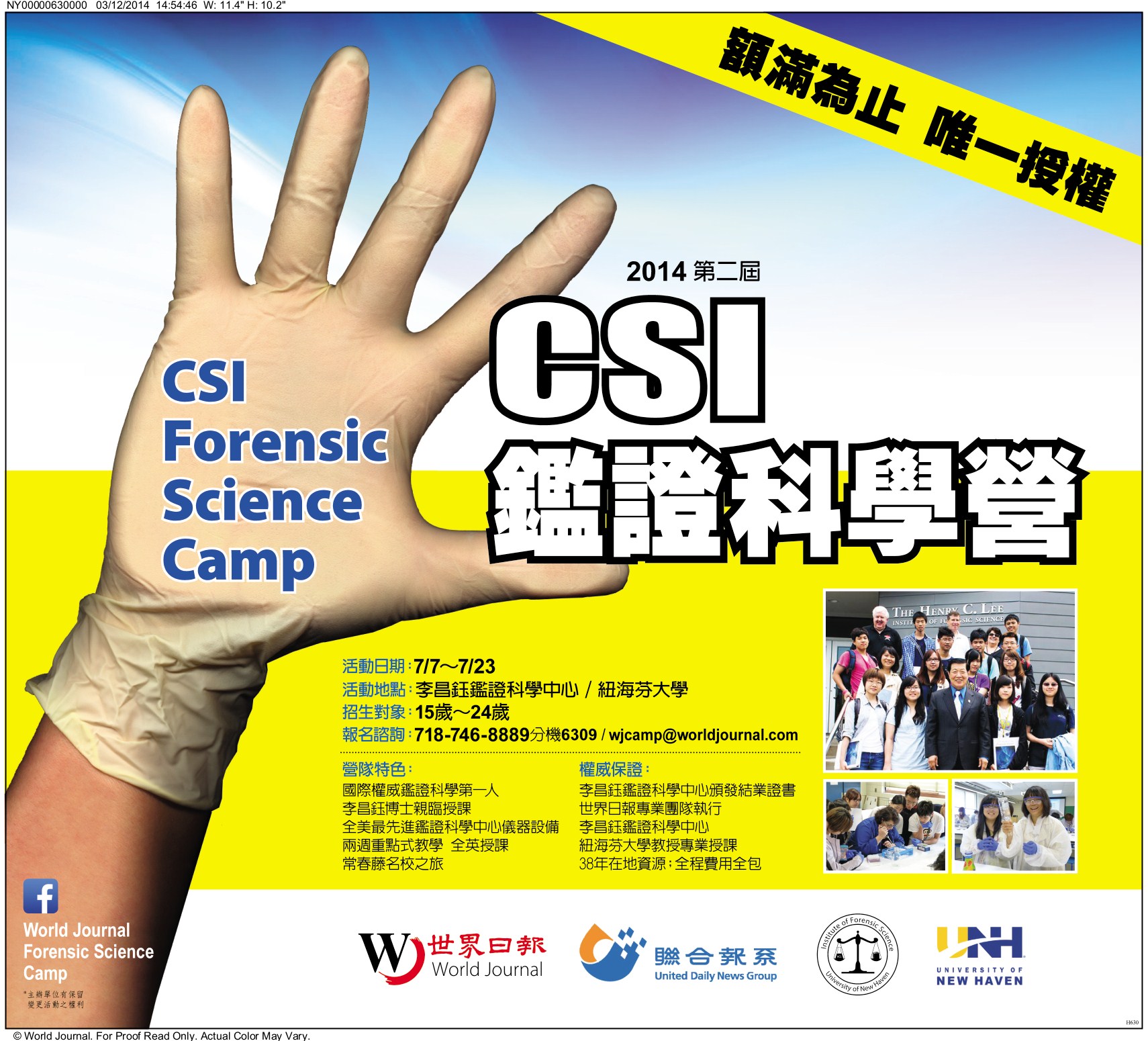 7/7~7/26 (17天)
李昌鈺鑑證科學中心 
紐海芬大學
---
國際權威鑑識專家 李昌鈺博親臨授課
國際權威鑑證科學專家李昌鈺博士,曾參與鑑識多個全球知名重大刑案。現任美國康乃狄克州諮詢中心的榮譽主任(Chief Emeritus for Scientific Services),並擔任紐海芬大學鑑證科學的全職教授。
享用全美最先進鑑證中心儀器設備
本營隊所有課程均在紐海芬大學(University of New Haven)上課,並可以親身實際體驗以李昌鈺博士為名、耗資1,400萬美元建成的李昌鈺鑑識科學研究中心(Henry C. Lee Institute of Forensic Science),該研究中心包括:
1. 鑑證科學中心
2. 互動學習中心
3. 鑑證危機管理中心
重點式教學 課程緊湊充實
緊湊與充實的訓練,針對真正對於鑑證科學、刑事偵查等相關領域有興趣的學員,從介紹導論入門,逐步透過實務操作的演練,到完成一份鑑識報告。
詳情請洽:
718-746-8889 分機 6309
Email:wjcamp@worldjournal.com 
---
The BEST summer program for students 
Certificate program from Henry C. Lee Institute of Forensic Science
Students To Explore Their Academic Passions
We introduce subjects that school may not offer, while encouraging students to experiment with classes as they begin to consider their college major.
Most Popular Courses
This summer we are excited to continue to offer our most popular courses. Dr. Henry C. Lee will instruct some courses with laboratory exercises at the Henry C. Lee Institute of Forensic Science.
Talented Staff And Diverse Group Of Students
Our directors, teachers and residential advisors put together an amazing program of classes and activities that ensure students are learning and having fun from morning till night.
For more information
718-746-8889 ext. 6309
Email: wjcamp@worldjournal.com
---
When
Monday, July 7, 2014 at 9:00 PM

-

Saturday, July 26, 2014 at 5:00 PM (EDT)
Add to my calendar
Organizer
World Journal 世界日報
世界日報創立於1976年,是北美地區最大的中文報紙,同時也是美國少數幾家發行全國的日報之一。世界日報在紐約、洛杉磯、舊金山、芝加哥、德州...等地擁有獨立的發行業務。
世界日報矢志提供讀者最新、最快、最深入完整的新聞報導。為了因應華裔移民的快速成長與型態變遷,世界日報不斷在內容、印刷和服務方面謀求進步。其專業的採訪和編輯團隊,更為讀者提供兼具深度與廣度的地方報導。
發展至今,世界日報非但獲獎無數,更得到北美主流社會的肯定,美國總統布希以及加國總理克里靖都曾先後讚揚世界日報,肯定世界日報在幫助新移民融入當地社會的過程中所扮演的關鍵性角色及卓越貢獻。
世界日報以服務所有海外華人為志職,一方面協助新移民跨越鴻溝,逐步邁向主流社會,另一方面滿足其精神需求,增進生活品質,維繫中華情感。
世界新聞網 http://www.worldjournal.com/
關注更多世界日報活動 https://www.facebook.com/worldjournal/
CSI Forensic Science Camp