About this Event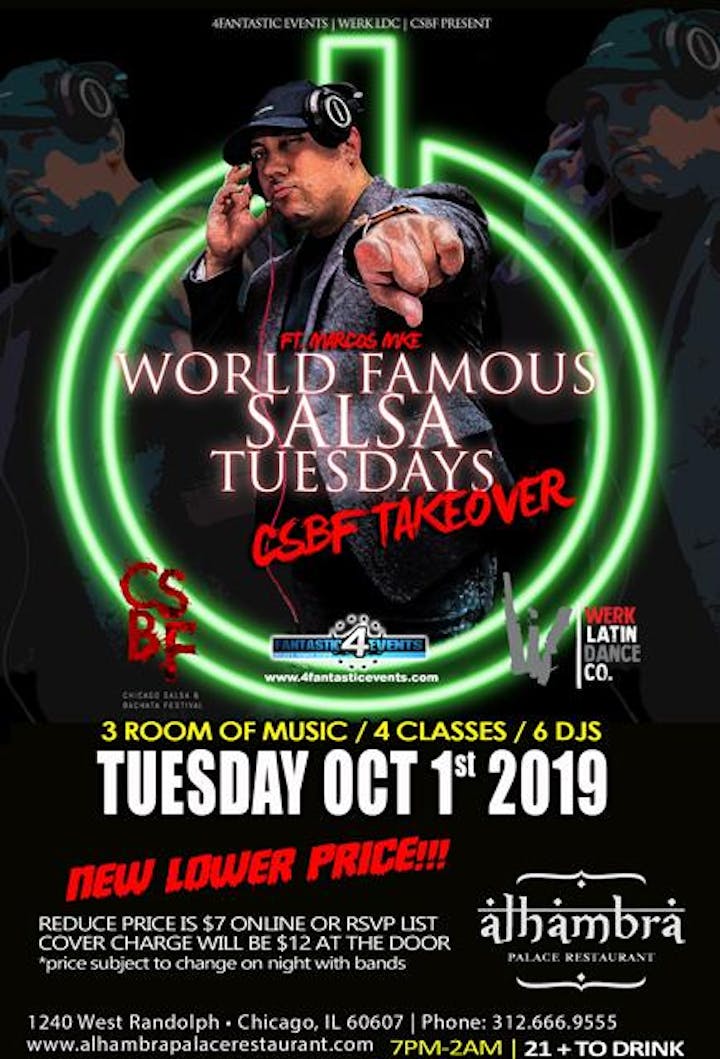 4FANTASTICEVENTS.COM, WERK LDC & CSBF presents:
CSBF Takeover Salsa Tuesday @ Alhambra Palace
NEW LOWER PRICE EVERY TUESDAY STARTING THIS DATE!
from MKE organizer of Chicago Salsa & Bachata Festival
4Classes, 6DJs, 3RMS, 600ppl
All happening this Tuesday Oct 1st, 2019
YOU HAVE 2 RSVP OPTIONS:
When you purchase a pre-sale ticket, there is no time limitation with the ticket. Purchase a $7 "Pre-sale" tickets today on line here: https://www.eventbrite.com/e/csbf-takeover-salsa-tuesday-alhambra-palace-tickets-73179063549
OR
RSVP for Reduce price here - http://www.4fantasticevents.com/
RSVP for "Early Bird" Reduce Price of $7 from 7pm to 9pm
General Admission is $12 (Regular Price)
*Price subject to change when we hit capacity crowd
(MUST RSVP NO LATER THEN 3PM (DAY OF THE EVENT)
4 Classes Every Tuesday we give you...
❶Beginner Salsa Class by Maria Torres
❷Intermediate Salsa Class by Jesus Alejandro Aguilera
❸Bachata Class by Amy Tsia
❹Kizomba Class by Courtney Lundgren
DJ Prieto
DJ Mr. CSBF
DJ Luis Molina
DJ Freddy Fresh
DJ Eclipse
DJ Eric "ET" Taylor
N THE MAIN ALHAMBRA ROOM (7pm to 2am)
Music of Salsa, Mambo, Cha-Cha, Timba
IN THE KIZOMBA/ZOUK ROOM (7pm to 12am)
Music of Kizomba, Steppin, Zouk, Semba
by DJ Eclipse & Eric "ET" Taylor
IN THE BACHATA/CUMBIA ROOM (7pm to 11pm)
Music of Bachata & Merengue
by DJ Freddie Fresh
7:00pm sharp - Doors Open for Main Room
7:45- 8:45pm KIZOMBA Class with Courtney Lundgren
7:45-8:45pm BACHATA Class with Amy Tsai
7:45-8:45pm BEGINNER SALSA Class by Maria Torres
7:45-8:45pm Intermediate Salsa Class by Jesu Alejandro Aguilera
9:00-2:00am: Salsa/Video Music by DJ Mr. CSBF & DJ Prieto
This has become one of Chicago biggest Latin Night in Chicago. Come out and see what the buzz is about this night with beautiful people, great food and terrific ambiance. Alhambra Palace is a beautiful venue with room for over 1500 people in the main room.
Please Note: Guest list is Valid from 7:00pm until 9:00pm for reduce price. NO EXCEPTIONS!
Alhambra Palace Restaurant
1240 W. RANDOLPH
CHICAGO IL 60604
Have a Question, please go to our FAQ page - https://www.4fantasticevents.com/faqs