CSBA Wargaming & Wargaming's Utility to the Defense Practitioner
Ryan Boone and Josh Chang will discuss CSBA's approach to wargaming and how wargaming applies to young and mid-career professionals.
About this event
Every profession requires practical application and introspection for improvement. Defense establishments face a rare challenge in being unable to practice their art – war – when conflict is, fortunately, a rather uncommon occurrence. Wargames are one critical method available to mitigating this professional and intellectual challenge. Discussion of wargaming will proceed in two parts. The first part discusses the Center for Strategic & Budgetary Assessments (CSBA) approach to and experience with wargaming for both defense research and education, including distinguishing between and identifying the strengths of exploratory games, experiential games, and games more closely approximating traditional research design. The second part broadens the lecture to discuss the utility of wargaming in generating skills and perspectives useful to the defense practitioner beyond games themselves, particularly for early- to mid-career defense professionals.
Bios
Ryan Boone serves as an Advisor for Analysis in the Office of the Deputy Assistant Secretary of Defense for Strategy & Force Development, where he writes and manages the Department's Defense Planning Scenarios, advises senior civilian officials on force planning and analytic design, and supports decisions through strategic analysis and wargaming. In addition to this temporary assignment, Ryan is a Research Fellow at CSBA, where he designs and assesses operational-level wargames and concept development efforts for DoD organizations and other clients. His research focuses on competitive strategies, force planning, scenario development, and operational concept development and refinement. Ryan holds an M.A. with honors in Strategic Studies and International Economics from the Johns Hopkins University School of Advanced International Studies.
Josh Chang works at CSBA, where he focuses on U.S defense strategy, foreign military forces, and great power competition. He has experience supporting wargames in his work at CSBA and is interested in scenario writing in the wargame design process. Josh writes on East Asian and Latin American security issues, with his work appearing in the Georgetown Security Studies Review, the National Interest, CSIS CogitAsia, Small Wars Journal, and E-International Relations. He holds an MA in Security Studies and a BSFS in International Politics from Georgetown University as well as a certificate in wargaming from the Military Operations Research Society.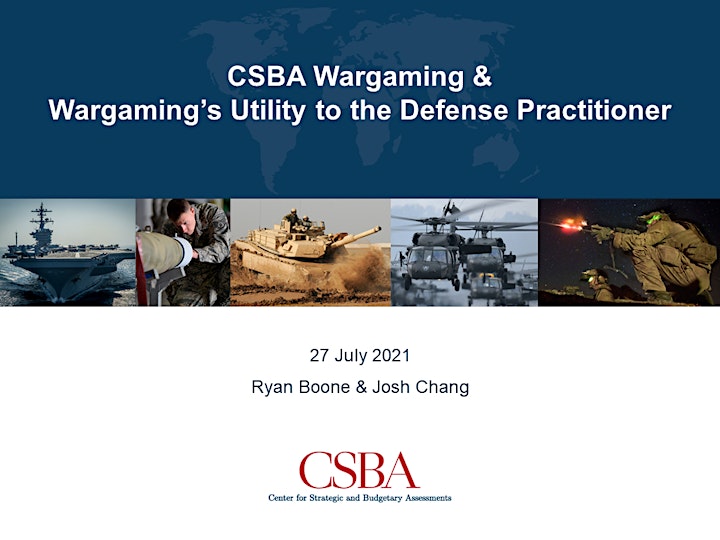 Organizer of CSBA Wargaming & Wargaming's Utility to the Defense Practitioner