Description
Event tickets include open bar, appetizers, DJ, student performances, and artwork.
The Mission of the Cleveland School of the Arts is to provide opportunities for Cleveland students to excel in both the arts and academics within a culture of compassion, support, and high expectations. CSA is a free public high school in the Cleveland Metropolitan School District which offers students in grades 9-12 the opportunity to explore their artistic passion alongside college preparatory academics.
Join us for a lively night out in support of the students of CSA!
Students at CSA focus on one of our seven art majors: creative writing, dance, instrumental music (orchestra + band), interdisciplinary arts, theater, visual arts, and vocal music. By providing access to both college and the arts, we prepare our students to intellectually, creatively, and emotionally challenge the status quo and to affect positive social change in our city and in our world.
The CSA to the Streets fundraiser will help support meaningful opportunities for our young artist scholars to engage in arts experiences for the 2017-2018 year, such as:
Creative Writing: publication of student work with professional equipment, such as laptops and printers for a new writing lab.
Dance: scholarships to attend The International Association of Blacks in Dance Annual Conference in Los Angeles.

Interdisciplinary Arts: increased artist residencies, workshops, and materials to expand course offerings, such as classical guitar.

Music (Vocal and Instrumental): specialized instruction and materials, such as ear training, diction, chamber music, and sheet music.
Theater: pre-professional arts experiences, such as Technical Theater workshop series, artist residencies with local partner theaters, and tickets and transportation to local productions.
Visual Arts: updated supplies and resources, such as a new digital arts Mac lab for our photo and film program, Adobe Creative Suite software, and pottery wheels for our ceramics program.
Event tickets include open bar, appetizers, and a DJ. Pop-up student performances will be held from 7:45-10:00pm.
Come support and be a part of our mission!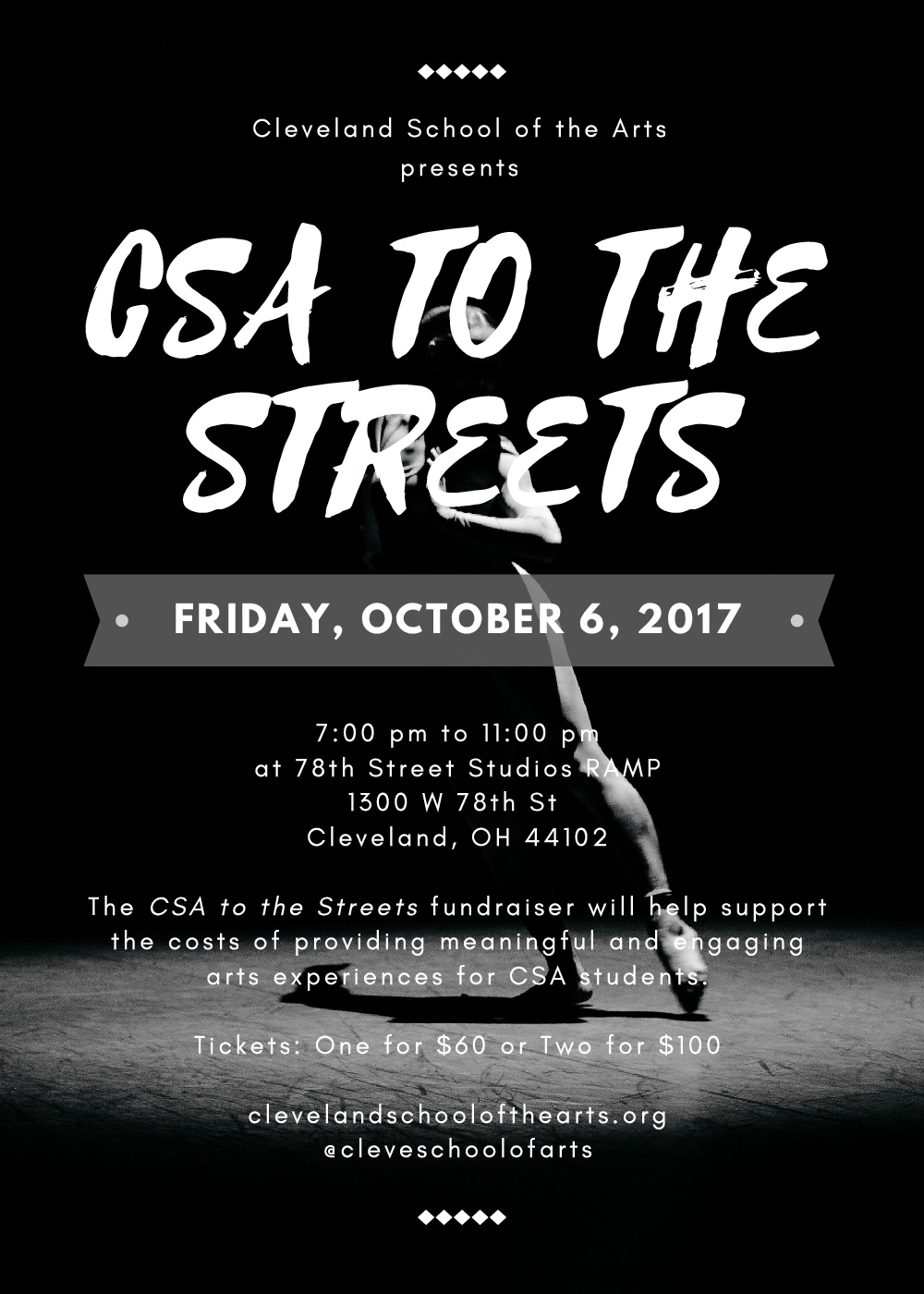 Event FAQs
Who is hosting the party?

A CSA Young Professionals group, comprised of CSA faculty and staff and local arts education supporters, along with the Cleveland School of the Arts Board of Trustees are hosting the party. Together, with our friends at the 78th Street Studios, we are proud to offer a new event to everyone in the CSA family and our community of supporters.

How much are event tickets and can they be purchased at the door?
Event tickets are $60 for individual tickets or 2 tickets for $100 if purchased online through Eventbrite by October 5. All tickets purchased on the day of the event either online or at the door will be $65 each. If you would like to purchase your tickets in advance but cannot purchase them through Eventbrite, please call our Operations Manager, Ruby Watkins at 216-838-9025.

Are there ID or minimum age requirements to enter the event?
Must be 21 or older to drink and be able to show ID at bar.
What are my parking options and where is the event entrance?
Parking is available in the large parking lot behind the 78th Street Studios warehouse space. You can access the parking lot off of either W. 78th or W. 80th Streets. We recommend using Uber, Lyft, or another similar taxi service if you are drinking. Please be safe! The event entrance is off of the parking lot and can be difficult to find if you've never been to the 78th Street Studios before. The RAMP level space, where the event is taking place, is directly below the SmARTSpace area pictured below.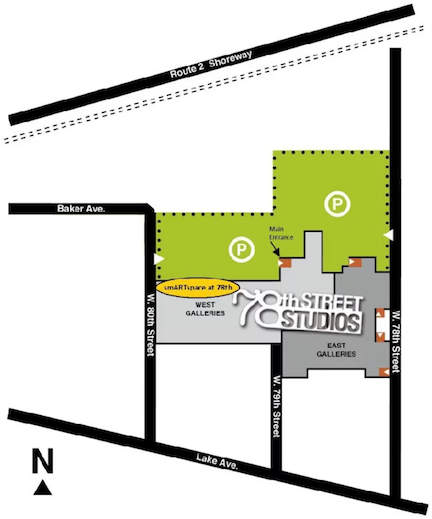 What's the refund policy?
Tickets will not be refunded. All proceeds support our amazingly talented artist scholars!
What should I wear?
This is your night out - dress how you'd like! This event is meant to be fun. It's being held in a large artist studio warehouse space, so dress as if you're attending an art opening.
Will cash, credit card, or checks be accepted at the door?
Cash and credit cards will be accepted. Checks will not be accepted.

What is the 78th Street Studios?
78th Street Studios is the largest art and design complex in Northeast Ohio, featuring 170,000 square feet of art galleries, artist studios, performance spaces, and music recording studios.
Check out their website here: http://www.78thstreetstudios.com/

Date and Time
Location
Refund Policy