Learn how to cleanse, charge, and build energies in the chakras with your crystals with Angie Jones, The Ankh Queen.
About this Event
"Whether in the ocean, a pebble, a gemstone, or yourself, the energy of the universe permeates all."
― Sarah Bartlett
Join R.House and the Ankh Queen as we explore all things CRYSTALS & CHAKRAS.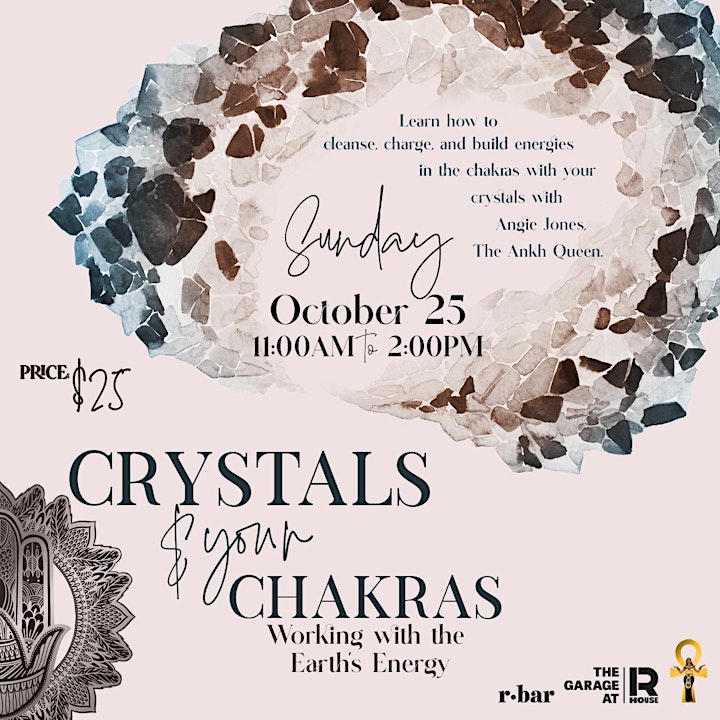 WHAT TO EXPECT
Learn the foundation of how crystals are formed from the earth
Learn about the different shapes, colors, and formations of crystals
Learn common crystals, their properties, and purpose
Learn about the chakras and our emotions & they connect with crystals
Learn how to use crystals for cleansing, charging, and building energy in the chakras.
This workshop includes a Show & Tell. Please feel free to bring your own crystals. You will have the opportunity to talk about a stone and how it's benefited you.
Each attendee will also receive a Chakra Crystal bag with 7 stones, as well as a Crystal Guide Chart.
*This workshop takes place inside The Garage at R.House which is a 6,500 square foot industrial-chic event space. Though we are able to allow up to 100 people inside our space at 30% capacity while maintaining 6 feet of social distance, we are only offering this workshop to a small number of attendees. This allows for ample space between everyone. Weather permitting, the large Garage Door will also remain open.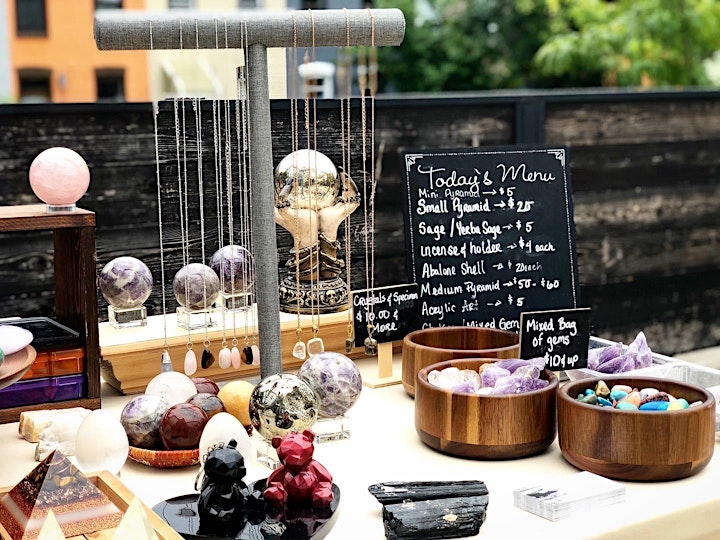 Subscribe to our email list for first access to events & tickets: http://bit.ly/RHouseEmails
ABOUT ANGIE JONES: Angie Jones also known as The Ankh Queen is an Artist from Baltimore, MD specializing in Acrylic Art, Resin Art and Crystals. Owner of her own crafts and gems business, Angie creates masterpieces for everyone to enjoy. Her art speaks for itself but you can frequently find her popping up at the latest events, festivals and marketplaces.
ABOUT R. BAR: To take a seat at r.bar is to take a chance on a new spirit, to take a chance on meeting a new friend, and to take the chance you won't leave 'til last call. r. bar features stellar cocktails, craft beers from Baltimore and beyond, and wines to pair with each stall. Pick your potion, and we'll serve it up — or on the rocks. Welcome to your bar, my bar, r. bar.
ABOUT R. HOUSE: R. House is a place to come together in Remington, Baltimore. We are a food hall, community & event space. We believe in being neighbors, not guests; we see possibilities, not limitations. This is your gathering place, your kitchen table, your office, and your front stoop. We're family-friendly during the day and let our imaginations run wild at night.