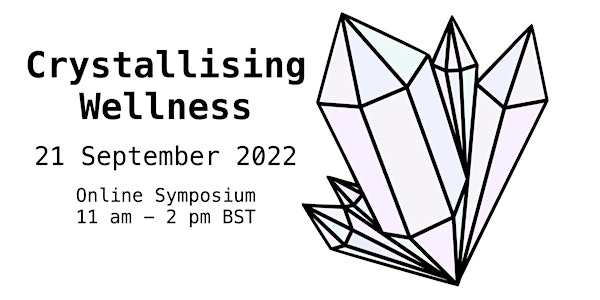 Crystallising Wellness - DISC Online Symposium
A satellite event of the Digital Society @ Manchester
About this event
Wellness is more than a buzzword in the digital society. Wellness is used to market health apps and wearable tech to manage attention, optimise productivity, and find personal meaning. Platform companies design for digital wellbeing to counter public criticisms about the psychological costs of the attention economy. Lifestyle brands promote popular ideas of wellness on social media to sell aspirational supplements and services. These developments flourish at the ideological nexus of digital technology and neoliberal spirituality, which empowers subjects to personal transformation through consumption. At the same time, online wellness communities identifying with new age spirituality have increasingly politicized around conspiracy theories and anti-vaccine activism.
This satellite event of the Digital Society @ Manchester brings together critical researchers of wellness to discuss its couplings with neuroscience, alternative health, and conspiracy thinking. Focusing on how wellness configures gender, class, and race through digital technologies, these talks trace unlikely connections between the brain science of algorithms and the neoliberal spirituality of crystals.
Speaker extracts
Bridget Conor
'Voices for Freedom': Wellness and anti-vaxxers in Aotearoa
In this talk I'll reflect on my experience returning to live in Aotearoa in the last two years whilst also thinking and writing about cosmic wellness. Highly restricted borders, a managed isolation system for arrivals to the country and more recently, vaccine mandates, have ensured relatively low rates of Covid-19 infection. But, perhaps unsurprisingly, anti-vaccine 'activism' has increased, fuelled by particular groups and people. The most prominent, Voices For Freedom (VFF), is led by three women whose extracurriculars include paleo diets, DoTerra essential oils and crochet. Most recently, VFF played a visible role in a large anti-government occupation of New Zealand's parliament grounds. Using VFF as a case, I'll consider how the group and its leaders alchemise wellness, whiteness and motherhood in this particular place and time.
Bio: Bridget Conor is Associate Professor of Communication at Waipapa Taumata Rau, the University of Auckland. Her areas of interest include cultural work, inequalities in cultural industries and cosmic wellness. Her most recent publication is the UNESCO report Gender and Creativity: Progress on the Precipice.
Johannes Bruder
Informational Alchemy, ca. 2022. A report on the status of dreaming in digital societies.
Counter to the 20th century fixation on acts of cognition that can be observed in neuroscience and psychology labs, the late 1990s saw a resurgence of research on the dark energy of the brain—what happens in the brain when humans rest. Resting-state neuroscience has since focused on the productive and generative aspects of mind wandering and the digital wellness industry devised apps, techniques and substances that turn slacking and drifting away into productive exercises. A new science of sleep that developed in parallel has uncovered similarities between drifting waking thought and dreaming, which researchers in the field now consider as emotional first aid and a locus for stress-free processing of accumulated memories. Dreaming has in this process become a new territory for self-care and growth: whereas early interventionist paradigms focused on the normalization of sleep patterns to support the recharging of cognitive capacities, the management of REM sleep energies aims at improving emotional resilience and establishing some sort of "informational alchemy". In my talk, i'll position this emerging neuropsychology of dreaming in the broader context of wellness in digital societies.
Bio: Johannes Bruder is a scholar of digital culture with a background in STS and media studies. His current research focuses on psychological categories, sociological models, and speculative designs encoded in digital technologies. His first book "Cognitive Code. Post-Anthropocentric Intelligence and the Infrastructural Brain" (MQUP, 2019) is based on fieldwork in neuroscience laboratories and provides insights into the bio-politics of contemporary machine learning. Johannes has a strong interest in experimental research methods, alternative pedagogies and critical publishing practices that unsettle disciplinary paradigms and render research in the humanities operational in real-world contexts.
Jonathan Corpus Ong
The Grand Conjunction: When Scam Accounts and Shadowbans Target Astrologers on Instagram
Social media and contemporary meme cultures are credited for the exponential popularity of astrology, but astrologers and other spiritual influencers feel they're left in the dark about platforms' content policy, monetization opportunities, and account security protocols. Based on interviews and digital ethnography with spiritual practitioners on Instagram, this talk explores how a community habituated into marginality articulates (limited) vernaculars of platform accountability while manifesting competing versions of sustainable spiritual business.
Bio: Jonathan Corpus Ong is Associate Professor of Global Digital Media in the University of Massachusetts - Amherst. He is the author of two books and over 25 journal articles in the areas of media ethics, humanitarian communication, and digital politics. He is currently Co-Principal Investigator on a National Science Foundation Accelerator Grant (2021-2022) entitled "FACT Champ", which investigates racially targeted misinformation and hate against Asian American and Pacific Islander communities in the wake of Covid-19. He is also Research Fellow at the Harvard Kennedy School's Shorenstein Center where he studies networked conspirituality in tarot and astrology communities.