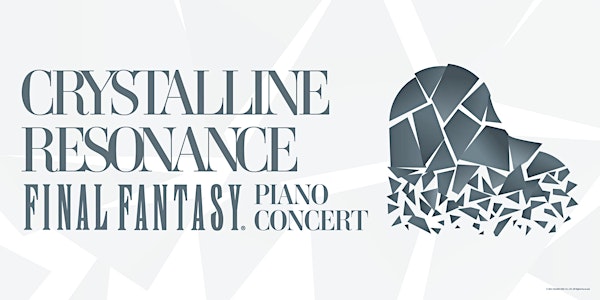 Crystalline Resonance: FINAL FANTASY Piano Concert - 9PM
Celebrate the 35th anniversary of FINAL FANTASY series with a majestic piano performance in synch with HD game footage on a large screen.
When and where
Location
The Cowell Theater at Pier 2 2 Marina Boulevard San Francisco, CA 94123
About this event
Following the acclaimed PIANO OPERA: music from FINAL FANTASY World Tour in 2015-2016, CRYSTALLINE RESONANCE : FINAL FANTASY Piano Concert takes over with a brand-new concert, revisiting all FINAL FANTASY games. For the first-time in an official piano concert, each concert will feature sublime live performances of beloved titles such as "Heavensward" from FINAL FANTASY XIV, "Somnus" from FINAL FANTASY XV, and "Zanarkand" from FINAL FANTASY X. And classics from FINAL FANTASY I through IX won't be forgotten, with pieces such as "One-Winged Angel" or "Liberi Fatali". Emotions will be elevated with music being performed perfectly in sync with HD video projections of the most memorable moments of each game.
The year 2022 is marking the 35th anniversary of the entire FINAL FANTASY video game franchise, which has sold more than 168 million video game copies worldwide. Celebrate the occasion with the start of this new and intimate concert featuring the most acclaimed video game music in the world! Gifted pianists will perform a highly entertaining and majestic performance that will make all those famous melodies resonate as never before!
© 2022 SQUARE ENIX CO., LTD. All Rights Reserved.
Covid 19 Policy:
By purchasing tickets, you agree to comply with any restrictions which may end up being in place.
All ticket sales are final.