Description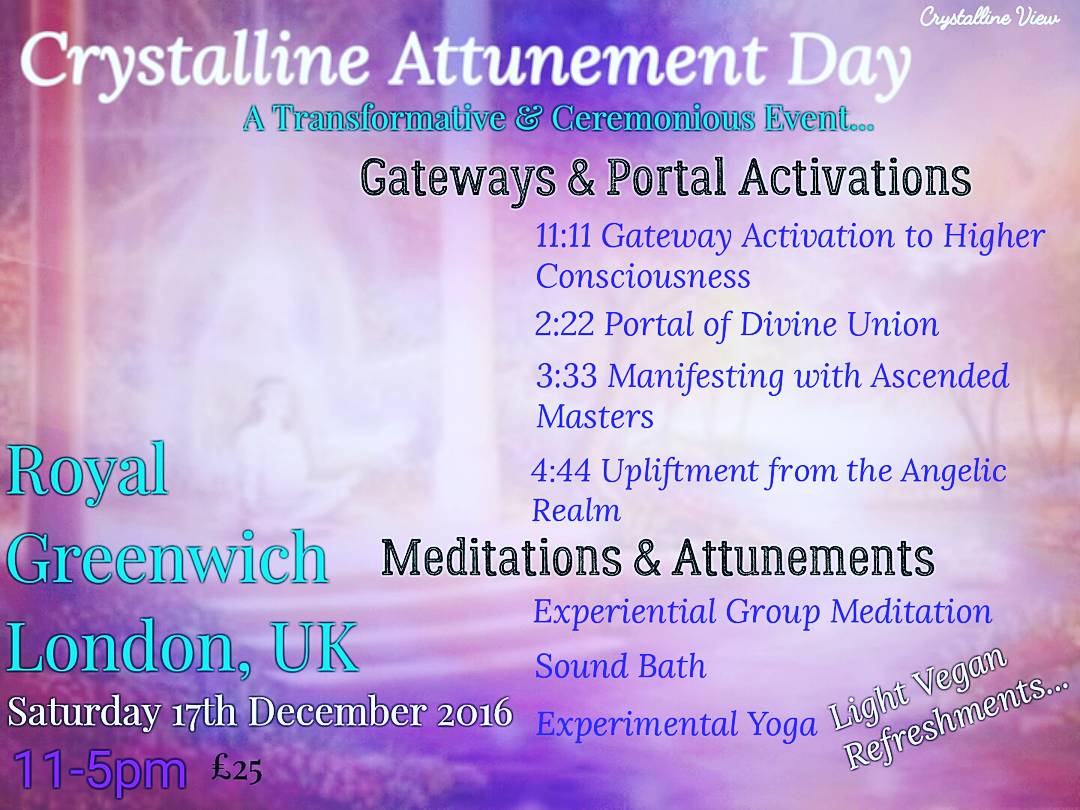 Welcome!
This is special, sacred & exciting day will see you travelling deeper into the Eternal Truth of who you are, helping to shift Humanity to Higher Levels!
As an official pioneer of the New Earth frequencies, I wish for all of us to come toghether, raise our vibrations, connect with higher consciousness & allow the joy & bliss of spirit to flow through our bodies! We'll be spreading positive healing vibes across the globe & out to the Universe!
Come & explore yourself & feel what it's like to embody the Divine King or Queen bursting to be rediscovered deep inside of YOU!

A day of *Meditation, *Fun Co-Creation, *Free Flowing Yoga, *Understanding the Vibration of Numbers, *Sound Healing, *Fresh Food & *Positive Vibes!

---
You will:
-Slow your mind, raise your vibration and align with New Crystalline Earth
-Meditate through a series of Crystalline Portals, Grids, Gateways and Activations into higher consciousness and awareness
-Experience complete freedom of the Soul
-Honour your Divine Return Home
-Connect with the Clarity and Stillness of December
-Enhance your connection to Christ/Divine Love Consciousness
-Enhance your psychic skills
-Join with like minded souls
-Have fun!
-Prepare for the New Energy of 2017
---
Experience!
NO EXPERIENCE NECESSARY!!! I will guide you through everything! Discover how much fun it is to allow your infinte spiritual nature to merge with your physical self...I will show you how much joy you can have by setting your inner child free & reconnecting with your inner genius!

All Welcome!
This is a UNIVERSAL EVENT however, only bring your beautiful children if you think they'll have enough energy, concentration & focus...quite a long day!! And of course please use your discretion...(I would perhaps suggest children over 8 years)

---
Description!
1111 The number one symbolises the start, new beginnings and forward movement. When we have two 1's either side of each other, they present a gateway in the middle, which is why some claim that 1+1 actually equates to 3…the two pillars plus the space in between. The reason why 1111 is so powerful is because it acts as a double portal, which with our focused intention, we can flow through… With all of the portals & Gateways we have gone through this year as preparation for the new timeline and cycle of 2017, we will be travelling through final portals in the final month of the year, accumulating the new consciousness levels experienced thus far merged with the new frequencies we discover at the end of the new portal we cross…
Experiential Group Mediation
Experiential refers to the involvement of experience & observation, natural exploration & curiosity as a way of learning. During my own participation of experiential groups, the group dynamic is usually free flowing and takes its own course. It is profoundly effective as it active learning in process, with no set structure. When people talk about experiential meditation, it normally comprises of mindfulness & focused breathing in order to bring your awareness to your experience. I propose to use experiential group meditation as a way of collectively manifesting, co-creating & uniting our meditative experiences as one, in order to share & create a united portal in which we can consciously enter together…Not only will this be fun, experimental and exciting, but will also enhance our intuition, visualisation and psychic vision! What a better way to enter a sacred portal than to flow through one you have just collectively manifested right in front of you?
222 The number 2 represents balance, harmony and union. Once we cross the 1111 Portal, we meet our higher self, God self…our Cosmic Infinite Light self…to which we can merge and align with in Sacred Union, grounding the frequencies of Wholeness, Divinity and Completion which will echo across the world and the Universe…
Experiential Yoga
We will solidify our Sacred Union with Yoga. Yoga, in its simplest from means to come into Union with spirit, using mindful breathing control, simple meditation and specific body poses. Yoga is now worldly recognised for its high health & relaxation benefits. Yoga can be practiced by ALL and can be done anywhere. Now, if you are anything like me, who is not a yogi expert, likes to be flexible and loves to flow with how your body feels moment to moment, then you may like what I am calling 'experiential yoga'. In this experimental session, we will focus on our breathing and allow our spirit to simply flow into whatever poses it wishes to embody. Freestyle is my speciality! As a therapist, it is my duty to provide a safe & relaxing atmosphere in which you can feel free to explore and express yourself.
333 The Number 3 represents the holy trinity, creative expression & expansion. When the power of 3 is enhanced 3 times, we associate this with the presence of Ascended Masters who have walked the Earth before you. In this meditation we shall draw upon the infinite knowledge & wisdom of our Ascended Masters and receive their infinite Love & Guidance to assist us in manifesting the Highest Good for ALL…
Sound Bath
A sound bath is a deep & relaxing healing session in which your entire body is flooded & immersed in crystal tones & frequencies that correspond with your energetic chakra centres. Your aura will be infused with sound to uplift, clear & heal you, leaving you feeling invigorated, light & ready to connect with the Angelic Realm!
444 The Number 4 signifies solid foundations, the 4 elements and inner wisdom. When amplified 3 times, this is a sign that you are being surrounded by Archangels or Angels helping, supporting and guiding you. When we tune into the frequency of the Angelic Realm, our vibration becomes much lighter and we are more readily able to manifest, especially with the divine assistance of the Angels to lovingly speed things up. In this meditation, we surrender all of our intentions to the Light of our angels for heavenly transmutation…
P.S. Location detials will be sent after registration along with special infomration on how to prepare!