About this Event
Reiki, Crystal Healing, and Sound Therapy are often thought of as stand-alone healing modalities. However, as all three influence the physical, emotional, and subtle energy bodies, they become a wonderful compliment when merged into one healing modality.
In this professional develoment workshop you will learn the theory of sound and crystal healing and how to combine them with your current energy modality.
Working together and taking a hands-on approach, you'll work with crystal singing bowls, Tibetan Singing Bowls, tuning forks, bells, crystals, pendulums and more.
Crystals and Singing Bowls will be placed on and around the physical body a a means of clearing blocked energies and activating and aligning the chakra system.
Basic knowledge of the chakra system and crystals is recommended (but not requied; if you'd like to brush up feel free to take Crystals 101 on 2/20).
Each participant will receive a certificate of completion at the end of the workshop.
exchange: $111; includes course materials, 7-stone chakra kit, and light snacks
About the facilitator
Dina Rosenberg is co-owner of Amityville Apothecary and an advanced crystal healer, trained in the lineage of Melody and Katrina Raphael. Crystals and Crystal Healing is her first love and primary healing modality. Dina is also a professional-level one sound healer and a level-two reiki practitioner.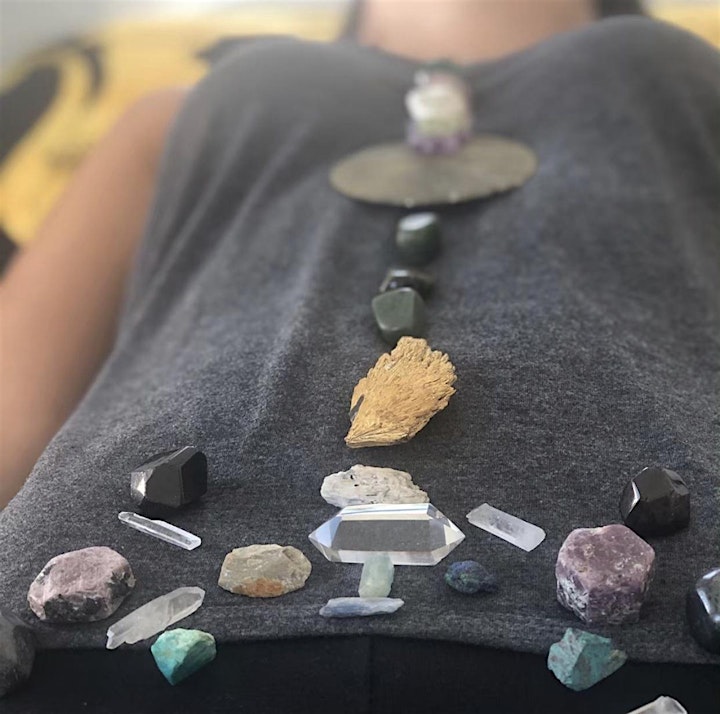 Crystal Lay Out for Root Chakra, Grounding and Cooling of Uterus