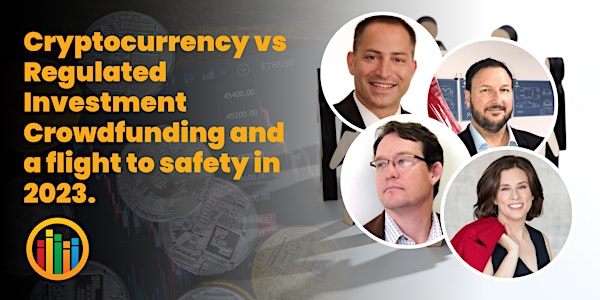 Cryptocurrency vs Regulated Investment Crowdfunding
Cryptocurrency vs Regulated Investment Crowdfunding and a flight to safety in 2023.
Refund Policy
Contact the organizer to request a refund.
Eventbrite's fee is nonrefundable.
About this event
The bull run of crypto has ended with plunging asset values and many retail investors tracking high profile bankruptcy proceedings to see if they will be eligible to recover anything from the ruins. At the same time, asset values for companies which raised funds through regulated investment crowdfunding (#RIC) are on the rise.
Does cryptocurrency still have a future as a disruptive technology or as an investment vehicle? What impact will regulation have on the sector? What about Regulated Investment Crowdfunding? Does it offer investors a safer environment to invest in innovative technologies or companies?
Join the CfPA Feb 8th as our expert panelists will discuss the unique features and risks of cryptocurrency compared to those offered by regulated crowdfunding.
Whether you are a startup founder looking to raise funds or an investor interested in alternative options, this webinar is a must-attend for anyone looking to stay informed on the latest trends and opportunities. Don't miss out on this chance to gain valuable insights and ask questions of our panel of experts. Register now to reserve your spot!
- Moderator and Host: Devin Thorpe, President of the Crowdfunding Professional Association (CfPA)
- Crowdfunding Industry Performance Overview: Sherwood Neiss - Principal and Chief Crowdfunding Data Analyst at Crowdfund Capital Advisors - Website
Panelists:
- Dr. Nicholas Weaver - Researcher at ICSI (Berkeley) & Chief Mad Scientist at Skerry Technologies - Website
- Alex Lightman - Chief Strategy Officer, 10XTS - Website
- Jenny Kassan - CEO Kassan Group - Website
Feb 8, 2023: 2-3 pm ET
$49 to attend
Free for CfPA members, reporters, and students