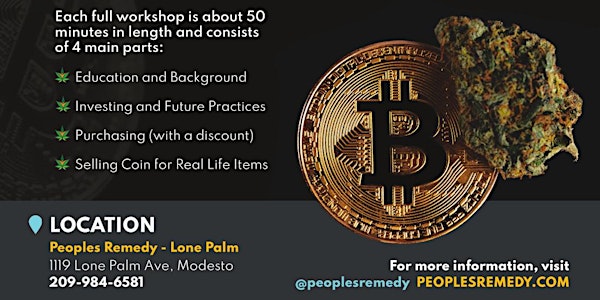 Cryptocurrency Education Seminar
A BEGINNERS CLASS IN USING CRYPTOCURRENCY ~~~ A HANDS-ON EXPERIENCE BUYING AND SELLING CRYPTOCURRENCY. MODESTO'S FIRST CRYPTOCURRENCY EDUCAT
When and where
Location
1119 Lone Palm Ave 1119 Lone Palm Avenue Modesto, CA 95351
About this event
We will hold a workshop at the beginning of each hour from 1pm – 5pm. Each full workshop is about 50 minutes in length and consists of 4 main parts:
Education and Background
Investing and Future Practices
Purchasing (with a discount)
Selling Coin for Real Life Items
EDUCATION AND BACKGROUND
First, you will receive an in-store presentation about beginner-friendly terms and the inner workings of cryptocurrencies. This will include terms such as:
-Fiat
-Mining
-Confirmations
-Blockchain
-Proof of Work
-Proof of Stake
INVESTING AND FUTURE PRACTICES
Then we will show a short recording from our trusted experts.
The recording will include snippets for a beginner's guide to investing in cryptocurrency. Which takes a quick look into the main cryptocurrency and its upsides.
Then a small dive into similar coins that are vetted by these experts themselves!
PURCHASING (WITH A DISCOUNT)
Afterward, we will hold a walk-through on how to open a cryptocurrency wallet for free.
Then, how to purchase cryptocurrency using fiat (dollars) and transfer those funds to your wallet.
SELLING COIN FOR REAL LIFE ITEMS
Finally, we will show you how to use your coin in real life to purchase cannabis at our stores!
____________________
Date: December 18th, 2021
1pm – 5pm
1119 Lone Palm Ave.
Modesto, CA